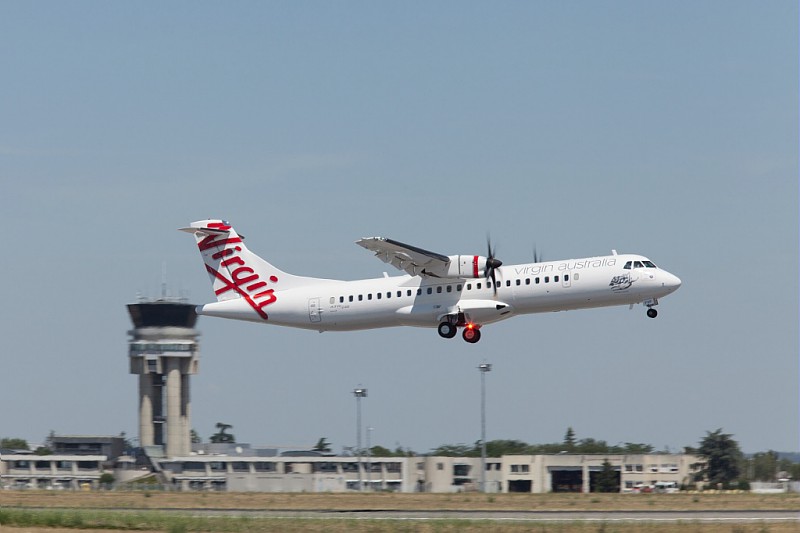 ANALYSIS: Virgin Australia Restructuring Creates Void For New Entrants
Leithen Francis, 5 Aug 2020
4 min

read
Virgin Australia, which is exiting voluntary administration, has confirmed it plans to turn around its business by simplifying its fleet to focus on Boeing 737 operations, which means it will no longer operate ATRs.
The airline says in a statement that it is overhauling its cost base and simplifying its business, "starting with the fleet."
It says it will operate 737s and no longer operate widebodies – namely Airbus A330s and Boeing 777s – and will also stop operating the smallest aircraft in its fleet, the ATR 72.
Virgin Australia's ATR fleet comes under its regional subsidiary Virgin Australia Regional Airlines, which also operates Fokker 100s for the fly-in, fly-out mining charter market.
It says it is reviewing options with regards to Virgin Australia Regional Airlines, "including different operating models to support continued regional and charter flying."
The airline still has the Fokker 100s for charters, but no longer having the ATR 72s means it will have to withdraw from some lower volume domestic regional routes that are unable to support a 737.
This will then create a void in the market, so the question is 'which airline will fill the void?'
Australia's largest independent regional airline Regional Express, which operates 34-seat Saab 340s, recently signed a memorandum of understanding with ATR with a view to eventually acquiring ATR 42s and ATR 72s.
Alliance Airlines, meanwhile, announced recently that it will be adding 14 pre-owned Embraer 190s with first deliveries starting in September.
Once Rex adds ATR 72s and Alliance adds E-190s, each will be well-placed to fill the void left by Virgin Australia in regional Australia.
The ATR 72 has a lower trip cost than QantasLink's De Havilland Aircraft of Canada Dash 8-400s, thanks to ATR's lower fuel burn. On shorter domestic regional routes, in states such as Victoria and New South Wales, Rex may be able to compete very effectively against QantasLink.
But the reason QantasLink operates Dash 8-400s is because Australia is a big country and some of the domestic regional routes, particularly in Western Australia, are very long. The benefit of the Dash 8-400s is speed and range. But then Alliance would have an advantage on the longer routes, because the E-190 is even faster and has more range. Passengers are also drawn to the E-190 because some still prefer to fly jets rather than turboprops.
The E-190 does have a good reputation in Australia with its two-two seating configuration because – ironically – Virgin Australia also used to operate E-190s.
But the issue with a regional jet versus a turboprop is the turboprop has a much lower fuel burn and consequently a much lower trip cost.
Alliance would need to find routes where it could charge a premium for its service. There is also a danger that QantasLink will try to under-cut them with cheaper fares on the Dash 8-400s.
Another issue Alliance and Rex will face is neither has the sales and distribution network of Qantas Group or Virgin Australia.
Alliance is primarily a charter operator for Australia's resource sector, with only seven percent of its current operation being scheduled; while Rex serves smaller towns and cities overlooked by Qantas.
Both could benefit greatly if they turned to Virgin Australia to help sell tickets. Alliance already has that sort of relationship with Virgin Australia, but to a very limited degree. Virgin Australia sells tickets for and places its code on Alliance's scheduled services from Brisbane to: Bundaberg, Gladstone, Moranbah and Port Macquarie.
There is no reason why this relationship cannot be extended to cover other cities and towns. Alliance is relatively unknown to Australian consumers, but Virgin Australia is well-known. Virgin Australia has made it clear it wants to simplify its business and no longer operate regional aircraft on a scheduled basis.
But Virgin Australia would benefit from the additional revenue it would receive from selling air tickets on regional airlines. And it could still be seen to be serving regional Australia, to some extent, rather than be seen to be leaving the market to QantasLink.
Photo: ATR
Leithen Francis
Leithen is based in Singapore and has over 17 years' experience working for news organisations. He is the former deputy Asia editor of Flightglobal and the former Asia editor of Aviation Week. Leithen has a BA in journalism from RMIT University in Melbourne, Australia.
Related posts
SUBSCRIBE TO OUR NEWSLETTER