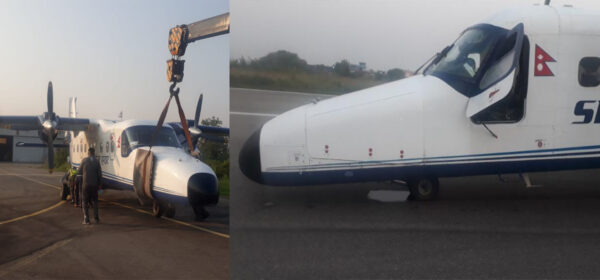 Domestic carrier Sita Air's Dornier 228 collided into three wild boars while taking off from Nepal's Nepalgunj Airport.
Local news My Republica reports that the incident happened on 2 November around 07:00hr local time at Nepalgunj Airport.
Sita Air's Dornier 228 with registration number 9N-AHB was due for flight STA623 towards Humla district's Simikot Airport when it hit three wild boars during take off, the report highlights.
Subash Jha, chief of Nepalgunj Airport says the aircraft had 17 people, including crew members and passengers, on board when the incident took place.
Fortunately, the pilot aborted the take off after recognising that there was a problem with the aircraft's wheel, Jha says, pointing out that the boars were later found to be mutilated.
The flights from Nepalgunj Airport were halted for some time as the boars' flesh were scattered all over the runway, say local news reports, adding that such incidents have occured from time to time due to the dense bushes around the airport.
Other media outlets state that the airport was temporarily closed so as to move the aircraft to a parking lot with the help of a crane after the accident.
No injuries were reported, but the aircraft, near the front and rear tires, was punctured with a hole, Aviationnepal reports.
Sita Air is a regional airline based in Kathmandu. It was established in 2003 and covers Nepal's domestic cities such as Chandannath, Jomsom and Lukla among other destinations.
Information online shows that the airline had another incident in August this year, where the same Dornier 228 punctured a tire at Simikot Airport while landing.
Picture Source: myrepublica.nagariknetwork.com
Related Stories:
Nepal's Sita Air Focusing On Essential Air Services (5 January 2021)
Ong Jeng Yang
Based in Singapore, Ong Jeng Yang has more than four years of experience working in the media industry.
Related posts
SUBSCRIBE TO OUR NEWSLETTER