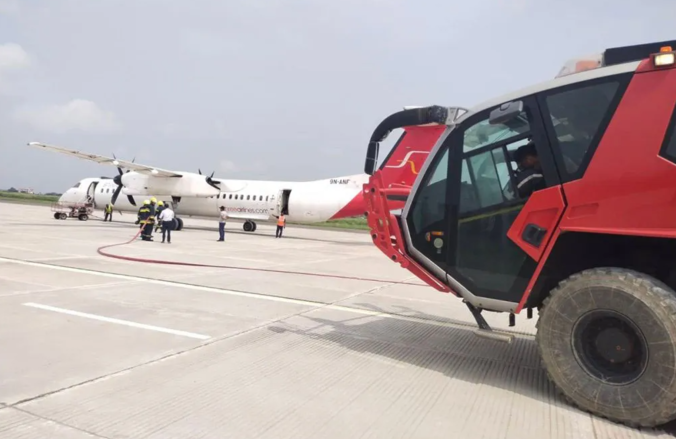 A Shree Airlines aircraft in Nepal made an emergency landing yesterday after smoke was detected from one of its engines.
Shree Airlines' De Havilland Aircraft of Canada Dash 8-400, local registration 9N-ANF, departed Nepal's Nepalgunj Airport at 9:49hr local time yesterday bound for the capital Kathmandu, but a few minutes into the flight it suddenly returned to Nepalgunj, say local media reports quoting airport officials.
The aircraft returned because smoke was detected from the aircraft's left engine, they add. Dash 8-400s are powered by Pratt & Whitney Canada PW150A turboprop engines.
There were 79 passengers and four crew on board, the airport officials says, adding that there were no injuries.
Feature picture, from en.koshionline.com , shows the aircraft after it landed at Nepalgunj Airport.
Related articles:
Nepal's Shree Airlines Dash 8 Suffers Engine Problems (12 May 2022)
Nepal's Shree Airlines In Expansion Mode (3 February 2022)
Shree Airlines Dash 8-400 Skids Off Runway In Nepal (5 October 2021)
Nepal Breaks Domestic Travel Record (10 January 2022)
Nepal's Shree Airlines Delays Adding Dash 8-400s (16 September 2021)
Related posts
SUBSCRIBE TO OUR NEWSLETTER