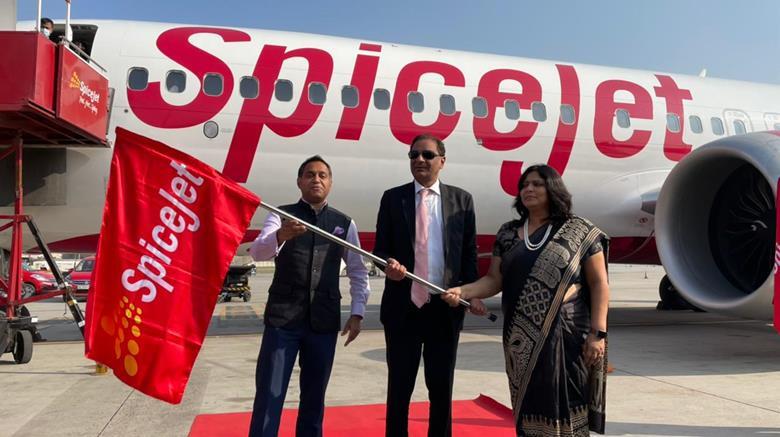 The troubles facing SpiceJet, which has been losing market share and downsizing its fleet, spells trouble for Boeing's 737 MAX program in India.
India used to be a stronghold for Boeing's narrowbody program, but this week's news that SpiceJet's chairman and shareholder Ajay Singh has been trying to sell airline equity to a potential buyer in the Middle East, sounds all too familiar.
In 2013, Etihad Airways bought a 24% stake in Jet Airways, which was then India's leading full-service carrier and a large Boeing customer with a fleet of Boeing 737s and Boeing 777s. Jet Airways had also placed an order at the 2015 Dubai Airshow for 75 Boeing 737 MAX 8 aircraft, nearly of which it never took delivery of, as the airline experienced financial problems and stopped flying altogether in 2019.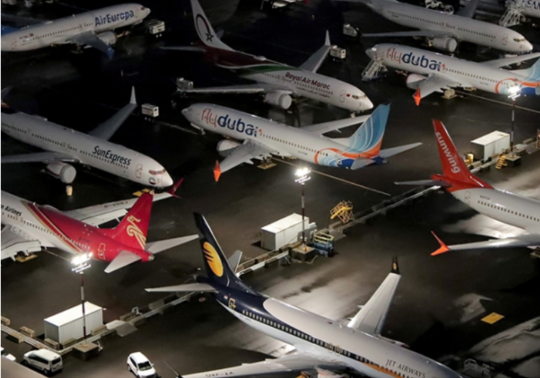 Picture, taken by Gary He/Reuters in 2019, shows a Jet Airways 737 MAX and others permanently grounded at Boeing Field in Seattle due to the FAA ruling in the wake of two 737 MAX crashes. 
SpiceJet, meanwhile, increased its 737 MAX order book in late 2016 to 155 firm and purchase rights for 50 more. Despite this large order, Spice Jet today reportedly only has around 13 737 MAXs. Its other 45 737s are the earlier generation model.
Indigo, which is a large Airbus A320 and ATR operator, has since emerged as India's dominant player.  Until very recently, SpiceJet was the number two airline in India, but not anymore. Its market share is reportedly now down to around 10%.
Besides SpiceJet, the only other sizeable 737 operator in India is Air India Express, which operates 24 737-800s.
A key selling point of the 737-800 over the A320 is that, in all-economy class configuration, it has nine more passenger seats than the A320 – 189 versus 180.
But now Boeing's being muscled out by A320 operators Indigo, Vistara and a resurgent Air India.
In the past, Boeing could count on Jet Airways and SpiceJet to fly the flag, but no longer.
It does have Jet Airways mark two (MKII) and low-cost carrier start-up Akasa Air, but both a very small with just a handful of 737s between them.
Boeing is largely left with just SpiceJet. But following a spate of incidents, India's Directorate General of Civil Aviation (DGCA) on 24 July announced that SpiceJet has to reduce its capacity to 50%; only operate half its fleet.
SpiceJet then disclosed it was unaffected by the DGCA ruling, as it was already operating at reduced capacity.
From a business financial perspective this is worrying, as how can the airline hope to be profitable if it is only operating at half capacity?
Some airline lessors, that are owed monies, also appear to have given up on SpiceJet. Indian media reported on 31 July that Dubai Aerospace Enterprise's leasing company AWAS has applied to the DGCA to de-register and repossess three of SpiceJet's 737-800s. Since then another lessor, Altena Aircraft, has also applied to deregister and repossess one SpiceJet 737-800.
Lessors usually only repossess aircraft as a last resort. They prefer to reach some agreement with the lessee, as it is costly and troublesome to repossess an aircraft, especially in India. Airports in India, for example, don't always recognize or understand the principles of the 'Cape Town Treaty' covering lessors' rights with regards to aircraft repossession.
As SpiceJet downsizes its fleet, by returning 737s to lessors, it needs to be very careful to resize its staffing numbers accordingly. Otherwise, its losses will continue to increase as its fixed cost base is no longer commensurate with its revenue. For Boeing, meanwhile, it is hard to see how – in the near term at least – the 737 program can soar again in India, one of the world's top five commercial aviation markets.
Feature picture, from SpiceJet, shows the airline's chairman Ajay Singh (centre) flying the flag for the take-off of a Boeing 737 MAX in India.
Related articles:
SpiceJet Returns To Service 10 Aircraft Temporarily Grounded By Regulator (26 July)
India's High Court Dismisses Petition To Cease SpiceJet Operations (19 July)
India's DGCA Summons SpiceJet Over Spate Of Incidents (7 July 2022)
India's SpiceJet Faces Full Safety Audit Following Incidents (6 May 2022)
India's SpiceJet Reaches Settlement With Credit Suisse In US$24 Million Lawsuit (1 April 2022)
India's SpiceJet Loses Appeal In Court (12 January 2022)
Related posts
SUBSCRIBE TO OUR NEWSLETTER