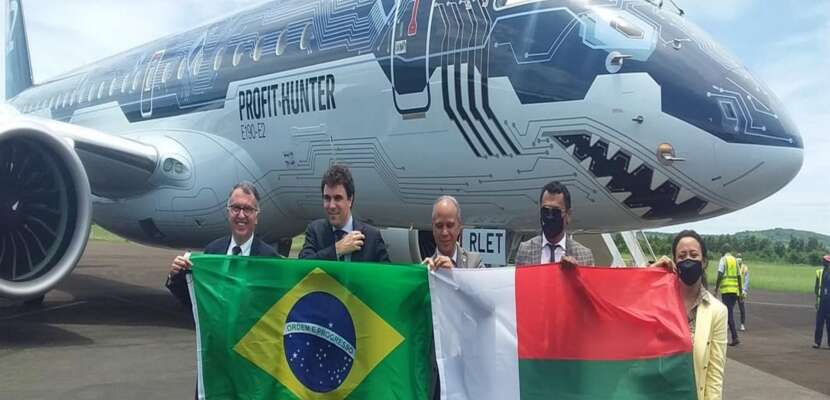 Madagascar Airlines, the new national carrier that will replace Air Madagascar, could potentially use the Embraer E190-E2 for its domestic and short-haul flights, citing the aircraft's capabilities a great fit for its needs.
Mamy Rakotondraibe, CEO of Air Madagascar, which is the parent group of Madagascar Airlines, tells local daily newspaper Midi Madagasikara, that Embraer has responded to its requests and the E190-E2 can meet the new carrier's domestic and short-haul international needs.
The CEO was speaking after Embraer completed an E190-E2 demonstration flight from Antananarivo, Madagasar's capital, to Antsiranana, a city in the country's northern region, and back to Antananarivo, the report adds.
With a seating capacity of 150 passengers and a range of up to seven flight hours, the E190-E2 is adapted to what Madagascar needs for its routes, the report says. Embraer's website shows the E190-E2 can seat 146 passengers with a 28in seat pitch in a single-class configuration. 
An Embraer spokesperson says this aircraft meets the requirements of the Madagascar market, in another local media report.
Rakotondraibe says the company wants to achieve operational excellence and is seeking the best offers that can meet the flying public's needs in terms of the choice of aircraft, destinations and flight programs.
"The company's main focus is on travelers and air transport users, and we want to match their expectations as closely as possible," he says, adding that discussions are underway for a possible acquisition of an aircraft such as the E190-E2.
Midi Madagasikara also reports, without naming its sources, that Ny Riana Rasolonjatovo has been appointed managing director of Madagascar Airlines. Rasolonjatovo was formerly country manager of DHL for Madagascar and Mauritius, the report adds.
The re-fleeting initiative and management appointment comes after Air Madagascar went into a court restructuring process around October last year due to an operating deficit of around US$80 million according to Madagascar's transport ministry.
A statement from the office of Madagascar's president, Andry Nirina Rajoelina, attributed the deficit to a bloated workforce, uncontrolled management costs and lease rates on its ATRs that are double the market rate. 
Air Madagascar, prior to its court appointed restructuring, reportedly had a fleet comprising of: two Airbus A340-300s, two ATR 72-500s, two ATR 72-600s, one Boeing 737-800 and three De Havilland Aircraft of Canada Twin Otters. 
Air Austral, the flag carrier of the French overseas region of Réunion Island, owned 49% of Air Madagascar but withdrew in 2020, leaving the Madagascar Government owning nearly all the shares with the exception of some very small minority shareholders. 
News outlets in Madagascar late last year, without citing sources, said Air Madagascar is to be merged with its domestic subsidiary Tsaradia and renamed Madagascar Airlines. And that the rebranded airline planned to lease a Boeing 787, to serve the Antananarivo-Paris route, and lease an Embraer 190 for short-haul international flights. 
Featured photo from cocolodgemajunga-madagascar.com shows an Embraer E190-E2.
Ong Jeng Yang
Based in Singapore, Ong Jeng Yang has more than four years of experience working in the media industry.
Related posts
SUBSCRIBE TO OUR NEWSLETTER