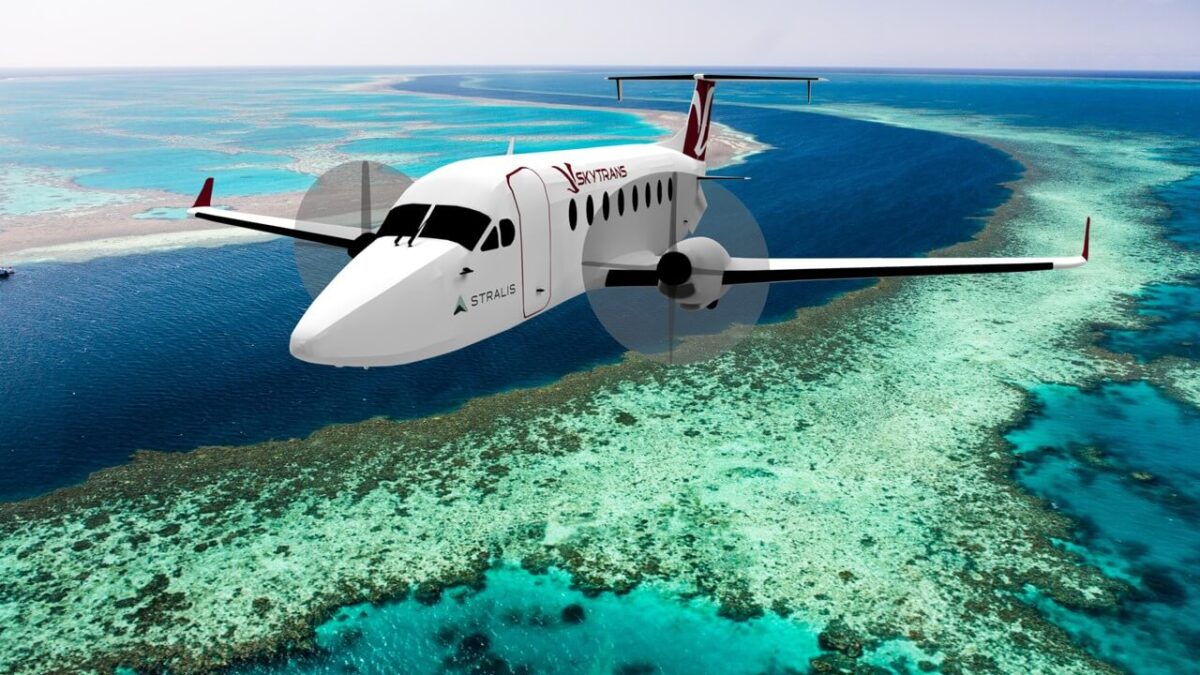 Cairns-based Skytrans Airlines was already considering 19-seat aircraft prior to making the step to partner with Australian aircraft start-up Stralis Aircraft to develop a program to retrofit Beechcraft 1900D aircraft with electric motors.
Stralis CEO, Bob Criner, tells Smart Aviation Asia Pacific that Skytrans was already looking at 1900D turboprop aircraft before Stralis approached them.
Skytrans, which is based in the northern Queensland city of Cairns, operates a fleet of 30-seat De Havilland Aircraft of Canada Dash 8-100s and nine-seat Cessna Caravans.
Criner says that for some routes in Queensland, Skytrans needs an aircraft that is larger than the Cessna Caravan but smaller than the Dash 8-100 as the passenger volumes are too small.
Skytrans likes the economics of the 30-seat Dash 8-100, but the aircraft has too much seat capacity for more than a once daily service, says Criner who cites routes such as Cairns- Horn Island. A hydrogen-electric 1900D would be economical on such routes, he adds.
Criner says Skytrans plans to use the retrofitted 1900D on routes from Cairns to Kowanyama, Aurukun and Lockhart River due to the lower passenger loads on these routes. Skytrans would also use the aircraft on the Cairns – Horn Island route, which is close to the maximum operating range of 431 nm with the required reserves, he adds.
Criner says Skytrans could have opted for a turboprop powered 1900D but chose Stralis' hydrogen-electric 1900D because the carrier sees an advantage shifting to hydrogen electric powerplants.
Skytrans has signed a letter of intent (LOI) for the purchase of three retrofitted Beechcraft 1900D aircraft with the option for two more.
Stralis is in a design phase till 2024, and plans to have the retrofitted 1900D's first flight by early 2025, which will spend the next year and a half in certification flight and ground testing, he says.
Skytrans will help with the flight-testing with their pilots who are experienced in operating these types of aircraft, he says. The first aircraft will be flown with the Skytrans livery, he adds.
Stralis plans to have the retrofitted 1900D aircraft in commercial service with Skytrans by mid-2026, he says.
Criner says future partnerships with Skytrans could include decarbonizing its entire fleet and maintenance provision.
Skytrans, as the first operator of the retrofitted 1900D, could provide maintenance for other airlines in the future to provide other streams of revenue, he adds.
Stralis will design and build the aircraft in Brisbane at either Archerfield Airport or Brisbane International Airport, and first flights will be done in outskirt cities such as Ipswich or Toowoomba, he says.
Stralis wants to perform some demonstration flights with Skytrans in Cairns after conducting some initial flights closer to its base in Brisbane, he says.
Featured picture shows the rendered Stralis B1900D-HE in Skytrans livery (Source: Stralis Aircraft)
Related Stories:
Australia's Stralis Aircraft Using Retrofit Program To Aid Clean-Sheet Aircraft Design (27 July 2022)
Australia's Skytrans Working With University And Flying School To Train Pilots (25 November 2021)
Australia's Skytrans Aims To Expand Fleet (17 September 2021)
Australia's Skytrans Launches Two New Routes In Queensland (10 August 2021)
Davy Lim
Davy is based in Singapore. He is passionate about aviation and has flight experience in various single engine piston aircraft, gliders and seaplanes from his time in the United States. Davy holds a BA in Economics from the State University of New York in Buffalo.
Related posts
SUBSCRIBE TO OUR NEWSLETTER