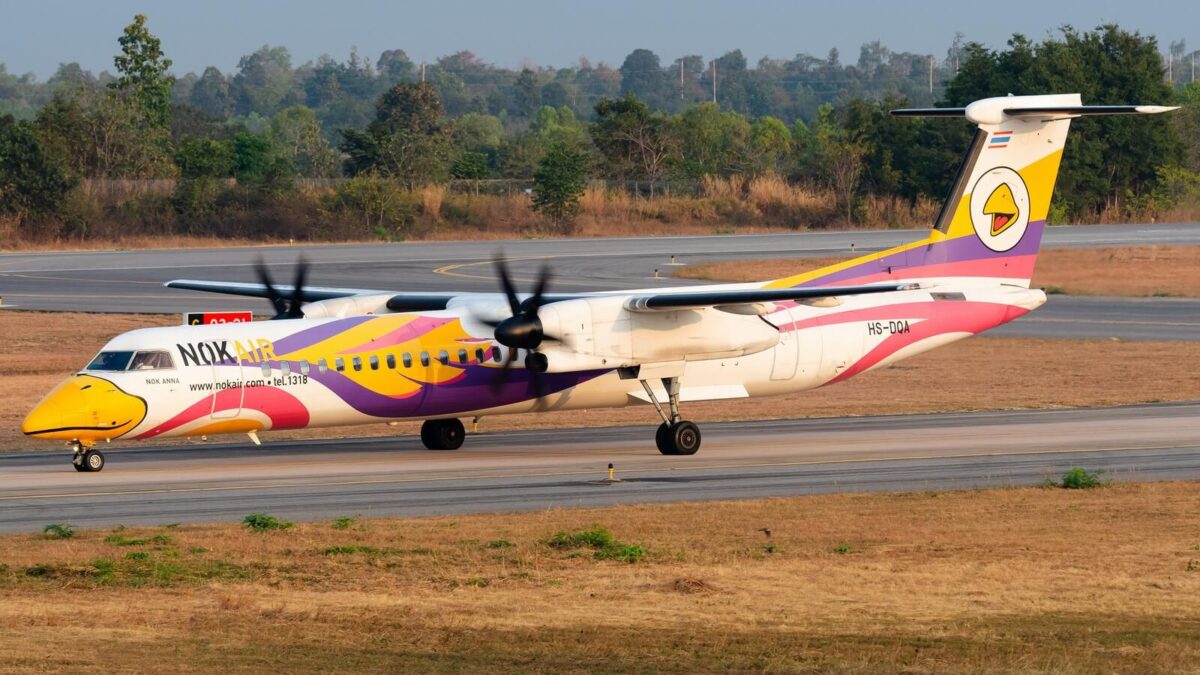 Thai low-cost carrier Nok Air, which is trying to improve its financial situation to avoid being delisted from the stock exchange, is axing two domestic routes.
The airline's chief commercial officer, Teerapol Chotichanapibal, tells local media they are dropping the Bangkok Don Mueang-Betong route on 29 October.
Nok Air also says in a statement it has suspended its Chiang Mai-Korat service indefinitely, even though it only launched the service on 2 August.
The airline served the two domestic routes using De Havilland Aircraft of Canada Dash 8-400s, of which it only operates three after reducing the fleet. The airline also operates 14 737-800s.
In an interview with Smart Aviation Asia Pacific in late June, the airline's CEO, Wutthiphum Jurangkool, did say the service to Korat may need some government support to be financially viable.
Nok Air also called for government support to make its Bangkok Don Mueang-Betong financially viable.
Korat is a city in central Thailand that is north of Bangkok, while Betong is a town in the south next the Malaysian border. Betong's newly built airport only opened last year.
Nok Air was the only airline serving Korat and is the only airline serving Betong, so its decision to withdraw means these two airports will no longer have scheduled air services.
The Thai low-cost carrier, meanwhile, is trying to stop the Thai stock exchange from de-listing the airline.
In a statement to the exchange, it says it has a solution to improve its financial situation and avoid a delisting
It says: "Besides the business rehabilitation process – according to Central Bankruptcy Court – which will help the company restructuring debt, costs and the organization… the company," is also taking other measures.
It says the business will be recapitalised and it aims to become profitable by: increasing aircraft utilization and renegotiating aircraft leases and maintenance contracts.
Nok also says, now that the pandemic is under control, it plans to serve more international routes, which will increase its aircraft utilization and reduce maintenance costs.
Editor's comments:
In his autobiography Smiling Through Turbulence, Nok Air co-founder and former CEO (2004-2017), Patee Sarasin, highlighted some of the issues that were dragging the airline down financially.
He said one of the issues Nok Air had was the cost of its engine maintenance. He said Nok Air signed a multi-year deal with Lufthansa Technik for engine maintenance on its CFM International CFM56 engines that power its fleet of 737s.
He said when Nok Air negotiated the deal, they thought they had secured a good deal because Lufthansa Technik agreed to a lower price on engine overhauls on the basis that the 737s would be flying longer sectors.
He said the airline planned replace the 737s on domestic routes with the Dash 8-400s and steadily redeploy the 737s to Nok Air's expanding international network. But this network plan never materialized. Patee said because the 737s continued to be used on short domestic sectors, the cost of the airline's engine overhauls became higher than they had expected.
While flying international sectors may reduce the airline's cost of engine maintenance, because the aircraft will doing fewer cycles each week, flying international is a different 'ball game' altogether because you incur additional costs, such as the cost of overseas offices and having staff located overseas.
Also, if Nok is finding the domestic market hard to compete in – because of airlines such as Thai AirAsia, Thai Lion Air and Thai VietJet – what makes them think the international market isn't going to be more competitive ?
Feature picture shows one of Nok Air's Dash 8-400s. 
Related posts
SUBSCRIBE TO OUR NEWSLETTER