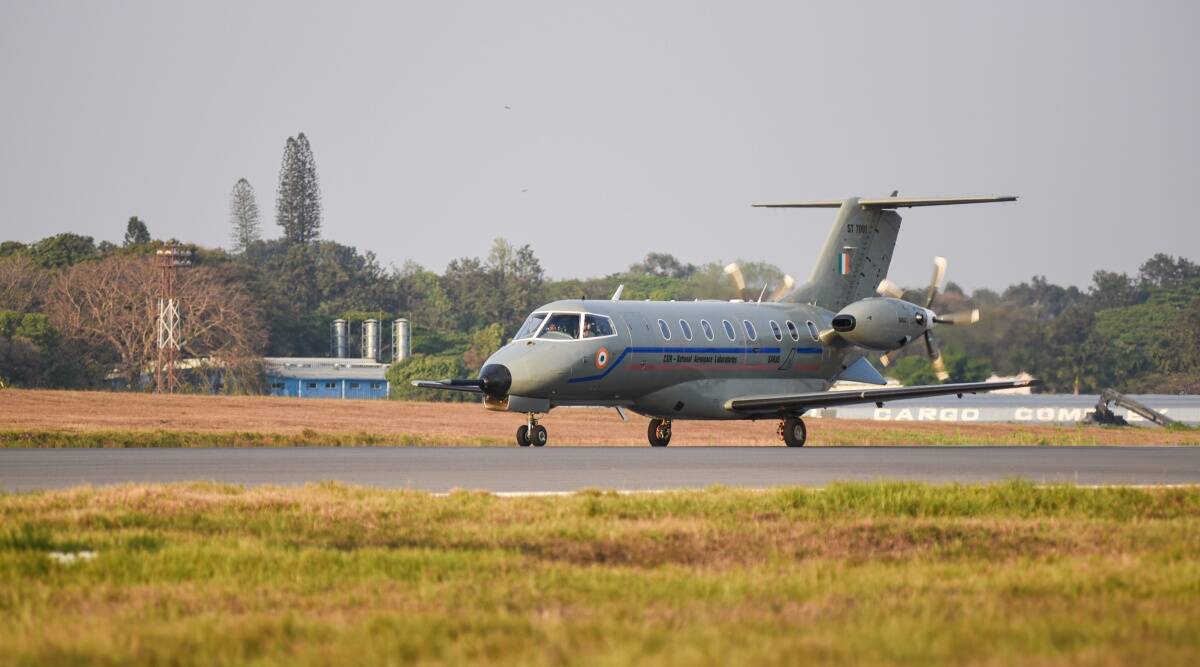 Indian National Aerospace Laboratories (NAL) has started taxiing trials in Bangalore for its Saras Mk 2, a 19-seat light transport aircraft.
Smart Aviation Asia Pacific has confirmed with a NAL spokesperson on the initiation of a series of taxi trials for the Saras Mk 2.
NAL successfully performed a low-speed taxi trial on 13 May to test the indigenously developed digital anti-skid braking system, reports The Indian Express. The low-speed taxi trial was conducted at 30 knots, and NAL sources tell Smart Aviation Asia Pacific there will be 15 to 20 taxi trials to evaluate system performance. NAL will also use its Saras PT1N, an earlier test aircraft developed before the Mk 2, to evaluate sub-system performances, says The Indian Express, without citing its sources.
The report also says the maiden test flight of the Saras Mk 2 is due to occur at the end of 2024.
The Saras Mk 2 is a multirole commuter aircraft with a pressurised cabin, all-glass cockpit, short take-off and landing capabilities and autopilot with CAT-II landing capabilities.
It is touted as the most-versatile aircraft of its class for connecting tier-two and tier-three towns in India under the UDAN scheme.
It has already been reported in India that the Indian Air Force (IAF) has committed to 15 Saras Mk 2 aircraft for coastal surveillance and training for cadets on transport flying.
The Saras program began in 1991, but the program has experienced setbacks. Its initial project partner Russia withdrew due Russia's financial troubles in 1991.
The program also suffered when the US imposed sanctions against India in 1998 because India had conducted nuclear tests.
The first prototype aircraft, Saras-PT1, first flew on 29 May 2004 but it was heavier than the initial design target parameters. NAL tried to reduce the aircraft's weight using composite materials, but it still failed to meet the target empty weight.
The second prototype, Saras-PT2, crashed on 6 March 2009 during a test flight, killing the three flight crew. The final investigation report by the Directorate General of Civil Aviation cites improper procedures for engine restart as the cause of the accident.
NAL stopped all work on Saras in 2016 when funding stopped in 2013. The first prototype was handed over to the Indian Air Force's Aircraft and Systems Testing Establishment in 2017 and the revised prototype aircraft, Saras-PTN1, first flew again on 24 January 2018.
NAL has produced two other aircraft, Hansa, a trainer aircraft, and NM-5, a general aviation five-seater aircraft.
Picture Source: The Indian Express
Related Stories:
India's Hindustan Aeronautics Developing Dornier 228 Seaplane (8 February 2022)
Davy Lim
Davy is based in Singapore. He is passionate about aviation and has flight experience in various single engine piston aircraft, gliders and seaplanes from his time in the United States. Davy holds a BA in Economics from the State University of New York in Buffalo.
Related posts
SUBSCRIBE TO OUR NEWSLETTER