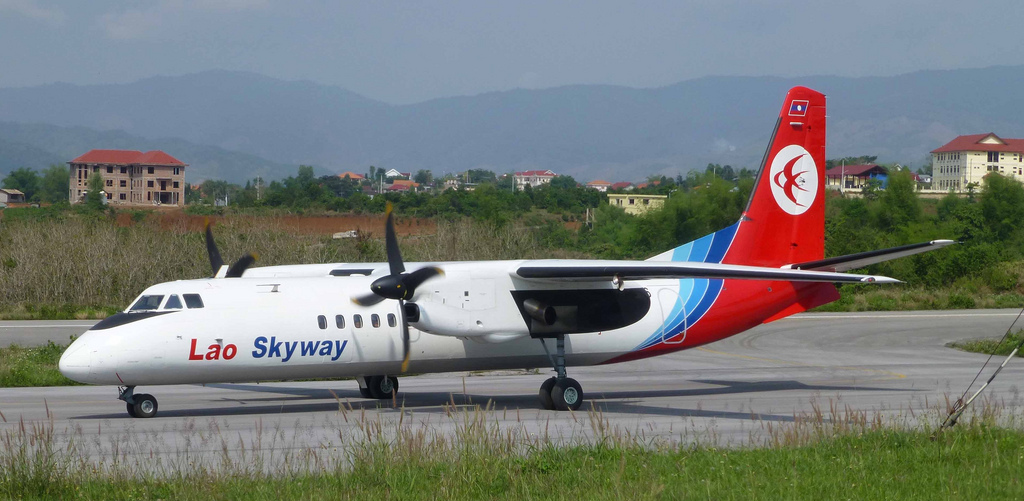 An influx of international tourists into Laos and the emergence of the mining industry is fuelling demand for domestic air travel.
Laos' number two carrier, Lao Skyway, appears to be the main beneficiary thanks to the fact that the national carrier, Lao Airlines, is more focused on developing its international route network, particularly into Southeast Asian capitals and various cities in China.
The smallest aircraft Laos Airlines operates is a 70-seat ATR 72, too high a capacity aircraft for developing new domestic routes in Laos.
It means Lao Airlines only has scheduled services to four domestic destinations: Vientiane, Luang Prabang, Pakse and Savannakhet.
Lao Skyway flies to eight: Houesay, Luangnamtha, Oudomxay, Xiengkhouang, Vientiane, Phongsaly, Houaphan and Luang Prabang.
Lao Skyway started as a helicopter charter operator 2003, but at the end of that year expanded into fixed-wing charter operations using single-engine aircraft. It was only in 2007 that it started providing scheduled passenger services, says the airline.
The airline's managing director, Bounma Chantharongsa, tells Smart Aviation that the airline's fleet today comprises of: two Xian Aircraft MA60s, two Cessna Grand Caravans and it recently added two Let 410s on wet-lease from South African operator Air-Tec Global.
Chantharongsa says the 19-seaters are required to land on unpaved air strips because the aircraft will be primarily used for mining charters.
Laos is a resource rich country where mining accounts for about 7% of GDP. Surprisingly, the commercial mining industry reportedly only started in 2003 with the Sepon gold and copper mine in Laos'  Savannakhet province. Now there are more than 100 mining projects in Laos.
Thanks to the mining sector, Lao Skyway also has a sizeable helicopter fleet. Chantharongsa says it has four Mil helicopters, a mix of Mi-8 and Mi-17s; three Airbus Helicopter AS350 B2s; and one AS350 B3 helicopter.
The number of international tourists coming to Laos grew on average by 11% per annum from 2011 to 2015, according to statistics from Laos' ministry of information, culture and tourism. Some of the foreign airlines that fly to Laos include: AirAsia group airlines, Bangkok Airways, China Southern Airlines, Jin Air, SilkAir, Thai Airways International, China Eastern Airlines and Vietnam Airlines.
Leithen Francis
Leithen is based in Singapore and has over 17 years' experience working for news organisations. He is the former deputy Asia editor of Flightglobal and the former Asia editor of Aviation Week. Leithen has a BA in journalism from RMIT University in Melbourne, Australia.
Related posts
SUBSCRIBE TO OUR NEWSLETTER