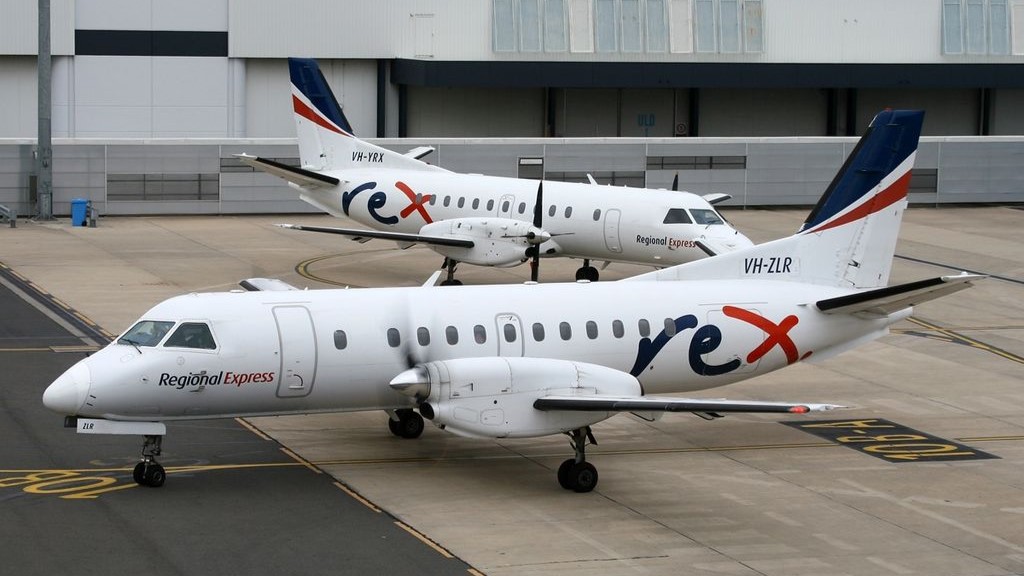 Regional Express (Rex) is forming a strategic partnership with Dovetail Electric Aviation (Dovetail) for turbine to electric powerplant conversions by 2026.
Rex in a statement says the partnership will operate under the Dovetail brand to develop and certify the retrofitting of electric engines onto legacy aircraft, initially for regional and general aviation aircraft.
Rex says it will provide an aircraft to be used as a test bed for the project along with support facilities, including: engineering expertise, technical assistance, maintenance, repair and overhaul support, storage facilities and workforce accommodation.
The statement stops short of mentioning which aircraft Rex will be providing for the project, but Rex's fleet comprises of 61 Saab 340 and six Boeing 737-800 aircraft.
Dovetail expects to achieve certification for converted aircraft within four years, the statement says.
"Regional airlines operating short sectors as well as seaplanes and training aircraft will be the early adopters of electric battery propulsion. Australia, with its very high utilisation of regional aviation and large number of aircraft capable of conversion, is a perfect incubator for the electric aviation industry. Significantly lower operating costs of electric aircraft will also help to stimulate regional aviation services between communities not currently served by scheduled flights," says John Sharp, Rex deputy chairman.
The aircraft will be converted using MagniX engines, of which Dovetail is the exclusive distributor in Australia, New Zealand, the South Pacific and Mediterranean Europe, says Dovetail I'm the statement. Dovetail will open conversion centres in Australia, Europe and Singapore once necessary intellectual property (IP) and certification approvals are established, it says.  The United States and the Middle East are also under consideration, it adds.
Dovetail plans to certify the entire propulsion system of an aircraft by integrating the electric motor, battery packs and hydrogen fuel cells into one drive-train on an existing airframe, it reports. This will generate unique IP in conversion engineering, testing technology and power plant machine learning to optimise powerplant performance, says Rex.
Dovetail, formed in 2021 by Sydney Aviation Holdings, owners of Sydney Seaplanes and Dante Aeronautical, is a start-up pioneering electric aviation concepts with a presence in both Australia and Spain, says Dovetail.
David Doral, Dante Aeronautical founder, says in the statement the market is estimated at US$15 billion, with more than 11,000 aircraft that are nine to nineteen seats capable of being retro-fitted.
Dovetail says it has established customer relationships or memoranda of understanding with a range of airlines such as Australia's Sydney Seaplanes, Alt Air, SeaAir Pacific and FLYM Group, Europe's Volotea, Air Nostrum, Isla Air, Monte and Hong Kong Seaplanes.
In a separate development, Rex announces in a statement today it has taken delivery of another Saab 340 aircraft, local registration VH-ZPO.
Rex chief operating officer, Neville Howell, says in the statement the aircraft will assist in the growth strategy on 11 key regional routes in New South Wales, Victoria and South Australia.
These routes include: Sydney – Albury, Broken Hill, Coffs Harbour, Merimbula, Orange, Port Macquarie and Wagga Wagga, Melbourne – Mildura and Adelaide – Port Lincoln.
Rex says it is the world's largest operator of the Saab 340 with 61 in its fleet.
The Saab 340 is 23.9 years old, according to Airfleets.net.
Picture Source: Raimund Stehmann
Related Stories:
Australia's Regional Express Buying Cobham Aviation Services' FIFO Charter Business (15 July 2022)
Australia's Rex Pilots Poised To Take Industrial Action (23 June 2022)
Australia's Rex Increases Capacity On Regional Routes (16 June 2022)
Australia's Regional Express Reportedly Eyeing Cobham Aviation Services (6 May 2022)
Australia's Link Airways Set To Launch New Route (4 April 2022)
Qantas Airways Expands Domestic Network (31 March 2022)
Australia's Rex Gets Six Out Of Seven Queensland Regulated Routes (23 November 2021)
Australia's Rex Appoints Legal Team To Pursue Actions For Qantas Anti Competition Behaviour (5 August 2021)
Davy Lim
Davy is based in Singapore. He is passionate about aviation and has flight experience in various single engine piston aircraft, gliders and seaplanes from his time in the United States. Davy holds a BA in Economics from the State University of New York in Buffalo.
Related posts
SUBSCRIBE TO OUR NEWSLETTER