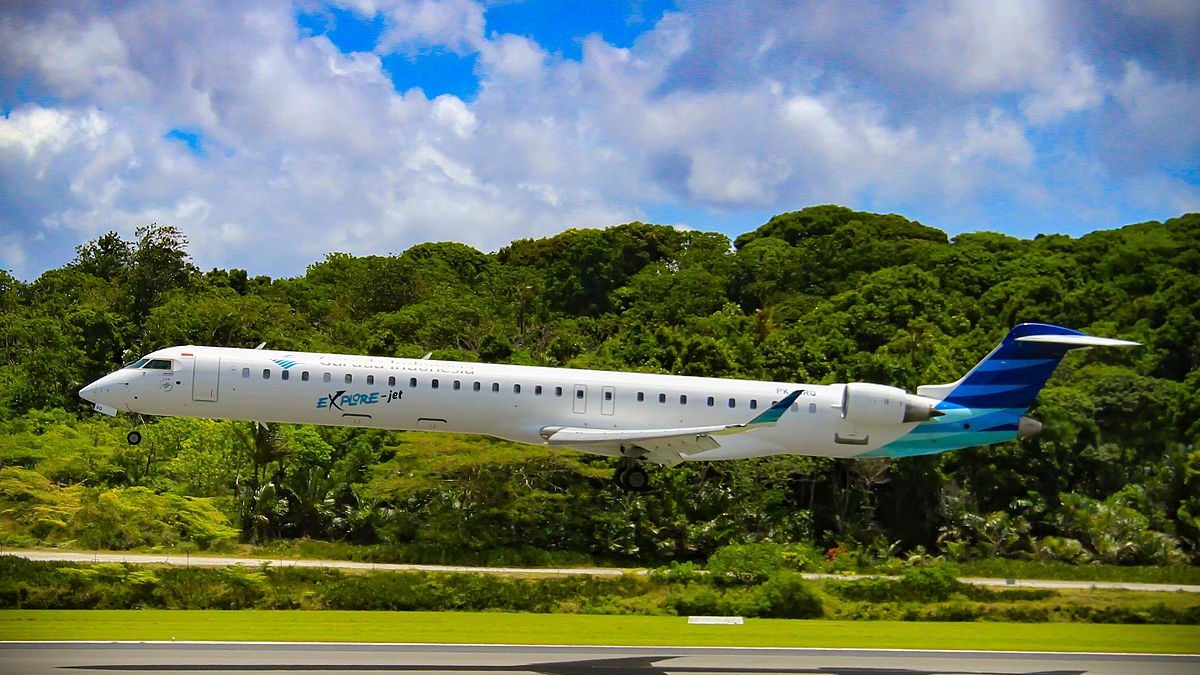 Indonesia's minister of state-owned enterprises has announced that national carrier Garuda Indonesia will be returning 12 Bombardier CRJ1000s to the lessor Nordic Aviation Capital (NAC) before the leases expire.
The leases were due to continue until 2027, but the airline decided unilaterally to ground the aircraft on 1 February and return them to the lessor, Indonesia's minister for state-owned enterprises, Erik Thohir, told reporters at a virtual press conference in Jakarta today.
"There were several discussions between Garuda and NAC to show our good intention. But unfortunately, the early termination plan has not received any response from them," he says.
Garuda Indonesia's president director, Irfan Setiaputra, said in the virtual press conference that the airline is also speaking to Export Development Canada with regards to the six purchased CRJ1000s and how it can achieve an early settlement on those aircraft which have a contract ending in 2024.
Setiaputra, who was appointed president director of Garuda in January 2020, was also asked about the UK Serious Fraud Office's (SFO) investigation into Bombardier's dealings a decade ago with Garuda with regards to the order for the CRJ1000s and the use of middlemen.
"We are still waiting for the results of SFO's probe, but that is also one of the reasons we use to convince Nordic Aviation that this was not an emotional decision. This is a commercial decision and it has a legal foundation," says Setiaputra, adding that Garuda could save around $220 million by no longer having the CRJ1000s. He says they have replaced the CRJ1000s with Boeing 737-800s already in the fleet.
Even before the pandemic, Garuda was losing money and had been wanting to phase out its fleet of 18 CRJ1000s. The aircraft owns six and leases 12 from NAC.
In November 2019, the airline's then-CEO, Ari Askhara, told Smart Aviation APAC that it was marketing the aircraft in the US and speaking with carriers such as Delta Air Lines to see if it would be interested to take the aircraft.
Askhara said the airline felt the 97-104 seat CRJ1000 was more suited to the North America market.
Other sources at Garuda told Smart Aviation APAC that the airline was unhappy with the aircraft, because it was poorly supported in Asia Pacific in terms of availability of spare parts. Garuda is the only CRJ1000 operator in Asia Pacific.
When the airline first started operating the CRJ1000s in late 2012, it also had to hire pilots from Spain because there were no pilots in Asia type-rated to operate CRJ1000s. Only 63 aircraft were ever produced, according to Bombardier figures, and the largest operators of the model are in Spain.
Sources at Garuda also told Smart Aviation APAC the airline was disappointed because the aircraft was unable to access some airports in Indonesia that have short runways.
It had originally intended to get aircraft with short take-off and landing capability because the reason it acquired regional aircraft was to link tier-two and tier-three cities direct, by-passing congested Jakarta airports. Some of the airports in the smaller cities have short runways, but CRJ1000 needs to take off from 2000m-long runways.
Bombardier completed the sale of the CRJ aircraft program to Mitsubishi Heavy Industries in mid-2020 and now there is a division called MHI RJ Aviation Group which is responsible for supporting CRJ operators globally.
Related articles: Garuda Phasing Out CRJ1000s (25 November 2019)
Leithen Francis
Leithen is based in Singapore and has over 17 years' experience working for news organisations. He is the former deputy Asia editor of Flightglobal and the former Asia editor of Aviation Week. Leithen has a BA in journalism from RMIT University in Melbourne, Australia.
Related posts
SUBSCRIBE TO OUR NEWSLETTER