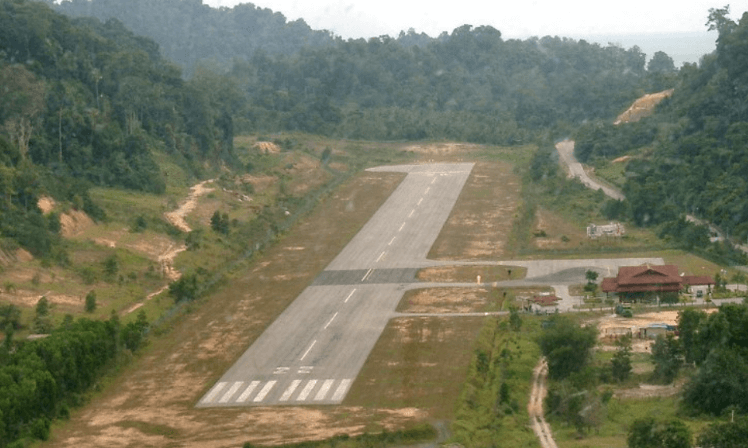 Malaysian Authorities Consider Extending Pangkor Airport Runway
Davy Lim, 7 Jul 2022
1 min

read
A runway extension for Pangkor Airport, a development that aims to get more tourists to the west Malaysian resort island, is now being considered.
The Perak State Economic Planning Unit, the Federal Economic Planning Unit and Malaysia's Ministry of Transport should be involved in the study to look into the financial aspect of the project, Perak's chief minister, Seri Saarani Mohamad, tells the Bernama national news agency.
Extending the runway will affect the hills and the runway also needs to be extended into the sea, resulting in high costs, he says, referring to the need for land reclamation
Malaysia Airports Holdings (MAHB) chairman, Zambry Abdul Kadir, told the media on 25 January – when SKS Airways launched its service between Pangkor and Kuala Lumpur's Subang Airport – that MAHB wants to extend Pangkor Airport runway to 1,500m (4,921 feet) from 732m (2,401 feet) to accommodate 70-seat ATR 72s.
SKS Airways launched the service using 19-seat De Havilland Aircraft Canada Twin Otters, ending an eight-year hiatus of no scheduled flights to Pangkor Airport.
But SKS Airways then suspended its Pangkor service on 29 May due to an underwhelming response from tourists, Perak housing, local government and tourism committee chairman, Nolee Ashilin Mohammed Radzihe, says at a press conference.
SKS Airways plans to reinstate the Pangkor service during peak holiday seasons such as school holidays, she says.
Featured picture shows Pangkor Airport (Source: Tin Media)
Related Stories:
Malaysia's SKS Airways Launching January 26 (5 January 2022)
Regional Air Routes Key to Driving Demand for Malaysia's Island Resorts (15 August 2017)
Davy Lim
Davy is based in Singapore. He is passionate about aviation and has flight experience in various single engine piston aircraft, gliders and seaplanes from his time in the United States. Davy holds a BA in Economics from the State University of New York in Buffalo.
Related posts
SUBSCRIBE TO OUR NEWSLETTER