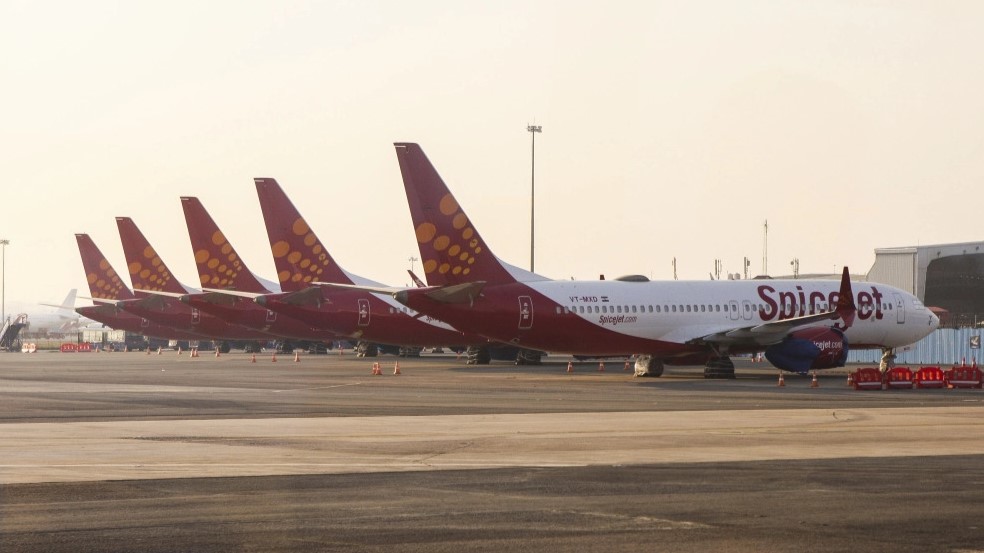 India's Directorate General of Civil Aviation (DGCA) has issued a show cause notice to SpiceJet following a spate of incidents since April.
In the show cause notice released on 5 July, DGCA director air safety, Sanit Kumar, says SpiceJet is required to respond within three weeks as to why action should not be taken against the airline.
The DGCA says it is concerned as to whether the airline is providing a safe, efficient and reliable service.
It highlights the spate of incidents at the airline since 1 April and says a financial assessment the DGCA conducted in September revealed SpiceJet is operating on a 'cash and carry' basis and that it has been late in paying some suppliers, leading to a shortage of spare parts.
The DGCA says the shortage of spares is then leading to a "frequent invoking of minimum equipment lists (MEL)."
It says because most of the incidents relate to either aircraft component failure or system failure it is concerned an investigation into the airline may reveal poor internal safety oversight and inadequate maintenance actions.
The DGCA also says when SpiceJet's aircraft experienced the technical issues, that were reported, it was then operating with "degraded safety margin". 
The DGCA stops short of mentioning possible action it may take against the airline, as the show cause notice gives the airline an opportunity to first respond to the DGCA's concerns. 
SpiceJet's CEO, Ajay Singh, has responded publicly by issuing a statement saying: "We have to be doubly careful. We will rigorously inspect aircraft when they leave for a flight, which we already do, but we will strengthen the inspections."
Singh says to the media that none of the incidents in the last few weeks have anything to do with a shortage of spare parts.
"The aviation sector has been under a great deal of [financial] stress. That does not mean that there can be any compromise on safety. All vendors that are relevant to anything related to safety or spare parts are always paid or settlements are reached with them," he says.
SpiceJet says on its social media that it has acknowledged the notice and will be responding in the specified time period. The DGCA audited all its aircraft a month ago and were found to be safe, and all flights are conducted in compliance with DGCA regulations, it adds.
Smart Aviation Asia Pacific previously reported on 6 May that DGCA chief, Arun Kumar, says SpiceJet will be facing a full safety audit due to several incidents on various aircraft types in the last six months.
Since the audit, there have been seven more incidents involving either SpiceJet Boeing 737s or De Havilland Aircraft of Canada Dash 8-400s.
Picture Source: Sanjay Rawat
Related Stories:
India's SpiceJet Dash 8-400 Cracked Windshield Second Incident On Same Day For Airline (6 July 2022)
India's SpiceJet Dash 8-400 Diverts Due To Smoke In Cabin (4 July 2022)
Two of SpiceJet's Dash 8-400s Suffer Door Issues On Take-Off (27 June 2022)
India's SpiceJet Dash 8-400 Diverts Due To Cabin Pressurization Issue (21 June 2022)
India's SpiceJet Faces Full Safety Audit Following Incidents (6 May 2022)
Davy Lim
Davy is based in Singapore. He is passionate about aviation and has flight experience in various single engine piston aircraft, gliders and seaplanes from his time in the United States. Davy holds a BA in Economics from the State University of New York in Buffalo.
Related posts
SUBSCRIBE TO OUR NEWSLETTER