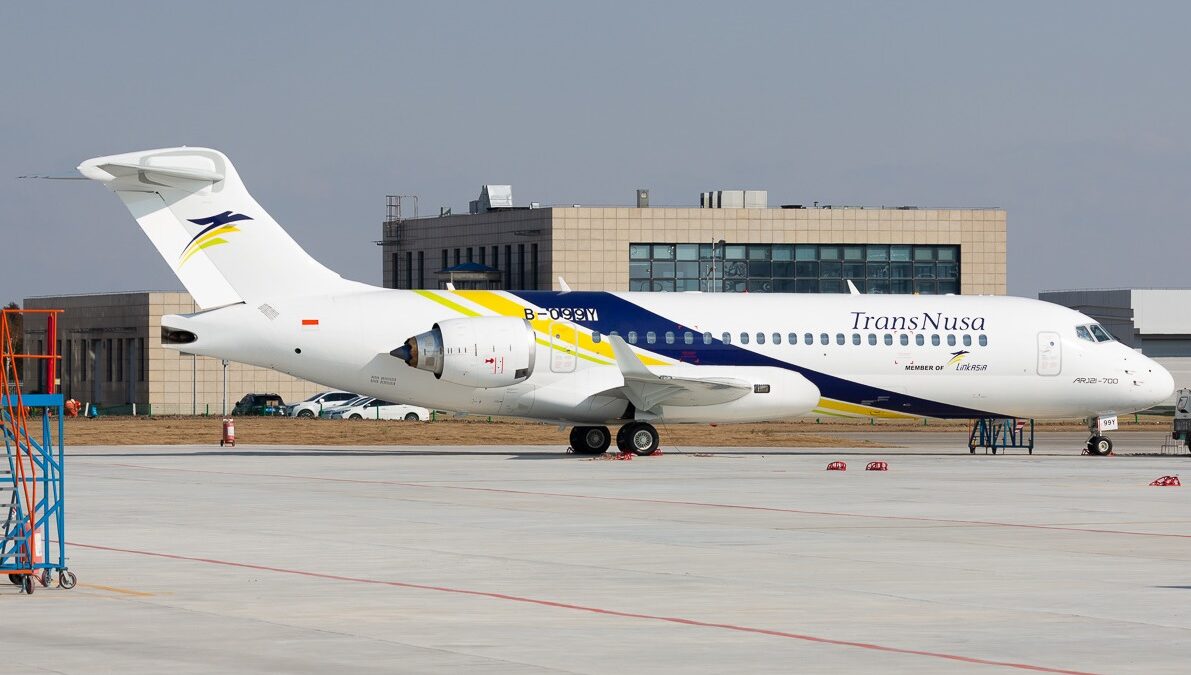 Indonesia's Directorate General of Civil Aviation (DGCA) has reportedly validated the Civil Aviation Administration of China's (CAAC) type certification of the Commercial Aircraft Corporation of China (Comac) ARJ21, paving the way for Indonesian carrier TransNusa to operate the aircraft.
Bayu Sutanto, TransNusa managing director, has told Indonesian newspaper Investor Daily it plans to start operating COMAC ARJ-21s as early as August on regional routes it previously served using ATR turboprops.
He says they are now training pilots and technicians for ARJ21 operations.
Novie Riyanto, director general of civil aviation at Indonesia's Ministry of Transportation told Investor Daily that the DGCA validated the ARJ-21's CAAC type certificate last month after COMAC applied in September.
But he says TransNusa's first ARJ21 still has to be put on Indonesia's aircraft registry.
These latest developments are significant as Indonesia is the first overseas country to validate the ARJ-21's Chinese type certificate and TransNusa is poised to become the first overseas launch operator of the aircraft.
Pictures appeared online in December showing an ARJ21 in TransNusa livery parked at Shanghai's Pudong International Airport. COMAC's aircraft final assembly line is in Shanghai.
Smart Aviation Asia Pacific reported in January last year that China Everbright Group's China Aircraft Leasing (CALC) – which holds a 35.68% stake in TransNusa – had signed an agreement to purchase 30 ARJ21s from Comac, with options for 30 more, and planned to lease some to TransNusa.
TransNusa, which started in 2005, suspended all operations in September 2020, because of the pandemic. Because it had let its AOC lapse, it has had to re-apply for its AOC.
Bayu told Smart Aviation APAC in mid-December the airline hoped to receive its AOC by the end of January, so it could relaunch services in February with an Airbus A320neo and some A320s on lease. It has already received the A320neo and some A320s.
Recent Indonesian news reports fail to mention the status of the AOC application and when the airline will begin operations.
Bayu also told Smart Aviation APAC the airline is changing its business model, from being a regional airline, to a low-cost carrier starting with three routes, namely: Jakarta-Denpasar, Denpasar-Yogyakarta and Jakarta-Yogyakarta.
Some Indonesian reports quote other TranNusa executives saying the ARJ21s will be based in the city of Kupang, in East Nusa Tenggara province, and serve smaller routes. Kupang is where the airline used to be based when it first started.
Bayu at TransNusa was unavailable for comment when contacted by Smart Aviation APAC today.
Featured photo shows Commercial Aircraft Corporation of China (COMAC) ARJ21 parked at Shanghai Pudong International Airport decked in TransNusa livery. (Source: Ruimin Yan / Planespotters.net)
Related Stories:
Indonesia's TransNusa Poised To Receive Its First Comac ARJ21 (23 December 2021)
Indonesia's TransNusa Set To Be Next Budget Airline In Indonesia (15 December 2021)
Indonesia's TransNusa Aims To Resume Flights Early Next Year (13 October 2021)
Ong Jeng Yang
Based in Singapore, Ong Jeng Yang has more than four years of experience working in the media industry.
Related posts
SUBSCRIBE TO OUR NEWSLETTER