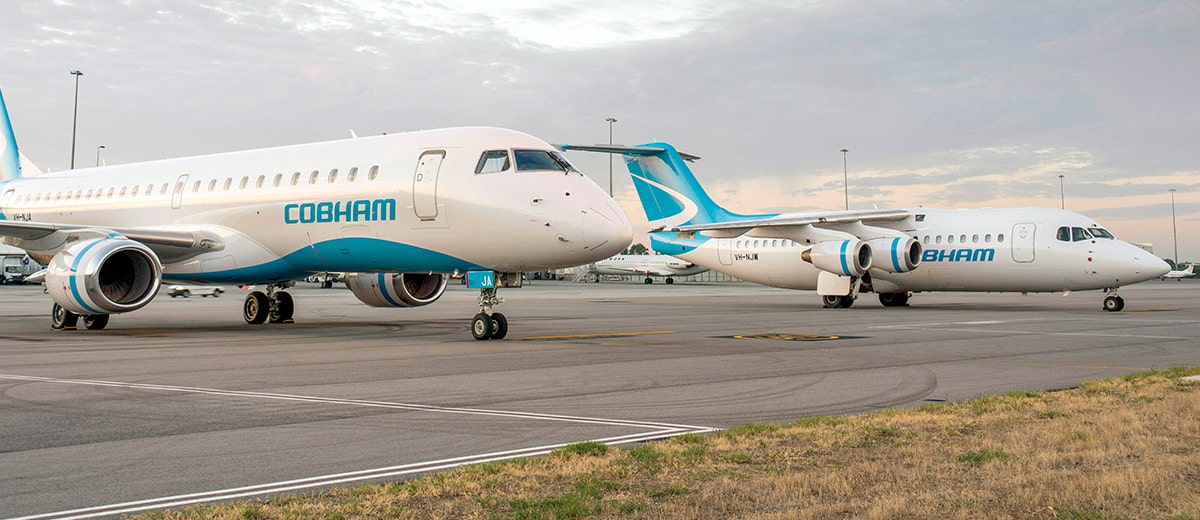 While Cobham Aviation Services Australia has yet to comment on news reports that it is up for sale, the news comes as no surprise to those following what has been happening since US private equity company Advent International acquired the Australian outfit's parent company.
Advent International in January 2020 paid £4 billion (US$5.4 billion) for UK-based Cobham, a conglomerate with disparate businesses in the UK, Europe, North America, South Africa and Australia.
Cobham – which started in the UK in the 1930s with military refueling technology – has remained largely a defense technology company, but it has expanded into many different military technologies.
The Australian outfit, meanwhile, is somewhat of an anomaly because it is a civil aviation business. It operates aircraft on a charter basis.
Since Advent acquired Cobham, it has steadily been selling off the UK headquartered group's businesses to realize a profit on its investment. For example, it sold Axell Wireless in June 2020, a company in the UK that provides wireless coverage for those operating machines and equipment. It also sold Cobham's military pilot training business – Cobham Aviation Services – and many other of Cobham's businesses.
It seems Advent has come to the conclusion that 'the sum of the parts, is worth more than the whole'.
Cobham Aviation Services Australia is ripe for sale, because there is no synergy between Cobham Aviation Services Australia and other parts of the business.
The Australian outfit has also been doing very well financially, because its lucrative contract -providing and operating maritime surveillance aircraft for Australian government agency Border Force – has been renewed.
And the company's fly-in, fly-out (FIFO) business for Australia's mining and resource sector has benefited from the boom in the mining and resource sector driven by higher commodity prices.
How long the boom will continue is anyone's guess, but it is no longer Advent's concern as it is now selling out at the top of the market.
The Australian Financial Review (AFR), without naming its sources, says Advent International has hired Australian investment bank Macquarie Capital to oversee the sale and shop the business to potential buyers.
The report says sale flyers have been sent to interested parties, highlighting Cobham Aviation Services Australia's importance in the Australian aviation landscape, its business' resilience and exposure to essential services.
An auction of the business is scheduled to take place in two parts over the coming months, it says, referring to how the maritime surveillance and FIFO business will be sold separately.
AFR highlights that the special missions arm makes up the majority of the business earnings.
Market research website IBISWorld shows that Cobham Aviation Services Australia reported A$368 million revenue (US$266 million) and A$87.2 million EBITDA in the year to December 2020, making it the third biggest player in Australia's aviation industry behind Qantas and Virgin Australia.
With A$407 million in assets and its fleet of aircraft, the report quotes insider sources as saying that the sale's value could potentially soar up to A$1.5 billion (US$1.08 billion).
The fact that Cobham Aviation Services Australia has a lucrative contract with Border Force is valuable, but it also means there is some longer-term uncertainty with the business, as that contract is subject to renewal in later years.
As for the FIFO business, it is a booming segment of the market, but also a highly competitive one with other players competing such as: Alliance, Regional Express, Hevilift, Skippers Aviation, Maroomba Airlines and Qantas' Network Aviation.
But the fact that Cobham Aviation Services Australia is purely a domestic operator means that – theoretically – foreign airlines are permitted to buy it. Australia allows 100% ownership of domestic airlines, making Cobham a very solid foundation business for any foreign carrier looking to enter Australia's domestic commercial market.
AFR says key buyers expected to make a move on Cobham Aviation Services Australia include private equity firms that were previously eyeing Virgin Australia in 2020 and core-plus infrastructure investors. It says Alliance Aviation, which is one of Cobham's major competitors in the charter and FIFO sectors, could potentially get in on the action as well.
Smart Aviation Asia Pacific previously reported that Cobham Aviation Services Australia's fleet consists of: four Bombardier Challenger 604s, sixth Dash 8-400s, four E-190s, three Avro RJ100s, four BAe 146s and ten smaller model Dash-8s. The operator is also looking to expand and will be adding four more aircraft in the coming months.
Cobham Aviation Services Australia's spokesperson told Smart Aviation Asia Pacific that they are in the very early stages of a sale process and as such will not be able to further comment at this time.
Picture Source: Cobham.com
Ong Jeng Yang
Based in Singapore, Ong Jeng Yang has more than four years of experience working in the media industry.
Related posts
SUBSCRIBE TO OUR NEWSLETTER