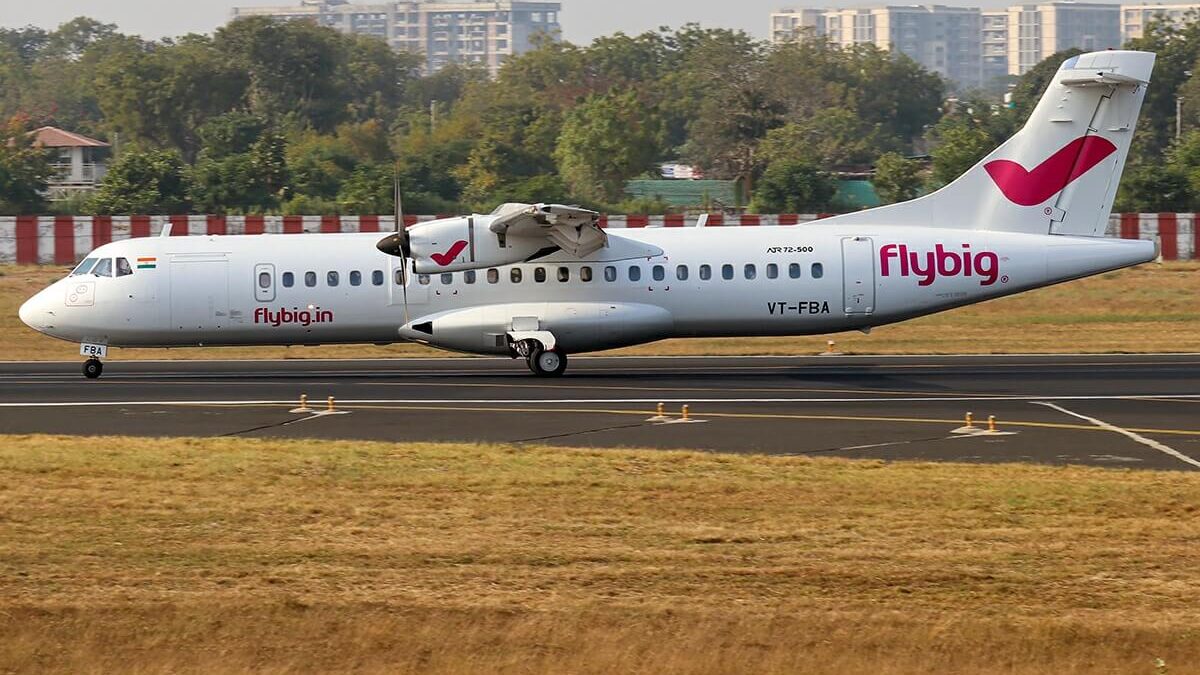 India's Flybig Expanding In Northeast India, Adding ATR -600s
Leithen Francis, 23 Aug 2021
3 min

read
Indian regional carrier Flybig is switching to -600 model ATRs and is further expanding its services in India's remote northeast. 
The airline has just launched a four-times weekly service from Guwahati to Tezu using an ATR 72-500, Flybig chairman and acting CEO, Sanjay Mandavia, tells Smart Aviation APAC. 
Guwahati is the largest city in India's northeast state of Assam, while Tezu is a town in the neighbouring northeast province of Arunachal Pradesh bordering China. 
Mandavia says it plans to soon launch a service linking Tezu to another part of northeast India and to connect Tezu to Kolkata. 
He says Guwahati is an important hub for Flybig and that the carrier is focused on the northeast because it is an under-served market with many new airports being developed. The national government is also willing to provide subsidies to air operators serving the northeast, says Mandavia, who confirms that the airline's routes are subsidized under the government's UDAN-RCS scheme. 
He says road transportation in the northeast is expensive and that, thanks to subsidies, air transportation can be very price competitive. 
Mandavia says, like all airlines in India, Flybig is having to grapple with a market impacted by COVID-19 but that passenger demand in the northeast is holding up relatively well. He says Flybig is doing reasonably well, because it is a small operation with a low cost base. 
He says the airline has been diligent at keeping its costs under control and has benefited from the relatively low fuel-burn and maintenance costs of the ATR 72.  
In January, the airline's then-CEO, Capt. Srinivas Rao told Smart Aviation APAC that Flybig's fleet comprised of two ATR 72-500s on lease from Singapore lessor Avation. But Mandavia says the airline only has one ATR 72-500 on lease, but is about to add two ATR 72-600s on lease from an undisclosed lessor.
He says they launched the airline with the ATR 72-500, but decided to move to -600s because India prohibits the importation of commercial passenger aircraft older than 15 years. He says this creates a challenge going forward, because ATR has stopped production of the -500. 
The last -500 ATRs were delivered in 2012.  The ATR -500 has a different cockpit to the -600; Collins Aerospace avionics system whereas the -600 has avionics from Thales. It means pilots need to undergo type-rating training to switch to -600. 
Mandavia also says Flybig is still considering adding Indian-built Dornier 228s to the fleet and sees these 19-seat aircraft as useful for serving smaller destinations in the northeast with airstrips where the ATR is unable to land. 
He says they have been having ongoing discussions with Hindustan Aeronautics (HAL) which manufactures the Dornier 228 in India. 
Picture Source:laminaar.com
Related Stories:
Interview: India's Flybig To Play Problem-Solver For Regional Connectivity (12 January 2021)
India's Flybig Poised To Launch Operations (29 December 2020)
Leithen Francis
Leithen is based in Singapore and has over 17 years' experience working for news organisations. He is the former deputy Asia editor of Flightglobal and the former Asia editor of Aviation Week. Leithen has a BA in journalism from RMIT University in Melbourne, Australia.
Related posts
SUBSCRIBE TO OUR NEWSLETTER