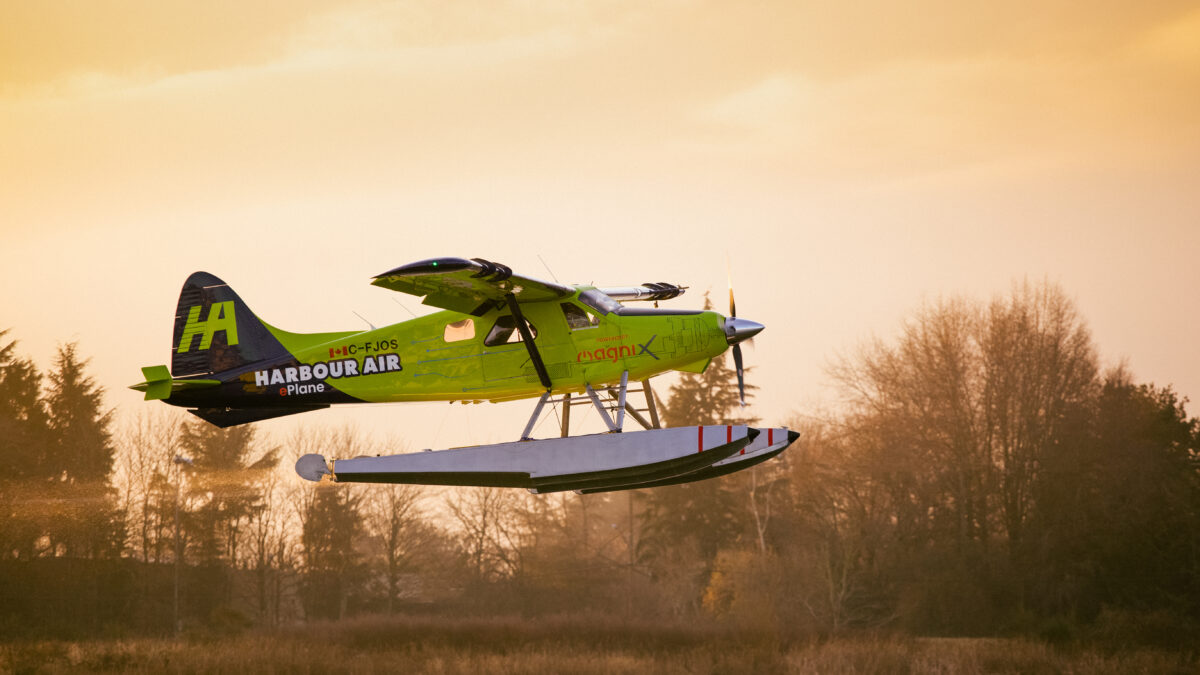 MagniX expects to complete certification of its electric-powered de Havilland Canada DHC-2 Beaver and Cessna Grand Caravan by early-2022, with certification of a larger 2MW electric motor for Universal Hydrogen's 40-seat aircraft to be completed shortly after that. 
Roei Ganzarski, CEO of the Seattle-based MagniX tells Smart Aviation APAC that Universal Hydrogen chose MagniX's electric motor, because its electric motors are designed specifically for aircraft and its 560kW electric motor has already done many hours of flight testing. 
Universal Hydrogen is working to get a supplemental type certificate to retrofit De Havilland Aircraft of Canada Dash 8-300 and ATR 42 aircraft with electric motors powered by a hydrogen fuel cell. 
Ganzarski says MagniX's electric motor technology is scalable and that the 2MW motor- that they are now designing – will use the same technology and electromagnetic architecture as its 560kW electric motor. 
He declines to say when the 2MW electric motor will be completed and certified, adding that it is for Universal Hydrogen to say, because they are working according to its time-frame. 
Universal Hydrogen has said it is working to get its FAA supplemental type certificate by 2023-24 for a hydrogen-electric powered Dash 8-300. The Dash 8-300 is a 50-seat aircraft, but Unviersal Hydrogen plans to take out 10 seats to make room for the fuel tanks that will have compressed hydrogen. 
MagniX, meanwhile, is working to get FAA supplemental type certificates to re-engine Cessna Caravans, with a 560kW electric motor, and re-engine de Havilland Canada DHC-2 Beavers, with a 280kW electric motor. 
Ganzarski says the 560kW and 280kW electric motors are on track for FAA Part 33 certification by first quarter 2022, depending on some delays from COVID-19. Part 33 is a certification for propulsion systems.  
MagniX's electric-powered de Havilland Canada DHC-2 Beaver had first test flight last December. Then in May of this year, MagniX's electric-powered Cessna 208B Grand Caravan had its first flight. It took place in Moses Lake, US at the flight test center AeroTec, the aerospace testing, engineering and certification company that is helping MagniX with testing and FAA certification. 
MagniX's test programme for the Caravan includes evaluating the performance of the electric motor in a high-altitude unpressurised environment. 
The two main markets MagniX is targeting with its battery-powered aircraft, are short-haul passenger commuter and the short-haul cargo. Battery powered aircraft will never replace an aircraft as large as a Boeing 737, says Ganzarski, who is a former Boeing executive. "But flying an all-electric [10-seat] Caravan or nine-seat Alice across islands in Indonesia, domestic flights in Australia or Japan. That is possible with today's battery technology. A 737 can fly over 2000 miles, but the majority of 737s fly less than 500 miles," he adds.
He says there are many places in the world, particularly archipelagos and the fjords, where passengers need to travel short distances, but the only practical way is by air. 
MagniX is targeting the cargo market, because the express freight companies use small regional aircraft, mostly Caravans, to fly short distances to the smaller towns and cities. "In North America, the Cessna Caravan-size aircraft fly 30-45min from a hub. This segment is ideal from a charging perspective, because they typically park in airports for up to four hours, before being loaded with new packages for the return trip," says Ganzarski.
He says the lithium-ion batteries can either plug into 400-500kW superchargers, which do one-hour charging for every one-hour flight time or fast chargers that charge at a rate of four hours for every one-hour of flying. 
Skydiving and sightseeing operators have also shown interest in MagniX-powered aircraft, says Ganzarski. 
Generally speaking, skydivers want aircraft with low operating cost and a high rate of ascent. 
Electric motors operate as well as at high altitudes as it does at low altitude, says Ganzarski, adding that combustion engines have to work harder at higher altitude. Combustion engines need oxygen to burn fuel. At higher altitude there is less oxygen.
He says sightseeing companies like the concept of electric aircraft, because they too want aircraft with low operating costs, but also want to project a clean, green image. 
"Today environmental awareness is becoming very strong," says Ganzarski. "So when a sight-seeing company says 'come and fly and see the pristine environment in the Maldives', for example, but let's get in an aircraft that produces carbon dioxide and smoke that is ruining the environment, [it doesn't compute]. Better to say 'how about come in my clean zero emission aircraft and look at these wonderful beaches and forests'," he adds. 
Ganzarski concedes that battery-powered aircraft will never replace aircraft the size of 737s on trunk routes, but adds serving short-haul commuter and cargo is a large enough market.
He says existing aircraft, such as the Caravan, retrofitted with today's electric motors and battery technology can do flights up to 150 miles. The new aircraft in development, such as the nine-seat Eviation Alice aircraft, can operate to around 500 miles. 
Five-hundred-mile range represents about 40% of all flights, he adds.  
He says operators of short flights of less than 500 miles are likely to switch to battery-powered electric aircraft, because there is 40-80% lower operating cost.
Ganzarski says when they operate the turbine-powered Caravan it costs $US424 in fuel for a one and a half hour flight as compared to US$24 in electricity when they operate the same aircraft using the electric motor. 
He also says electric motors have much lower maintenance costs than turbines, which are complex rotating equipment operating at high temperatures. 
MagniX's motors draw electricity from lithium-ion batteries. "Right now we are using lithium-ion batteries, because right now they are the only batteries that can fly," says Ganzarski. "But we are also talking to companies that make batteries that use lithium sulphur and solid state. We are working with all these [battery] technologies because we want to ensure they all advance as much as possible, so that when we get to 2022, customers will have multiple choices and the best choices."
An electric motor has only one moving part and lower operating temperatures, Ganzarski says, adding that turbines need to undergo expensive engine overhauls. 
MagniX was founded in 2009 on the Gold Coast, Australia by Croatian-born scientist Ante Guina but this year MagniX consolidated its business in Seattle.
"We did keep the Australian operation up until recently, but unfortunately with the impact of COVID-19, we had to shrink some of our operation. Given that all the growth is happening in the US," MagniX is consolidating its business in the US, says Ganzarski. 
But he says some of the Australian employees are being given the opportunity to relocate to MagniX in the US. MagniX today has 52 employees, he adds. 
The benefit of being in Seattle is MagniX can draw on talent from a strong aerospace ecosystem that exists in Seattle due to Boeing and other aerospace companies' presence there, says Ganzarski.
MagniX is owned by the Clermont Group, the investment company of New Zealand-born entrepreneur Richard Chandler. Clermont Group also owns electric aircraft company Eviation.
Photo: MagniX
Edward Eng
Edward is based in Singapore. He writes stories on regional aviation across the Asia-Pacific region and has a background on covering socio-political issues. Edward holds a BA (Hons) in Philosophy, Politics and Economics from the University of Warwick in the UK.
Related posts
SUBSCRIBE TO OUR NEWSLETTER