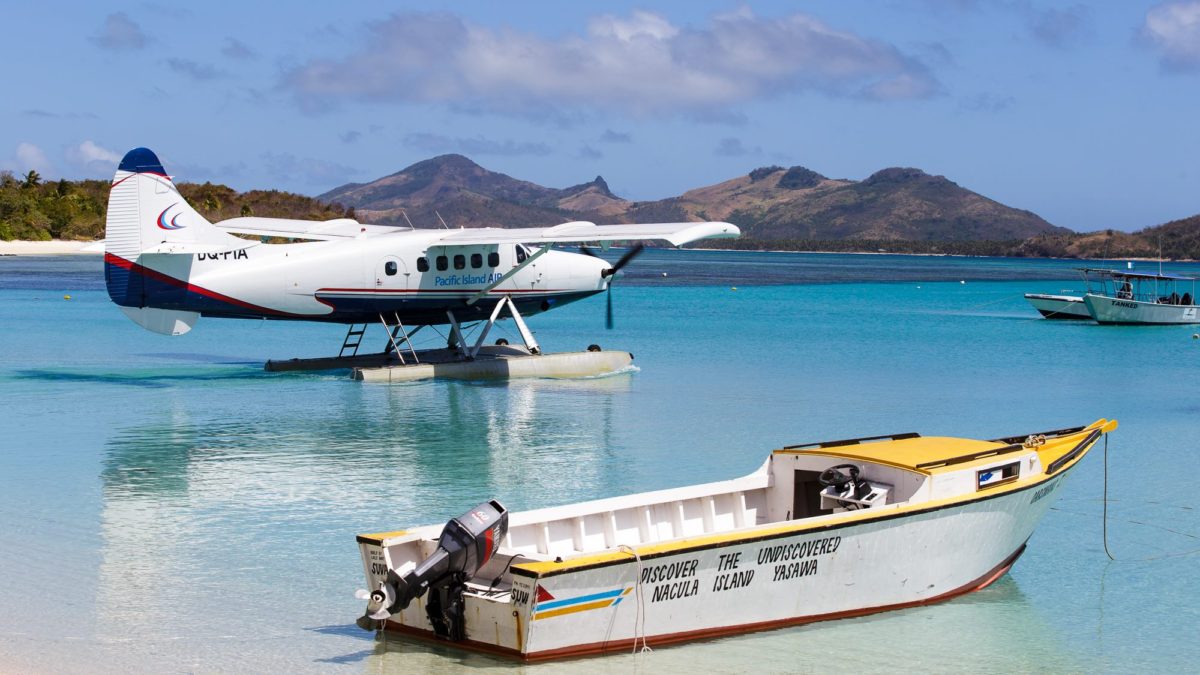 Fiji's Pacific Island Air Sticking with Single-Engine Otter Seaplanes
Edward Eng, 10 Jul 2019
2 min

read
Fijian tourist charter operator Pacific Island Air is planning to keep to its current fleet, citing the state of the country's tourism industry.
Tuni Beddoes, Pacific Island Air general manager, says tourist numbers are at new lows this year, so charter operations are only viable on its small six-seat aircraft. The airline prices its tickets based on the cost of chartering the entire aircraft, he says, adding that it cannot risk hoping that more than one group will share a transfer flight, for instance.
The airline flies sightseeing and transfer flights using its fleet of two six-seat Britten-Norman BN-2 Islanders, two six-seat de Havilland Canada DHC-3 Otter amphibians, and three six-seat Eurocopter helicopters.
"Fiji is experiencing a downturn in tourism because of a mix of factors. Firstly, tourists are now paying combined taxes of 25 percent on their hotel stays. The world economy is also distinctly weaker now and tourists are swapping to cheaper beach holidays in Bali. In the high-end market, there is too much supply between Maldives and the South Pacific. In Fiji alone, there are already six helicopter and five fixed-wing operations," Beddoes says.
"Fijian charter businesses like us are also harder hit because we tend to serve the outer islands, where the boutique hotels are. A large proportion of the tourism growth comes from China and Southeast Asian arrivals, who unlike the seasoned Australians and New Zealanders, join tour groups which are confined to the main islands. It also does not help that in Fiji, there is a low tourist season of about seven months each year," he adds.
Pacific Island Air has had to adapt, choosing to fly a mix of small aircraft to cater to different market segments, Beddoes says. For instance, it also flies helicopters because the larger high-end resorts have helipads. These resorts require helicopters for medevac as well as for times when sea conditions do not permit seaplane use, such as at low tide where guests would otherwise need to walk a long distance across a reef from the seaplane to the resort, he adds.
Having a larger fleet of small aircraft is also more useful than having a smaller fleet of larger 19-seat aircraft as it allows greater flexibility with bookings, Beddoes says. Unlike seaplane operators in the Maldives that have long-term contracts with hotel groups, Pacific Island Air can do bookings with Fijian resorts with just a few weeks' notice, he adds.
Beddoes says he is confident the charter business will remain essential: charter flights to the typical resort reduce travel time to 25 mins compared to 3-6hr for a ferry. The aircraft are also important for cargo, which Pacific Island Air can respond to quickly because of the flexibility of its fleet, he adds.
Edward Eng
Edward is based in Singapore. He writes stories on regional aviation across the Asia-Pacific region and has a background on covering socio-political issues. Edward holds a BA (Hons) in Philosophy, Politics and Economics from the University of Warwick in the UK.
Related posts
SUBSCRIBE TO OUR NEWSLETTER