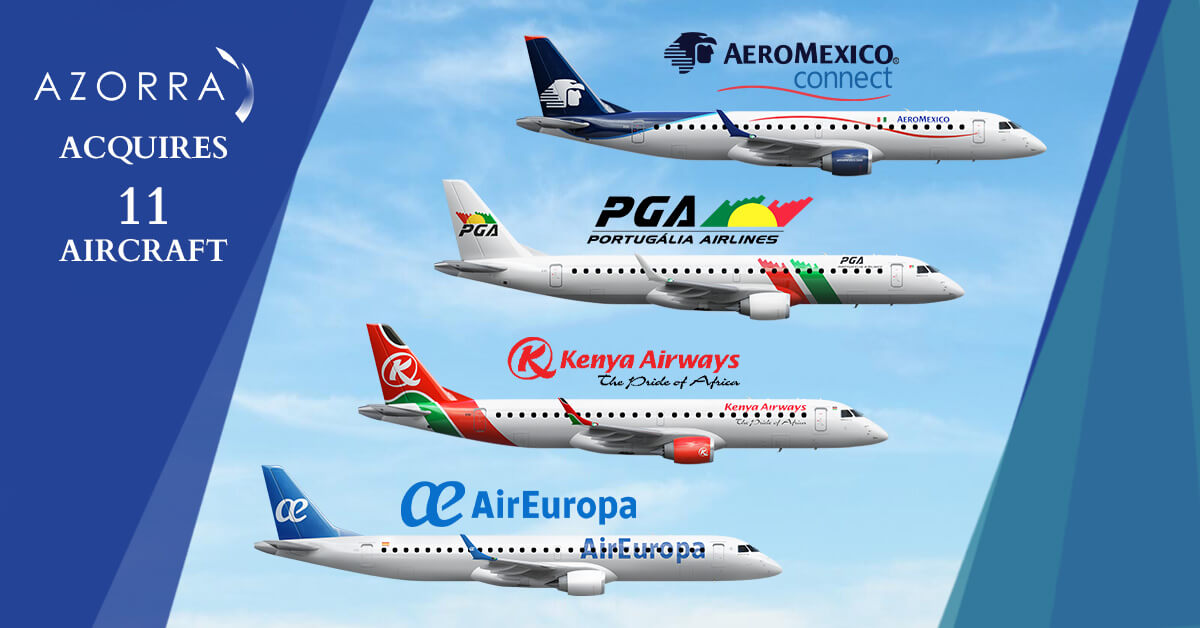 US aircraft lessor Azorra is buying 11 more Embraer E-Jets from Nordic Aviation Capital (NAC), which has been selling parts of its regional aircraft portfolio.
Azorra says in a statement it has signed a purchase agreement with NAC for 11 E-Jets leased to four airlines: AeroMexico, AirEuropa, Kenya Airways and PGA Portugal Airlines
These 11 aircraft are in addition to 29 E-Jets and eight turboprops – a mix of ATRs and De Havilland Aircraft of Canada Dash 8 400s – Azorra announced earlier in June it was buying from NAC, it says,
This latest acquisition diversifies Azorra's portfolio, weighted to the Embraer E-195s, with healthy near-term demand and long-term potential for freighter conversions, Azorra CEO, John Evans, says in the statement.
Azorra says it owns and manages 71 aircraft on lease to 19 airlines across countries and has commitments to purchase 49 additional aircraft including 42 Airbus A220s and Embraer E2 aircraft.
NAC is the world's largest regional aircraft lessor, with nearly 500 aircraft, but it emerged from bankruptcy earlier this year under new ownership and management that has been working to improve the company's balance sheet and reduce debt by selling some aircraft assets.
Picture Source: Azorra 
Related Stories:
Former Nordic Aviation Capital Executives Take Over Management of Elix Aviation (24 June 2022)
Nordic Aviation Capital Aims To Exit Bankruptcy In May After Restructuring (22 April 2022)
Nordic Aviation Capital Writes Down Value Of Its Aircraft Portfolio By Nearly A Third (23 January 2022)
Nordic Aviation Capital Gets Temporary Financial Relief (17 January 2022)
Nordic Aviation Capital Working To Get More Creditors To Agree To Debt-To-Equity Plan (28 December 2021)
ANALYSIS: Why Buying Financially-Troubled Nordic Aviation Capital May Be A Good Bet In the Current Market (22 December 2021)
Nordic Aviation Capital's Largest Creditors To Take Control Of Lessor Following Chapter 11 Bankruptcy (20 December 2021)
Lessor Nordic Aviation Capital Files For Chapter 11 Bankruptcy (19 December 2021)
Davy Lim
Davy is based in Singapore. He is passionate about aviation and has flight experience in various single engine piston aircraft, gliders and seaplanes from his time in the United States. Davy holds a BA in Economics from the State University of New York in Buffalo.
Related posts
SUBSCRIBE TO OUR NEWSLETTER