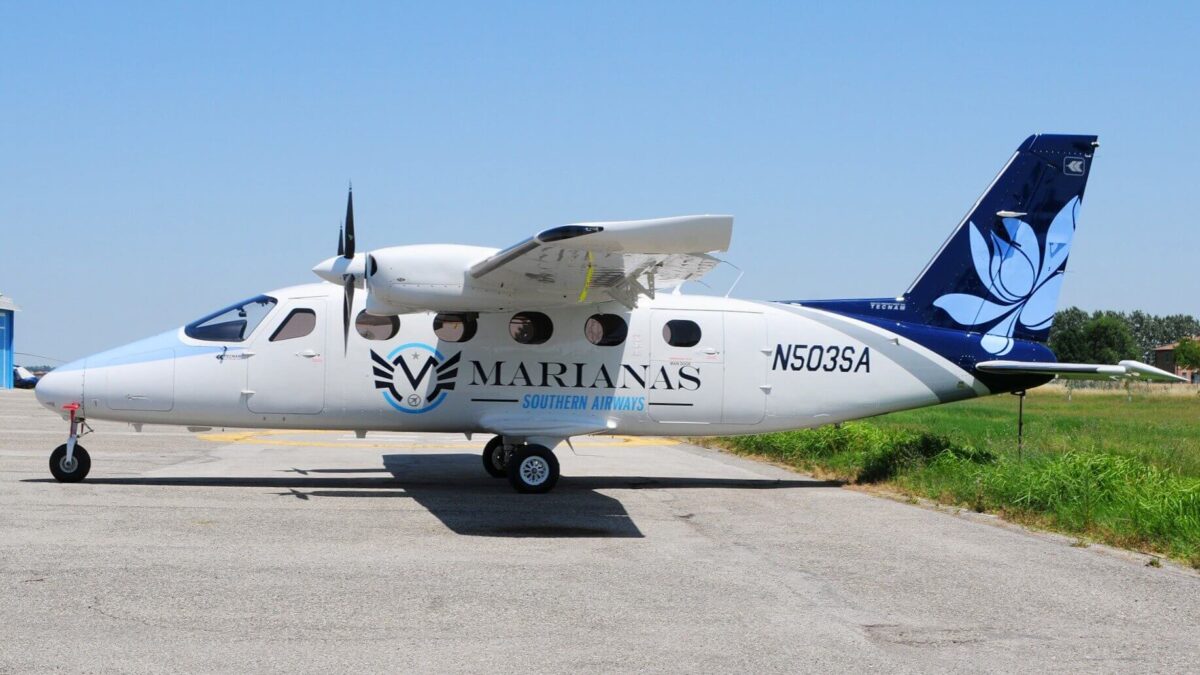 Marianas Southern Airways, which is based in the North Pacific territory of the Northern Marianas, has launched services with flights from the capital Saipan to two destinations using new Tecnam P2012 aircraft.
The new passenger airline, which is operating under a US air operator certificate, says it first flight was from the capital Saipan to the neighbouring territory of Guam.
It says it is now also operating a service from Saipan to the Northern Marianas island of Tinian.
The Northern Marianas and Guam are both overseas US territory.
The new airline is a joint-venture between US carrier Southern Airways Express and Marianas Islands real estate company MP Enterprises. The joint-venture is using Southern Airways Express' air operator certificate.
Marianas Southern Airways told Smart Aviation Asia Pacific in July it was about to receive two new Tecnam 2012 aircraft to launch operations. The P2012 is a piston-powered twin engine 11-seater that can also be reconfigured for cargo.
In its latest statement Bill Giles, Marianas Southern Airways vice president, says it plans to add another three or four Tecnam aircraft over the next year, which will be used to provide non-stop Rota-Guam and Tinian-Guam services and to add more frequency on the current three routes. Rota is another island in the Northern Marianas.
Giles also says: "Within the next three months we will offer same-day connectivity to Saipan with United Airlines' Honolulu-Guam flight, thereby avoiding an unnecessary overnight stay in Guam."
He also says through joint venture partner Southern Airways Express, we will interline with United, providing a seamless reservation from Tinian, Rota, or Saipan to anywhere in the United network.
The current schedule on the airline's website shows it provides a twice daily Saipan-Guam service, a thrice-daily Saipan-Tinian service except for weekends which is once daily, and it has a twice-daily Saipan-Rota service.
The new carrier's main competitor is Star Marianas Airlines. That airline's website shows it has a fleet of: eight Piper PA-32 Cherokee Six aircraft and five Piper PA-31 Navajo aircraft. Both types are used for passenger and cargo within the Marianas, it adds.
The Piper PA-32 is a piston single engine aircraft that seats five passengers, and the Piper PA-31 is a piston twin engine that seats eight passengers.
Featured picture depicts Marianas Southern Airway's Tecnam P2012, local registration N503SA "Spirit of Saipan" (Source: Marco Finelli)
Related articles:
Marianas Southern Airways To Start Flying In August (27 July 2022)
Marianas Southern Airways Preparing To Start Operations (10 June 2022)
US DoT Approves Start-Up In Mariana Islands (3 June 2022)
North Pacific Start-Up Aims To Begin In July (30 May 2022)
Related posts
SUBSCRIBE TO OUR NEWSLETTER