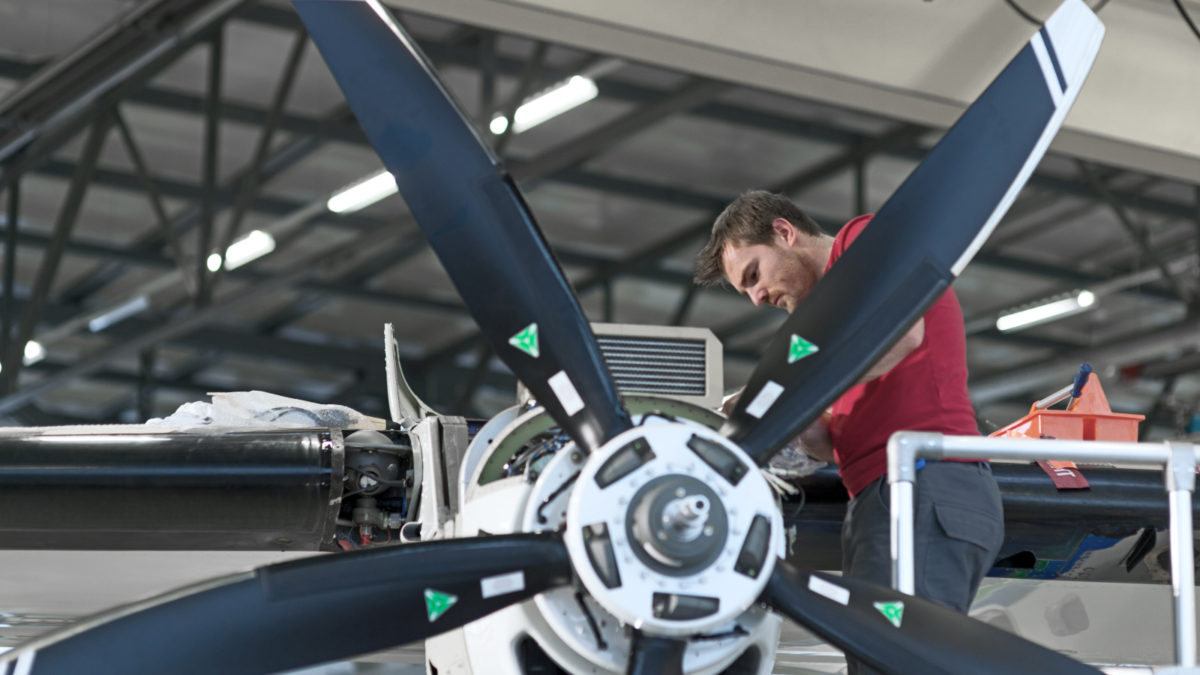 Engineering Talent That Allows Ideas To Take Flight
Leithen Francis, 24 May 2020
2 min

read
Aviation Maintenance Technician Day is on May 24, a day first celebrated in the US but, because of the global nature of the aviation industry, one that is increasingly recognized by aerospace companies around the world.
May 24 was chosen, because it is the birthday of Charles Taylor, the engineer who built the engine that powered the Wright Brothers' first aircraft. Taylor's engineering skills allowed the Wright Brothers' vision to take flight and kick-start the birth of the aviation industry.
Aerospace has always been at the forefront of new technologies. Technologies that started in aerospace have then trickled down into other industries. Solar cell technology was first developed to power satellites; the use of lightweight titanium, now prevalent in car parts, is a material first perfected in the aerospace industry; noise cancellation technology – now used in headphones – is a technology first developed to minimize noise in aircraft cabins, etc.
Michael Franz, director customer support Dornier 228 at RUAG MRO International, says the aerospace industry increasingly has to compete for engineering talent against other equally high-profile industries.He says being in Bavaria, we are acutely aware of this challenge. Southern Germany, after all, is the home of famous car brands such as: BMW (Munich), Audi (Ingolstadt) and Mercedes-Benz (Stuttgart).
"I personally would recommend to young engineering students, looking at career opportunities, to choose the aerospace industry," says Franz.
"Bavaria has always been a hotbed of innovation and often those innovations have come from Bavaria's aerospace industry. RUAG Aerospace Services, for example, is based at Oberpfaffenhofen, on the outskirts of Munich. Working at the Special Airport Oberpfaffenhofen is like working in the 'Silicon Valley' of aerospace. It is more like a campus. There are many different aerospace companies here around our airfield," says Franz.
RUAG Aerospace Services employs around 400 personnel, many of which are maintenance technicians and engineers. The company is not only the home of the Dornier 228 programme but also serves military helicopters and business jets with maintenance, repair and overhaul (MRO), engineering, upgrades and consulting services.
"We are the type certificate holder for the Dornier 228. With our own design engineering department, we can do any kind of modifications and upgrades to the aircraft including structural modifications and deep structural repairs," says Franz.
He says RUAG Aerospace Services has worked with equipment, component and system suppliers to develop different versions of the Dornier 228 for different market applications.
"Our Dornier 228 is an incredibly versatile platform, which can be flexibly for: passenger commuter, cargo, medevac, paratrooping, maritime surveillance, military transport and so on."
Leithen Francis
Leithen is based in Singapore and has over 17 years' experience working for news organisations. He is the former deputy Asia editor of Flightglobal and the former Asia editor of Aviation Week. Leithen has a BA in journalism from RMIT University in Melbourne, Australia.
Related posts
SUBSCRIBE TO OUR NEWSLETTER