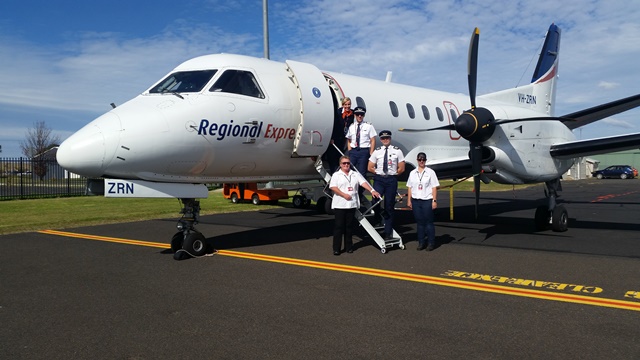 Australia's Regional Express (Rex) will be meeting business and local government stakeholders in the Northern Territory in the coming weeks as it considers starting regional operations out of Darwin.
Rex deputy chairman, John Sharp, says that Rex management will be travelling to the Northern Territory to meet with local governents, businesses and other potential customers in need of regional air services.
He says the move is in response to concerns over the future of the Northern Territory's main regional airline, Airnorth, whose parent company Bristow Group is undergoing bankruptcy proceedings in the US.
"We bring our expertise as the country's largest regional airline with over 60 destinations. But we also come with the numbers to back it up: we have a good track record with cancellation rates, on-time performance and our finances. We also have no debt, which is unusual for a airline," Sharp says.
Sharp adds that the airline's existing fleet is already well-prepared for a Northern Territory expansion. Rex flies a fleet of around 60 Saab 340s; about half are the 340B model and the rest are the 340B+.
"The distances in the Northern Territory are long, like in Western Australia. Our 34-seat Saab 340s are very economical on sectors of about 2.5 hours, so instead of using larger aircraft we prefer to just add additional service when passenger loads grow to 70%," he says.
"Regional passengers like the added services for the convenience. Less price-sensitive business passengers want the early morning flights for day trips, while other passengers are willing to take later services or book long in advance for cheap tickets," Sharp adds.
Rex, a founding member of the Saab user group, is the world's largest Saab 340 user. Sharp says the airline is adept at sourcing additional Saab 340s and has the scale to perform its own heavy maintenance, including C checks.
"We will probably need three to four more Saab 340s to do the Northern Territory [expansion] but that should not be a problem. We already have two spare aircraft, which we keep for schedule integrity at Queensland, Melbourne and Sydney," Sharp says.
The airline also has a flying school and engineering apprenticeship programmes, which allows it to keep a steady stream of manpower, Sharp adds.
Pilots like to move a lot more, especially to jet operations. We had serious crewing issues some time ago but setting up the flying school with a bond programme has stabilised things a lot," he says.
In recent times, the airline has been doing very well, Sharp says. Even with downturns in regional travel because of droughts and political changes in Queensland, Western Australia and South Australia, Rex has proved resilient, he adds.
The airline also offers charter and medevac services, which might supplement any Northern Territory operation, Sharp says. These are performed through Rex's subsidiaries, sometimes with jet aircraft.
"We have no plans to change our fleet structure. In the distant future, we might consider the 70-seat ATR or Q400, but that's still quite far off," he says adding that if the airline were to add larger turboprops, it would most likely be in response to customer requirements in the air charter market.
Edward Eng
Edward is based in Singapore. He writes stories on regional aviation across the Asia-Pacific region and has a background on covering socio-political issues. Edward holds a BA (Hons) in Philosophy, Politics and Economics from the University of Warwick in the UK.
Related posts
SUBSCRIBE TO OUR NEWSLETTER