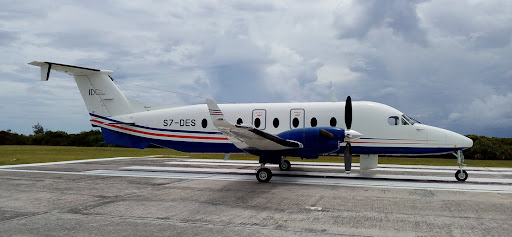 Islands Development Company (IDC), a state-owned company in the Seychelles that manages the archipelago's outlying islands, plans to expand IDC Aviation's fleet by adding ATR 42-600s in the next three to four years. 
IDC general manager of aviation, Marcus Labrosse, tells Smart Aviation Asia Pacific that it will be the -600 model, because the aircraft is still in production and has a good payload.
He says the company's domestic regional airline operates three 19-seat Beechcraft 1900s and is currently serving six islands in the Seychelles.  
IDC's website shows that in the past the airline has served as many as ten outer islands, namely: Alphonse, Assomption, Astove, Coetivy, Desroches, Farquhar, Marie-Louise, Platte, Poivre and Remire. These islands are within 1,140km (708 miles) from the airline's base at Seychelles International Airport in the district of Pointe Larue on the main island of Mahe.
The runway length of these smaller island airstrips ranges from 478m (1568ft) to 1400m (4593ft). A standard ATR 42-600 needs a 1,107m-long runway to take off, according to ATR's website. But ATR has announced it is developing a new super short take-off and landing variant, the ATR 42-600S, that can access 800m-long runways. 
Labrosse explains that the aircraft is also certified to serve short runways for most of its destinations which is an important consideration.
"There are possibilities that we might lease the aircraft first and purchase later, but the leasing companies have not yet been decided," he adds.
While the airline has discussed going forward in this direction, Labrosse clarifies that the expansion is still largely dependent on international traffic into the Seychelles growing. 
He says international flights arrive at different times throughout the day, so frequency on each domestic route is important to avoid keeping passengers waiting too long for their connecting flights. 
For a larger capacity aircraft, as the 50-seat ATR 42, there needs to be more inbound traffic and for international and domestic flights to be better aligned, and unless this can be achieved, the plan to add larger turboprops is unlikely to proceed, adds Labrosse.  
He says the aim is to add the ATR 42s in three to four years once the market has grown.
The Republic of Seychelles is an archipelagic island country in the Indian Ocean that consists of 115 islands, with ferries and air travel as main modes of transport.
IDC is a state-owned enterprise responsible for providing air services and other infrastructure to the outlying islands, such as electricity generation, potable water, waste management services, etc.  
The IDC website shows that besides the three Beechcraft 1900s, the airline operates a Cessna Caravan, a Dornier 228 and a Harbin Y-12 turboprop.
IDC says in an earlier statement that it added the third Beechcraft 1900 in April to meet increased demand.
The Seychelles closed its international borders last year due to the pandemic, but has since resumed international travel, the lifeblood of its economy. 
However, a recent spike COVID-19 cases has led to strict public health and social restrictions for travellers and locals.
Speaking on the current situation in Seychelles, Labrosse says the tourism industry is gradually getting back up although at a slow pace.
"For our airline, I forecast a recovery in the next six to seven months. As for the nation, I think it will be a year," he adds. 
But for national carrier Air Seychelles, the circumstances are more dire because it is in debt and faces creditor pressure to be wound up, something it is currently fighting against in the courts as earlier reported by Smart Aviation Asia Pacific.
Picture Source: idcseychelles.com
Related Stories:
Creditors Petition For Debt-Ridden Air Seychelles To Be Wound Up (27 August 2021)
Ong Jeng Yang
Based in Singapore, Ong Jeng Yang has more than four years of experience working in the media industry.
Related posts
SUBSCRIBE TO OUR NEWSLETTER