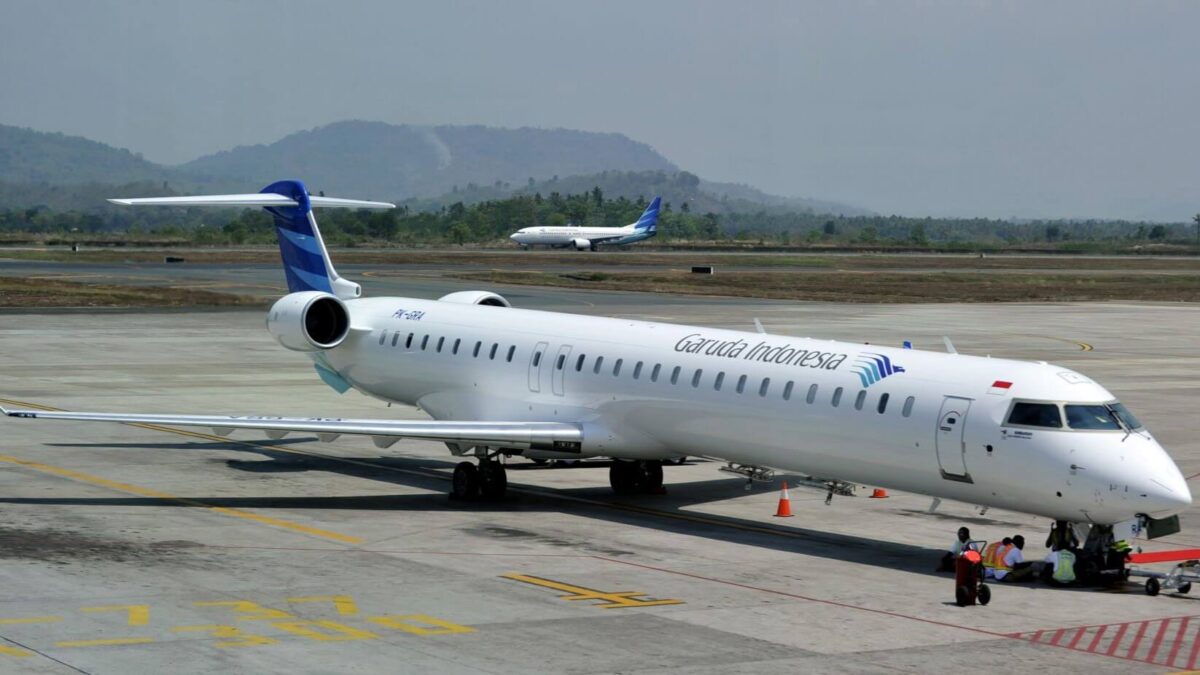 Garuda Indonesia has outlined how many aircraft it and its low-cost subsidiary Citilink plan to have by the end of next year, now that the Indonesian court has approved its restructuring plan with creditors.
Garuda Indonesia director of human capital, Aryaperwira Adileksana, has told local media the national carrier is only operating 33 of its fleet of 142 aircraft but it plans to have 70 aircraft in operation by the end of 2023.
Some of the aircraft it will be adding to its operation may not necessarily be in its current fleet, as it is returning some aircraft to lessors.
Adileksana says it has returned its 12 leased Bombardier CRJ1000 to lessor Nordic Aviation Capital and wants to get rid of the six CRJ1000s that it owns. Garuda announced the order for the six CRJ1000s in February 2012 and later paid for these using Export Development Canada financing. Smart Aviation Asia Pacific reported last year that Garuda was due to pay off the aircraft loan in 2024.
Garuda stopped operating the CRJ1000s as the regional jet was unsuitable for the airline's business, says Adileksana.
Garuda Indonesia originally ordered the aircraft to operate non-stop flights between large Indonesian cities and bypass Jakarta's airports which were congested. But domestic air traffic in Indonesia continued to grow tremendously, so Garuda ended up operating Boeing 737-800s on these trunk routes and assigned the CRJ1000s to smaller airports, markets traditionally served by turboprops.
Adileksana also reiterates that Garuda is transferring its ATR 72-600s to Citilink.
He says Citilink operates 34 aircraft but actually has a fleet of 51 aircraft and plans to operate 49 aircraft by the end of 2023.
Local media report that the Central Jakarta District Court has approved Garuda Indonesia's debt restructuring negotiations with creditors, which includes restructuring more than US$9 billion of the carrier's debt.
Picture Source: ANTARA (Yusran Uccang)
Related Stories:
Garuda Indonesia Proposes Extension For Debt Restructuring (13 May 2022)
Indonesian Government Investigating Garuda Indonesia For Alleged Corruption Involving Some Aircraft Lease And Financing Deals (31 December 2021)
Garuda Indonesia Responds To Queries On Why It Pays Higher Aircraft Lease Rates (8 November 2021)
Another Creditor Sues Garuda Indonesia (26 October 2021)
Garuda Indonesia Returning 12 Bombardier CRJ1000s To Nordic Aviation Capital Before Leases Expire (10 February 2021)
Garuda Phasing Out CRJ1000s (25 November 2019)
Davy Lim
Davy is based in Singapore. He is passionate about aviation and has flight experience in various single engine piston aircraft, gliders and seaplanes from his time in the United States. Davy holds a BA in Economics from the State University of New York in Buffalo.
Related posts
SUBSCRIBE TO OUR NEWSLETTER