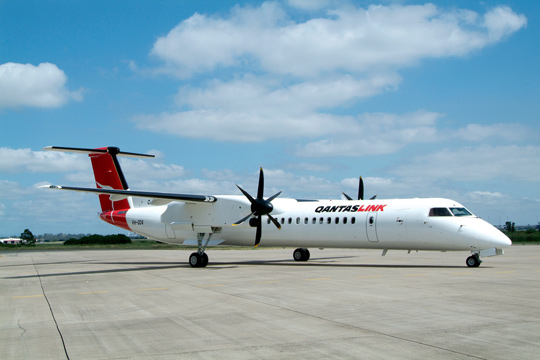 The Australian Competition and Consumer Commission (ACCC) has voiced concerns that Australia's aviation market is highly concentrated, a move that comes just days after Qantas Airways announced it was buying Adelaide-based regional carrier National Jet Systems.
"The Australian aviation industry remains highly concentrated and it is crucial that competition provided by smaller airlines is maintained longer-term," the ACCC says in a statement.
It says "the Australian aviation industry is in a state of major upheaval and now, more than ever, we are concerned that competition by smaller airlines is not hindered."
The statement makes no mention of Qantas' announcement on May 20 that it is acquiring National Jet Systems, instead highlighting that it is continuing to investigate Qantas' acquisition early last year of a 19.9% stake in Australia's Alliance Airlines.
Qantas announced on 1 February last year that it had acquired the 19.9% stake by buying Alliance shares on the Australian stock market. When it bought the shares, it did so without speaking to Alliance Air and without consulting the ACCC.
But Qantas said, at the time, it planned to seek regulatory approval to increase its stake further with a view to getting majority control of the airline.
In its statement today (1 June), the ACCC chairman Rod Sims says: "Our current view is that any further increase in Qantas's stake in Alliance is very likely to raise significant competition concerns under the Competition and Consumer Act."
He says: "The ACCC has been closely scrutinising the effects of the acquisition of this shareholding by Qantas. Acquiring a strategic stake in a close competitor in such a concentrated market raises clear competition concerns."
The ACCC says its "investigation is focussed on the competitive dynamics between Qantas and Alliance, examining whether Qantas's stake affects Alliance's ability to raise funds, consider takeovers or participate in commercial ventures, and whether Qantas is attempting to exert influence on Alliance's decision-making or operations."
"We will consider enforcement action if there is evidence that the Qantas shareholding is compromising Alliance's ability to be a strong competitor to Qantas, now and in the future," says Sims.
Brisbane-based Alliance Air is a Fokker 100 operator. It competes against Qantas Airways and Qantas' subsidiaries in the fly-in fly-out mining charter market in Australia. The regional carrier is also a codeshare partner of Virgin Australia – which is currently in voluntary administration – and is the only airline that competes against Qantas on the Brisbane-Bundaberg and Brisbane-Gladstone scheduled passenger routes.
Qantas Airways acquired Alliance Air's major competitor, Perth-based Network Aviation, in 2011. And Qantas announced late last month that it was buying Adelaide-based National Jet Systems (NJS).
NJS' main business is operating a fleet of 20 Boeing 717s on behalf of QantasLink and a few BAe 146 aircraft on behalf of Qantas Cargo. But NJS also competes in the mining fly-in fly-out business using its BAe 146 aircraft, its two De Havilland Canada Dash 8-400s and one Embraer 190. According to the CAPA database it has 13 BAe 146 aircraft.
NJS' parent company is UK aerospace and defense company Cobham, which announced last year it was reviewing its Australian business with a view to possibly selling it. Also, US private equity company Advent International acquired Cobham in January this year.
Editor's comments
Qantas' acquisition of NJS, which is to become a wholly-owned subsidiary of Qantas, represents a further consolidation in the Australian regional market.
If Qantas succeeds in gaining control of Alliance Airlines, it means that only Regional Express is left as a sizeable competitor to Qantas on regional routes.
There is also Virgin Australia Regional Airlines – formerly Perth-based Skywest Airlines – but the public statements from Virgin Australia's management is that when the airline comes out of administration, it will look to consolidate its business and focus on operating its fleet of Boeing 737s.
It is understandable that the ACCC should voice its concerns, which echo the concerns of many Australians who rely on regional air services.
Photo: Qantas
Leithen Francis
Leithen is based in Singapore and has over 17 years' experience working for news organisations. He is the former deputy Asia editor of Flightglobal and the former Asia editor of Aviation Week. Leithen has a BA in journalism from RMIT University in Melbourne, Australia.
Related posts
SUBSCRIBE TO OUR NEWSLETTER