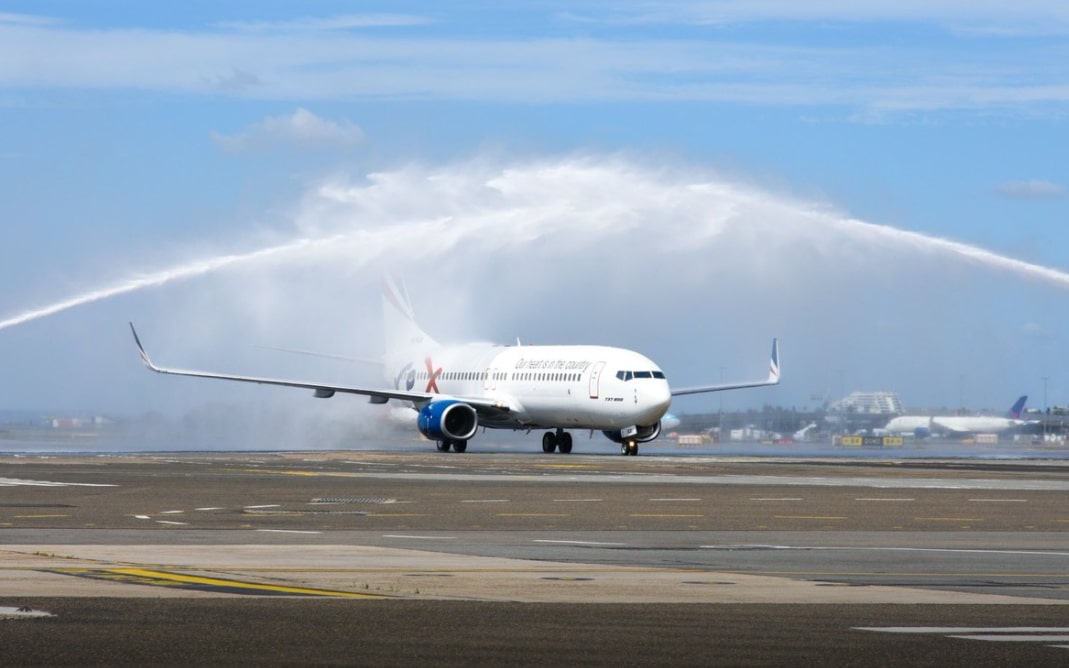 Stories include Rex successfully launching Melbourne-Sydney services today, Thai Airways selling its stake in Nok Air, Trans Maldivian adding ATRs, Indonesia's Citilink adding ATRs, Cebu Pacific adding aircraft, Biman Bangladesh gets new CEO and Air Seychelles offers staff voluntary redundancy. 
Australia's Regional Express Has Inaugural Flight On Melbourne-Sydney
Regional Express (Rex) successfully launched services today on the Melbourne-Sydney route which it plans to soon serve nine-times daily using its newly acquired fleet of Boeing 737-800s.
Melbourne-Sydney is one of the top-five busiest air routes in the world and Rex's move ends the Qantas Airways-Virgin Australia duopoly on the country's trunk routes.
Picture credit: Regional Express
Thai Airways To Sell Stake In Nok Air
Thai Airways International, which posted a 141billion baht (US$4.7 billion) loss last year and is due to submit a debt rehabilitation plan to Thailand's bankruptcy court by 2 March, plans to sell more assets – to raise working capital – including selling its 13.3% stake in loss-making airline Nok Air, which operates Boeing 737s and De Havilland Aircraft of Canada Dash 8-400s.
Trans Maldivian Airways, the world's largest operator of De Havilland Aircraft of Canada Twin Otter seaplanes, plans to add ATR turboprops to ply domestic trunk routes and base the aircraft in Madivaru Airport in the northern part of the Maldives.
Garuda's Citilink Expanding ATR Fleet
Garuda Indonesia's low-cost carrier Citilink, which operates Airbus A320s and ATR 72-600s, plans to add more of the turboprops.
The airline's CEO, Juliandra Nurtjahjo, told Bisnis Indonesia the airline operates seven ATR 72-600s and plans to add five more this year to increase its domestic market share. Its first five were transferred from Garuda Indonesia which had a fleet of 16 ATR 72-600s, according to CAPA data. The Bisnis Indonesia report fails to mention if the additional aircraft to Citilink will also be transferred from Garuda.
Cebu Pacific To Receive Eight Aircraft In 2021
The airline's VP for marketing and customer service, Candice Iyog, tells the Philippines' BusinessWorld newspaper it will take delivery of eight aircraft this year, a mix of ATRs and Arbus 320neos.  She fails to mention how many will be ATRs and how many will be A320neos.
The government has appointed Abu Saleh Mostafa Kamal managing director and CEO of Biman Bangladesh Airlines at a time when the national carrier is taking delivery of De Haviland Aircraft of Canada Dash 8-400s on order.
Local news reports say Kamal, who is a senior civil servant working with the country's cabinet, has replaced Mokabbir Hossain who has taken another senior position involved with the ministry of land.
Biman recently received the second of three Dash 8-400s it ordered from De Havilland Aircraft of Canada and is due to receive the third aircraft on 4 March, says the airline.
Debt-laden Air Seychelles has invited staff to apply for voluntary redundancy
The airline says it is initially targeting staff older than 54 years of age for voluntary redundancy.
In a separate development, the government says it is negotiating with Etihad Airways to gain full-ownership of the airline and that it has stopped paying Etihad fees for managing the airline. Etihad owns 40% of Air Seychelles which operates two A320neos and five Viking Air Series 400 Twin Otters. The government and airline management have floated the idea of having Air Seychelles operate only domestic services in future and leave international services to foreign carriers.
Leithen Francis
Leithen is based in Singapore and has over 17 years' experience working for news organisations. He is the former deputy Asia editor of Flightglobal and the former Asia editor of Aviation Week. Leithen has a BA in journalism from RMIT University in Melbourne, Australia.
Related posts
SUBSCRIBE TO OUR NEWSLETTER