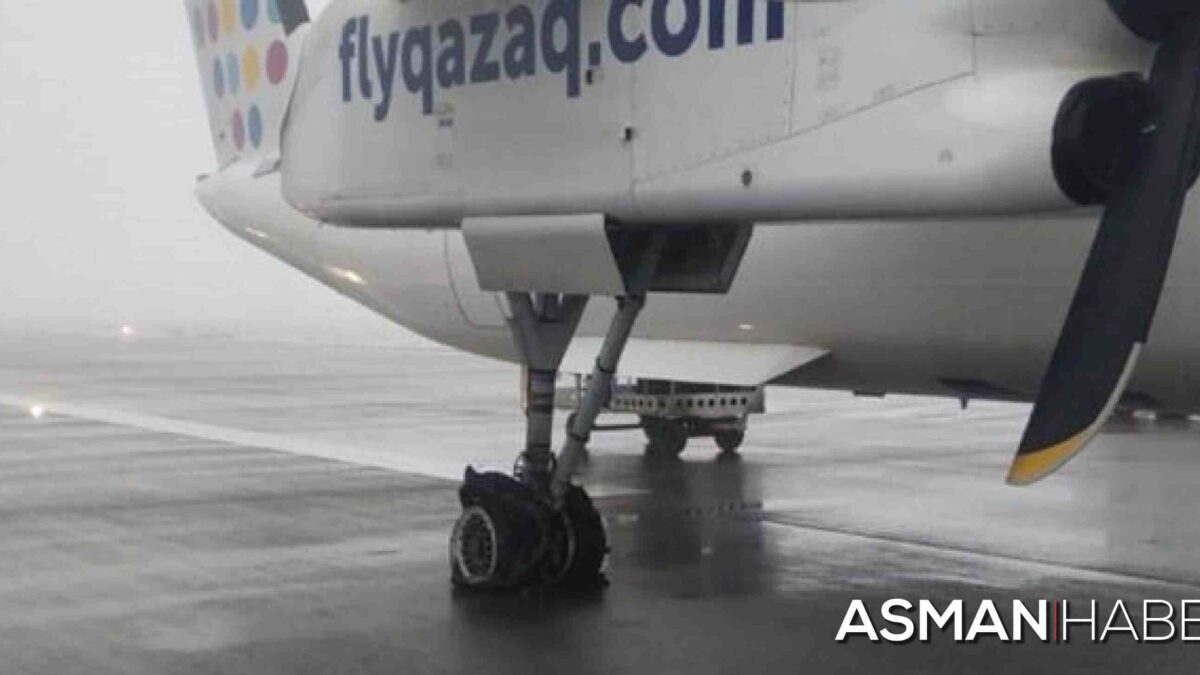 The Aviation Administration of Kazakhstan (AAK) has given turboprop operator Qazaq Air three months to comply with its safety recommendations.
"If the violations are not corrected within three months, the operator's certificate and airworthiness certificates may be revoked, or enforcement action is taken," says AAK in a statement. The regulator audited the airline after it had some incidents involving burst tires and landing gear.
The regulator says that on 12 February one of the airline's De Havilland Aircraft of Canada Dash 8-400s burst a tire on take-off from Nursultan Nazarbayev International Airport, leading the flight to be aborted and the aircraft towed and parked.  The following day another of the airline's Dash 8-400s experienced a burst tire on landing at Almaty International Airport. An inspection then discovered that the aircraft, registration P4-AIR, had "damage to both pneumatics of the right landing gear."
"It was decided that during the investigation and clarification of the causes of these aviation events, the company will take measures to strengthen control over the condition of the tires and brake system troubleshooting and aircraft stands damage," says AAK.
"Qazaq Air will inform flight crews and maintenance personnel to increase the attention paid to the wheels and brakes. The airline will also ensure interaction with the manufacturer of aircraft and pneumatics when determining aviation events' causes."
It adds: "A concern raised is the control of the ramp and runway as the investigation indicates tire damage from objects on the ground.  This will be further investigated by the AAK safety ground team."
Qazaq Air operates a fleet of five De Havilland Aircraft of Canada Dash 8-400s.
The regulator says the aircraft are on the Dutch aircraft registry, "but to improve Qazaq Air flights' safety, measures will be taken to transfer the functions of monitoring the technical condition [of the aircraft] from the jurisdiction of the aviation authorities of Aruba [Holland] to AAK."
The airline has since issued a statement saying it will comply with the regulator's recommendations. "Ensuring the flight safety and health of our passengers is an absolute priority of Qazaq Air," it adds.
Qazaq Air, which launched operations in 2015, is owned by Kazakhstan soverign wealth fund Samruk-Kazyna.
Leithen Francis
Leithen is based in Singapore and has over 17 years' experience working for news organisations. He is the former deputy Asia editor of Flightglobal and the former Asia editor of Aviation Week. Leithen has a BA in journalism from RMIT University in Melbourne, Australia.
Related posts
SUBSCRIBE TO OUR NEWSLETTER