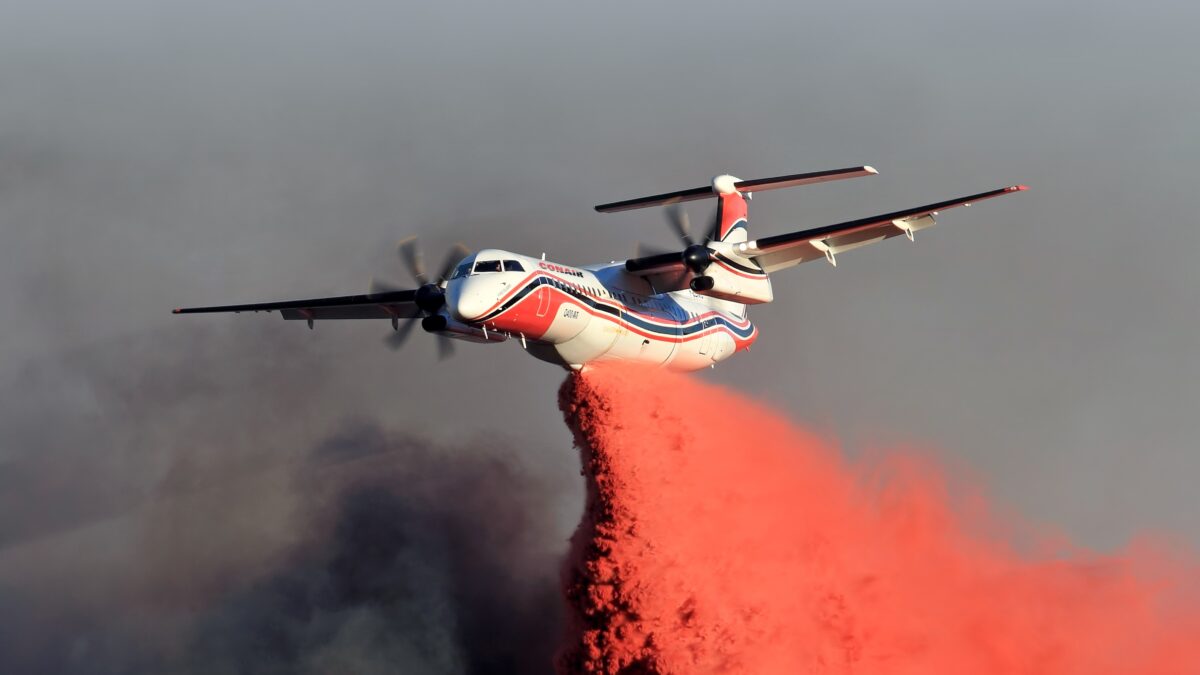 A De Havilland Canada Dash 8-400 air tanker has arrived in Queensland, Australia on contract with the Queensland Fire and Emergency Service (QFES)  for the upcoming bushfire season. 
The Dash 8-400AT, wet-leased from Canada's Conair and managed by Australian aerial firefighting and agricultural aviation specialist Field Air Group, is stationed in Bundaberg, southeast Queensland, says Field Air general manager Stephen Holding. The aircraft is available to fight fires across much of  Queensland, with focus on the more populated regions up and down the east coast, he adds. 
The aircraft has a range of about 2,000km (1,080nm) and a retardant tank capacity of 10,000 litres.
Holding says this is the first time Queensland is getting its own dedicated aerial firefighting aircraft of this size. The aircraft is on a one-season contract operating under an air operator's certificate (AOC) in the name of Field Air. The Dash 8-400AT is one of Conair's two Dash 8-400s with an air tanker-only supplemental type certificate (STC). There were reports last year that Conair had sold six other Dash 8-400 multi-role aircraft to France's civil defense agency for firefighting. 
Conair has said publicly that the Dash 8-400 can carry its full 10,000 litres of fire retardant without exceeding the aircraft's maximum take-off weight. The Canadian operator has also said the aircraft can carry nearly as much fire-retardant as larger firefighting aircraft, but has about half the fuel burn. 
Field Air is also working with Conair to operate an Avro RJ85 air tanker in New South Wales and another RJ85 in Victoria, Holding says. This will be the RJ85's third and seventh bushfire seasons there respectively, he adds.
Despite the recurring bushfires, state fire and emergency services have predominantly used aerial firefighting aircraft on contract, Holding says. 
Aside from aerial firefighting, Field Air is also involved in aerial agriculture and is the only dealer of Air Tractor aircraft in the Asia-Pacific. 
Photo: Conair and Field Air
Edward Eng
Edward is based in Singapore. He writes stories on regional aviation across the Asia-Pacific region and has a background on covering socio-political issues. Edward holds a BA (Hons) in Philosophy, Politics and Economics from the University of Warwick in the UK.
Related posts
SUBSCRIBE TO OUR NEWSLETTER