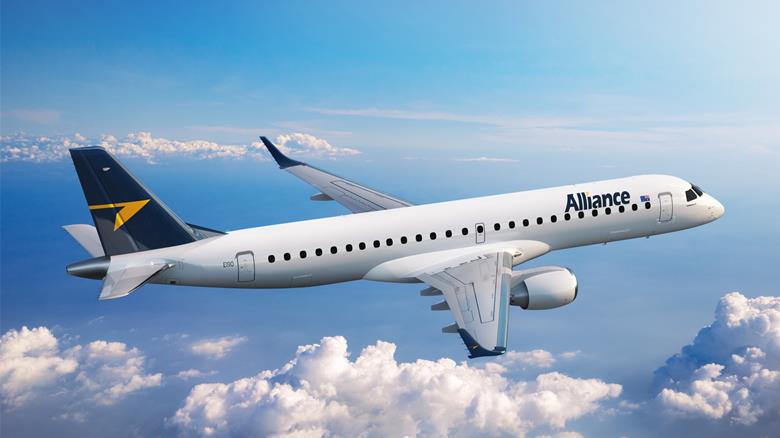 Alliance Airlines has bought an additional 16 Embraer E-190s, which means it is set to become one of the largest Embraer operators in Asia-Pacific and one that also plans to move into dry-leasing.
Alliance says in a statement to the stock exchange it will use the additional E-190s to capture contract flying, wet-leasing, as well as dry-leasing growth opportunities in Australia. The company bought 16 aircraft and one spare GE CF34 engine from US aircraft trader Jetran in a A$85 million (US$64 million) deal that will be funded by cash and debt, it adds.
These 16 ex-American Airlines E-190s will be delivered between now and November 2021, starting with five aircraft this month, it says. The E-190, in 99-seat two-class configuration, will be added to its air operator's certificate (AOC) in March 2021, Alliance says.
Alliance's managing director Scott McMillan says the aircraft were acquired at compelling value and that the outlook for the 100-seat regional jet market is positive. Alongside the 14 other E-190s the airline purchased from Azorra Aviation in August, Alliance has completed its near-term expansion plans, and will not exercise the options for five more aircraft from the Azorra, he adds.
The Azorra transaction comprises 14 E-190s, six spare GE CF34 engines, ground support equipment, training equipment and an E-190 full flight simulator. The simulator is on its way to Brisbane, the airline says.
The addition of the Embraer E-190 and its supporting infrastructure brings new capacity for the airline's growth, McMillan tells Smart Aviation APAC.
When Smart Aviation APAC previously spoke to McMillan on the Azorra E-190 acquisition in August, he said the first batch of E-190s were to be used on regional routes, as well as temporarily on mainline routes. Charters – mainly for the country's resource sector – make up 93 percent of the airline's business while seven percent are scheduled operations, he said, adding this was likely to remain the case in future.
Alliance also recently acquired Toll Group's maintenance, repair and overhaul (MRO) business at Brisbane Airport, which is next to its existing MRO facility. The MRO, which was previously maintaining Virgin Australia ATR 72s, is certified for work on Embraer E-190 jets.
The Toll facility has Australian Civil Aviation Safety Authority (CASA) Part 145 and Part 147 approvals to maintain and conduct maintenance training for aircraft including the Embraer E-190.
Aside from its Embraer E-190 fleet, the airline operates 24 Fokker 100 jets, 13 Fokker 70LR jets, five Fokker 50 turboprops, with additional aircraft in storage for parts.
McMillan says the Fokker 50 aircraft will remain in service at least through 2021, while the remaining Fokker aircraft will stay in the fleet for the foreseeable future. The airline has a long-term relationship with Rolls Royce and intends to operate the Rolls-Royce RB.183 Tay engines for at least the next eight years, he adds.
Photo: Embraer
Edward Eng
Edward is based in Singapore. He writes stories on regional aviation across the Asia-Pacific region and has a background on covering socio-political issues. Edward holds a BA (Hons) in Philosophy, Politics and Economics from the University of Warwick in the UK.
Related posts
SUBSCRIBE TO OUR NEWSLETTER