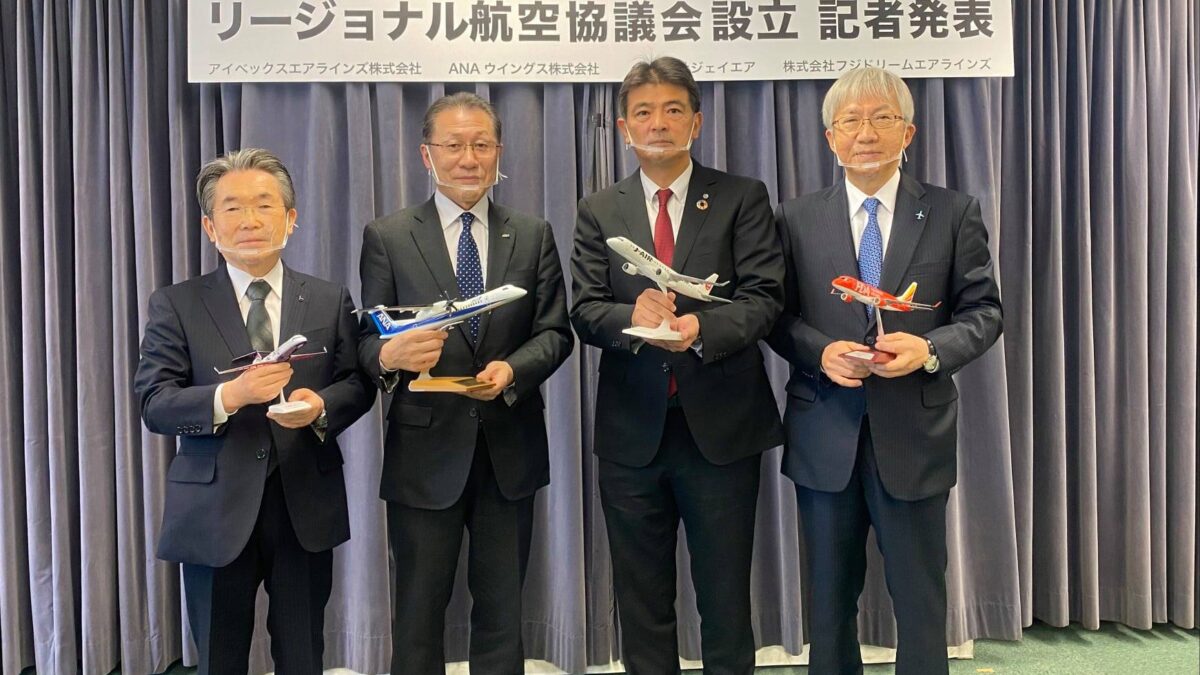 Japanese regional aircraft operators All Nippon Airways' ANA Wings, Japan Airlines' J-Air, Ibex Airlines and Fuji Dream Airlines have come together to form the country's Regional Aviation Council.
The council is being formed to promote direct exchanges between the regions outside Tokyo and to help develop local economies and maintain their cultures, the airlines say in a joint statement. 
"Correcting the overconcentration in Tokyo and revitalization of the regions are among the major contemporary issues in Japan, and solving [that] requires increasing population exchange between regions," they add. 
The Regional Aviation Council says it will push for policy support for regional aviation businesses, as well as raise social awareness about regional aviation and its significance to regional cultures and economies. Its first undertaking is to collectively request the national government reduce taxes such as fuel taxes, it adds. Without mentioning whether it is extending the association to other airlines, the council says it is calling for airports and local governments to join and promote regional destinations. 
The council's founders include De Havilland Canada Dash 8-400 operator ANA Wings and Japan Airlines subsidiary J-Air, which operates Embraer regional jets. The other founders are Embraer regional jet operator Fuji Dream Airlines, which is a subsidiary of Japanese conglomerate Suzuyo Group, and independent Bombardier CRJ700 operator Ibex Airlines. 
Most Japanese regional airlines have yet to join, namely: Japan Airlines-linked airlines Ryukyu Air Commuter, Amakusa Airlines, Japan Air Commuter and Hokkaido Air System; and independent airlines Oriental Air Bridge, New Central Airservice and Airtransse. 
Photo: Fuji Dream Airlines
Edward Eng
Edward is based in Singapore. He writes stories on regional aviation across the Asia-Pacific region and has a background on covering socio-political issues. Edward holds a BA (Hons) in Philosophy, Politics and Economics from the University of Warwick in the UK.
Related posts
SUBSCRIBE TO OUR NEWSLETTER