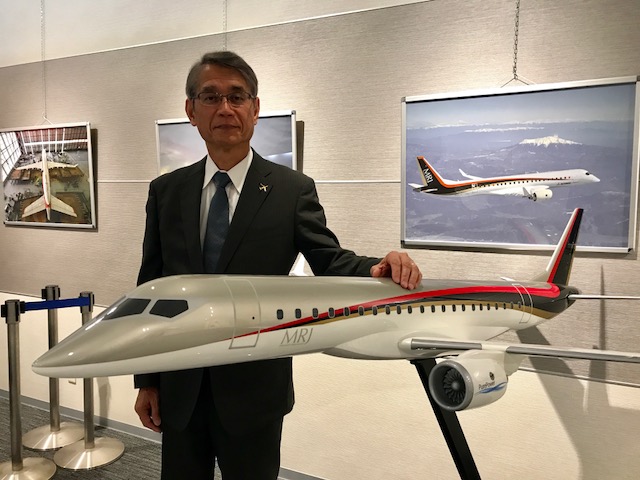 The chairman of Mitsubishi Aircraft  ( 三菱航空機株式会社 )  , who until early last year had been company president, has left the beleaguered aircraft-maker.
Mitsubishi says in a short statement on its website that Hisakazu Mizutani has retired, as has Hiroyuki Tatsuoka, the company's board director and senior VP and head of customer support division. There is no mention in the statement of a replacement for these two positions.
A long-time Mitsubishi Heavy Industries employee, Mizutani joined Mitsubishi Aircraft on 1 April 2017 as president tasked with getting the much-delayed Mitsubishi SpaceJet  (  三菱スペースジェット )  regional jet certified and flying in time for the 2020 Tokyo Olympics. At that time the programme was known as the Mitsubishi Regional Jet, but it was rebranded later that year to Mitsubishi SpaceJet.
It was also the time when Mitsubishi Aircraft decided to empower foreign engineers – recruited from Bombardier, Embraer, etc – to help get the aircraft certified by aviation regulators.
But the change in management and strategy failed to solve the programme's problems and after continuing to generate large losses, there was a shake-up last year where Takaoki Niwa, Mitsubishi Heavy Industries president and CEO for North America relocated to Mitsubishi Aircraft's manufacturing centre in Nagoya and became president, replacing Mizutani who became chairman.
Then in October last year, after COVID-19 battered the global economy and airline industry, Mitsubishi Heavy Industries announced it was pausing the aircraft programme and slashing the programme's budget.
It said at the time it was pausing the majority of its SpaceJet programme given the aircraft's development status and its weak projections for the aerospace industry.
Pausing the programme covers most SpaceJet activities, except for documentation of its type certification process, it said.
It also said it was cutting projected cash outflows for the SpaceJet programme to JPY20 billion (US$192 million) over the 2021-2023 period. This represented a 95% reduction in cash outflows compared to the 2018-2020 period, when the programme had a cash outflow of JPY370 billion (US$3.45 billion).
Since the budget cut was announced some employees have left and some of the aircraft-maker's customers have decided against getting the aircraft. It still has a firm commitment from Japan's two leading carriers, All Nippon Airways and Japan Airlines, which have ordered 15 and 32 aircraft respectively. But US leasing company Aerolease in January cancelled its firm order for 10 that also included options for 10 more. Then last month Swedish lessor Rockton, which had signed a letter-of-intent for 10, told Smart Aviation APAC it no longer planned to order the aircraft.
Related articles:
Lessor Rockton Pivots To Carbon Neutral Aerospace Technologies (5 February 2021)
MHI Pauses Most SpaceJet Programme Activities (30 October 2020)
Picture credit: Flightglobal/Mavis Toh
Related posts
SUBSCRIBE TO OUR NEWSLETTER