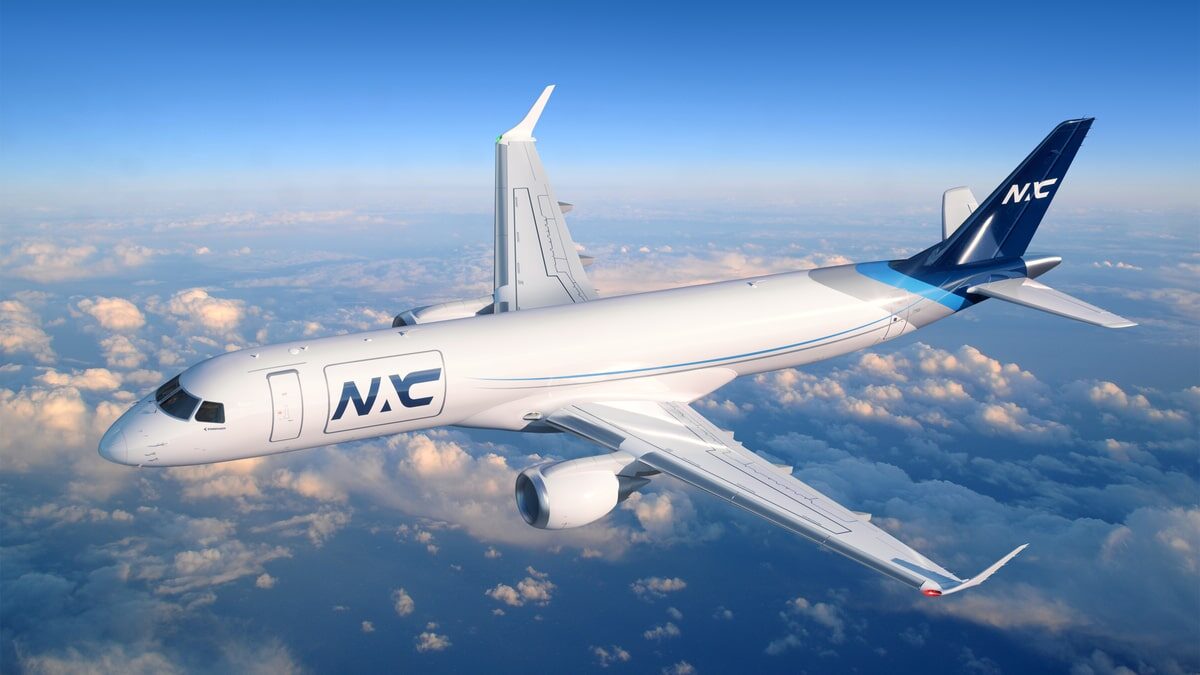 Embraer, which appears set to make Nordic Aviation Capital (NAC) its launch customer for the Embraer E-Jet passenger-to-freighter (P2F) conversion program, sees huge market potential for the freighter in Asia Pacific.
Embraer says in a statement that it has reached an in-principle agreement with NAC to be the launch lessor for its E-Jet P2F conversion program. It says NAC plans to convert up to 10 E-Jets – either E-190s, E-195s or a mix of both – to freighters. NAC, which is the world's largest regional aircraft lessor, is currently the only customer that has been announced for the newly launched freighter program.  
The aircraft will come from NAC's existing E-Jet fleet, with deliveries starting in 2024, says Embraer.
Norman Liu, president and CEO of NAC, says the conversions are a key element of its full lifecycle portfolio strategy for the future.
Johann Bordais, president and CEO Embraer Services and Support, says the P2F solution provides NAC with ideal revenue earning extension opportunities for its earlier E-Jet models. He says the more fuel-efficient E-Jet will replace more polluting narrowbody cargo aircraft that are heading into retirement.
E-Jet freighters will have over 50% more volume capacity and three times more range than turboprop freighters, says Embraer. 
The E-Jet, meanwhile, has smaller capacity than a Boeing 737 freighter, but Embraer says the E-Jet freighter is more economical because it has up to 30% lower operating costs than these larger narrowbodies. The E-190F will have 23,600lb (10,700kg) payload and the E-195F will have 27,100 lb (12,300 kg) payload, it says. 
In an exclusive interview with Smart Aviation Asia Pacific, Raul Villaron, vice president Asia Pacific for Embraer Commercial Aviation, says the rationale behind entering the P2F conversion market comes from the exponential growth of e-commerce, which is a trend resulting from the pandemic.
"The expectations for delivery are higher. It used to be that a one-day delivery time was good enough, but people are now expecting a faster or same day delivery. Hence, you (operators) need to have more flights and more connections to smaller cities," he says.
"That is the angle we thought, that the operators needed smaller cargo aircraft, to have more flights so that they can deliver quick packages within the expectations of the customers," Villaron adds.
He says the response the E-Jet freighter has been overwhelming and Embraer is excited to launch this freighter conversion program for customers.
Villaron says the initial main candidates in Asia Pacific for the E-Jet freighter would be operators in countries with large domestic markets.
"Australia, India, Malaysia and Indonesia are all countries with large domestic markets. China is also an important one, because of its large e-commerce market. So these countries will need this type of aircraft, and there will be plenty of demand here in the region," he says.
Villaron says if demand is strong enough in Asia, Embraer would consider having a passenger-to-freighter conversion line located in this region. 
He says Embraer's competitive edge over its competitors in the freighter market comes from the size and range of its aircraft.
Villaron says ATR turboprop aircraft lack the long range of the E-Jet and can only serve short sectors. The Boeing 737 freighter, meanwhile, is too large for some operators and burns more fuel, he says. Villaron adds, some 737 freighters are much older than the E-Jet, so have higher maintenance costs. 
"The E-Jet fits right in the middle, it can serve routes that are too long for the ATR and still operate profitably when cargo demand is too low for the 737," he explains.
Embraer says the full freighter conversion is available for all pre-owned E-190 and E-195 aircraft and that the first freighter is expected to have entry into service in early 2024. Embraer says it sees a market for approximately 700 freighters of this size over the next 20 years.
Picture Source: Embraer (Eduardo Kui)
Related Stories:
Embraer Completes E190-E2 Demonstration Tour In Vietnam In Hunt For Sales (16 April 2022)
Ong Jeng Yang
Based in Singapore, Ong Jeng Yang has more than four years of experience working in the media industry.
Related posts
SUBSCRIBE TO OUR NEWSLETTER