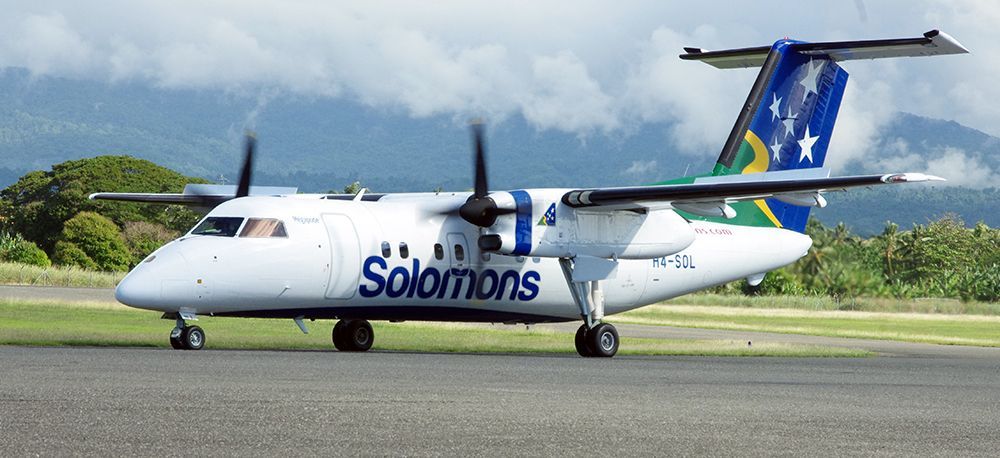 National carrier Solomon Airlines plans to maintain its fleet even though it faces financial challenges, arguing regional air connectivity is vital for economic activity. 
Brett Gebers, Solomon Airlines CEO, tells Smart Aviation APAC they will "be a much smaller airline for some time to come", although it plans to maintain its fleet. 
"Domestic services are crucial to the operation of Solomon Islands economy and we continue to operate a reduced schedule to all 23 of our domestic destinations so that people and cargo can move easily by air between our provinces and islands. The domestic operation is running at about 60% of normal capacity," he says. 
Solomon Airlines' sole De Havilland Canada Dash 8-100 and three De Havilland Canada Series 300 Twin Otters are the only aircraft plying these domestic routes. 
The airline recently extended until 30 November its COVID-19 domestic tourism initiative, "Helpful Holidays", which offers 50% off several domestic holiday packages it co-developed with local operators. The initiative focuses on short breaks and weekend holidays in order to maintain a level of revenue for its domestic flights and the local tourism industry, Gebers says. 
This revenue is insufficient to sustain the airline's operations in the long run, but will bridge some of the revenue shortfall until international arrivals pick up, he says. The airline is still discussing with the government how much additional funding may be required if current travel conditions continue into 2021, he adds. 
The Solomon Islands government closed international borders to non-approved foreign visitors in March, and recently extended its border closure until 10 January 2021. The airline has not operated any scheduled international flying for this reason, Gebers says. 
Solomon Airlines is continuing to operate some repatriation flights for citizens and approved foreign nationals, he says. In early October, it operated a one-off one-way repatriation flight from Honiara to Brisbane, where some passengers connected to Malaysia Airlines, Emirates and Qatar Airways flights, he adds.
The airline also operates a weekly cargo-only Honiara-Brisbane flight on its Airbus A320-200 passenger aircraft, Gebers says.
Photo: Solomon Airlines
Edward Eng
Edward is based in Singapore. He writes stories on regional aviation across the Asia-Pacific region and has a background on covering socio-political issues. Edward holds a BA (Hons) in Philosophy, Politics and Economics from the University of Warwick in the UK.
Related posts
SUBSCRIBE TO OUR NEWSLETTER