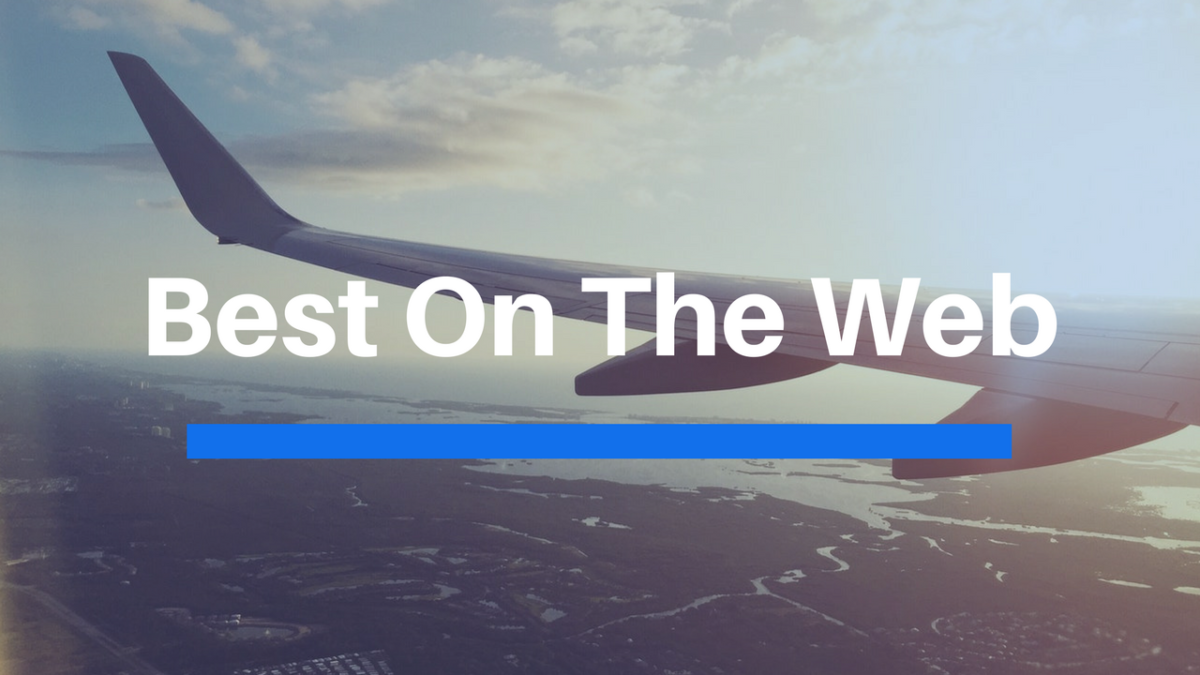 Best On The Web – 18th to 24th September 2017
Leithen Francis, 25 Sep 2017
6 min

read
In this issue we have an interesting round-up of news that include Bombardier, Boeing, Sriwijaya Air, the Malaysian state of Perak, and the US government. 
1. US government decision on CSeries tariffs is imminent
The US Commerce Department is due to make a preliminary judgement later today on whether to impose tariffs on the importation of Bombardier CSeries aircraft into the US.
The case against Bombardier was brought by rival aircraft-maker Boeing which argues that the Canadian aircraft-maker has received state subsidies and is selling the aircraft to US carrier Delta Air Lines at below cost price.
It says Bombardier's actions are putting Boeing and other US aircraft-makers at an unfair disadvantage.
Bombardier refutes Boeing's claims and says it is common practice in the aviation market to offer discounts so as to secure large aircraft orders from marquee airline clients. Delta Air Lines has ordered 75 CSeries aircraft from Bombardier and is due to receive the first aircraft in April.
Delta says Boeing has no reason to complain considering it no longer makes 110-seat aircraft. Boeing's smallest commercial aircraft is the 737-700 which seats 140 passengers.
Delta also says that when Boeing pitched against Bombardier for the airline's business, the US aircraft-maker only offered to sell Delta pre-owned Embraer regional jets. But the airline decided it was better to have new aircraft optimized for carrying around 110 passengers, it adds.
Editor's Comment
Boeing's decision to bring a case against Bombardier to the US Commerce Department has proven to be a public relations disaster for Boeing. Nearly all the media coverage, including coverage from the US, is largely in favour of Bombardier.
The perception is that Boeing is trying to stymie market competition. Airlines like to have a choice and want there to be more competition. The market for larger commercial aircraft is dominated by Airbus and Boeing, but airlines would like to have a third choice if possible.
The US aircraft-maker is also seen to be hypocritical. Many analysts have pointed out that Boeing is the beneficiary of many US Government defence contracts. It is widely known in the industry that commercial aircraft makers, such as Boeing, use these lucrative defence contracts to bank-roll research and development (R&D) into new technologies.
Initially the new technologies developed are applied to the defence projects but then later these technologies are applied to commercial aircraft projects. The Boeing 787, for example, is made of composite materials. The aircraft-maker's expertise in the use of such advanced materials came from its work on U.S. military fighter aircraft, which are made of composites.
By trying to have tariffs imposed against CSeries, Boeing is only upsetting Delta and other airlines that want to have more choice. There is also a 'forbidden fruit' phenomenon – the more you tell someone they can't have something, the more they will want it.
We think airlines around the world are now going to take a closer look at the CSeries, with a view to ordering it, now that Boeing has made it clear that it sees CSeries as a threat and it wants to stop CSeries getting traction in the market.
2. Malaysian state of Perak wants to build airports for widebodies
Malaysia's New Straits Times, citing unnamed sources, says Malaysia's state government of Perak wants to build a new international airport with a runway long enough to support widebody aircraft.
The report says current airport, serving the main city of Ipoh, is unable to be expanded further due to land constraints.
It says the current airport can only support narrowbody aircraft, such as Airbus A320s, but the state government feels there is huge tourism potential to be tapped by having a new airport with a longer runway that can support widebody tourism charter flights from China, Indonesia and India.
The newspaper cites its sources as saying that the Perak government is open to developing the new airport in private-public partnership and that there are already some China-linked companies looking into it.
It also says the Perak government is currently working to get project approval from Malaysia's National Economic Council.
Editor's Comment
Building a new airport just to cater for widebody charter flights from China, Indonesia and India seems to be impractical.
The fact is, thanks to improvements in engine fuel efficiency, new narrowbody aircraft coming onto the market, such as the new Boeing 737MAX and Airbus A320Neo, have more range.
Therefore, one can fly non-stop to Malaysia from India, Indonesia and southern China using narrowbody aircraft such as the new 737MAX and A320Neo. Therefore, there is no need to operate widebodies on such routes. Also airlines don't necessarily want to operate widebody aircraft for tourism charters, if they can operate a large narrowbody instead.
The cost of operating widebodies is much higher and it is harder to fill such high-capacity aircraft. Therefore, many air operators see that it is more prudent – and less risky – to operate narrowbodies.
3. US government gives $1 million grant to improve aviation safety in the West Papua
The US Trade and Development Agency (USTDA) has given a $1 million research grant to the government of Indonesia so that its civil aviation regulator can study how to improve air safety in West Papua and the Maluku islands, another province in eastern Indonesia.
The US ambassador to Indonesia, Joseph Donovan, presented the research grant to Indonesia's director general of civil aviation Agus Santoso.
Indonesia's news wire Detik.com quotes the ambassador as saying that Boeing is paying for the research grant. He says the purpose is to support the Indonesian government in its efforts to improve aviation safety in West Papua and the Maluku islands.
West Papua is a very mountainous and remote area of industry that has a relatively high number of air accidents, because of poor airport infrastructure. The fast-changing weather conditions and heavy cloud cover in the mountains also make it a challenging place for airline operations.
Editor's Comment
The US embassy in Jakarta does appear to be very adept at developing goodwill and fostering ties between the US aerospace industry and Indonesia. Helping to improve air safety in West Papua is an urgent requirement, as many of the air accidents in Indonesia are in this province.
4. Sriwijaya's next ATR destined for West Papua
Sriwijaya Air is adding an ATR 72-600 to its fleet next month and plans to base this aircraft in West Papua.
The carrier already has two ATR 72-600s in its fleet with another four due to be delivered by year-end. These are ex-MASwings and EX-Firefly aircraft.
Sriwijaya commercial director, Toto Nursatyo, says the ATR 72-600 coming next month will be based in West Papua and serve the following destinations: Fak Fak, Sorong, Raja Ampat, Kaimana and Manokwari.
He says, to Wartaekonomi.co.id, that Sriwijaya only started serving West Papua in 2010 but now it represents a sizeable proportion of the group's total revenue. Sriwijaya also flies Boeing 737s to West Papua while the ATRs are used for flights within the province.
Leithen Francis
Leithen is based in Singapore and has over 17 years' experience working for news organisations. He is the former deputy Asia editor of Flightglobal and the former Asia editor of Aviation Week. Leithen has a BA in journalism from RMIT University in Melbourne, Australia.
Related posts
SUBSCRIBE TO OUR NEWSLETTER