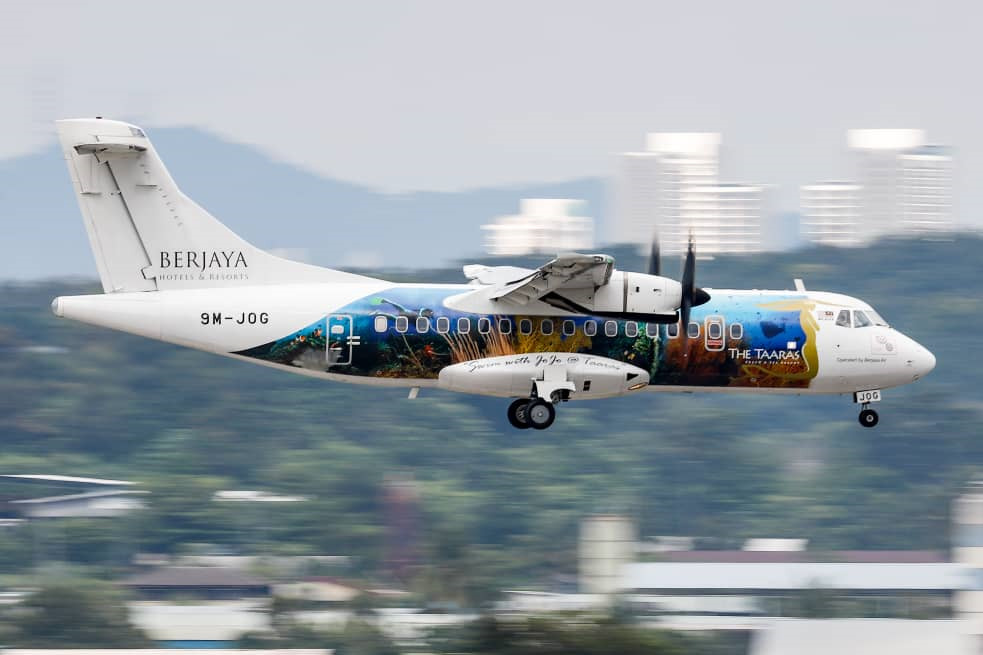 Malaysia's Taaras Beach & Spa Resort is launching a twice-weekly air service next month, connecting Singapore to Malaysia's Redang Island using an ATR 42-500 operated by Berjaya Air.
Taaras Beach & Spa Resort and Berjaya Air are under the Berjaya Corporation.
The Taaras Beach & Spa Resort, which is on Redang Island, says in its advertising that Berjaya Air's ATR 42-500 will fly twice a week, Tuesdays and Fridays, from Seletar Airport to Redang Airport from June to August. The resort is chartering the twice-weekly service and is selling holiday packages that includes flight tickets, accommodation and other activities.
An executive at Berjaya tells Smart Aviation Asia Pacific that flights are available on 14 and 17 June and will follow the published schedule of Tuesdays and Fridays for July.
Smart Aviation Asia Pacific reported in 2018 that Berjaya Hotels and Resorts planned to launch the service and would charter the aircraft from its sister company Berjaya Air.
There were some delays as Berjaya Air had to update its air operator certificate to include scheduled operations and ATR aircraft.
Singapore's Seletar Airport is largely a business aviation airport but the Civil Aviation Authority of Singapore did upgrade it to handle commercial passenger operations and built a new commercial passenger terminal. But, until now, the only commercial airline that has served Seletar on a regular basis is Malaysia Airlines' turboprop operation Firefly.
Berjaya Air currently operates a scheduled service between Subang Airport and Redang Island. The launch of the service to Singapore means the authorities will need to install customs, quarantine and immigration (CIQ) at Redang Island airport.
Smart Aviation Asia Pacific, in an analysis in 2017, says the creation of regional air routes will help drive demand for Malaysian island resorts. Creating accessibility to these hard-to-reach resorts would allow the resorts to compete against regional tourist hot spots.
Picture Source: Berjaya Air
Related Stories:
Berjaya Hotels Eyes More Redang Island ATR Routes (13 July 2020)
Why A Malaysian Resort Bought Its Own Turboprop Aircraft (12 April 2018)
Tourism To Malaysia's Island Resorts Needs A Booster (21 August 2017)
Regional Air Routes Key to Driving Demand for Malaysia's Island Resorts (15 August 2017)
Davy Lim
Davy is based in Singapore. He is passionate about aviation and has flight experience in various single engine piston aircraft, gliders and seaplanes from his time in the United States. Davy holds a BA in Economics from the State University of New York in Buffalo.
Related posts
SUBSCRIBE TO OUR NEWSLETTER