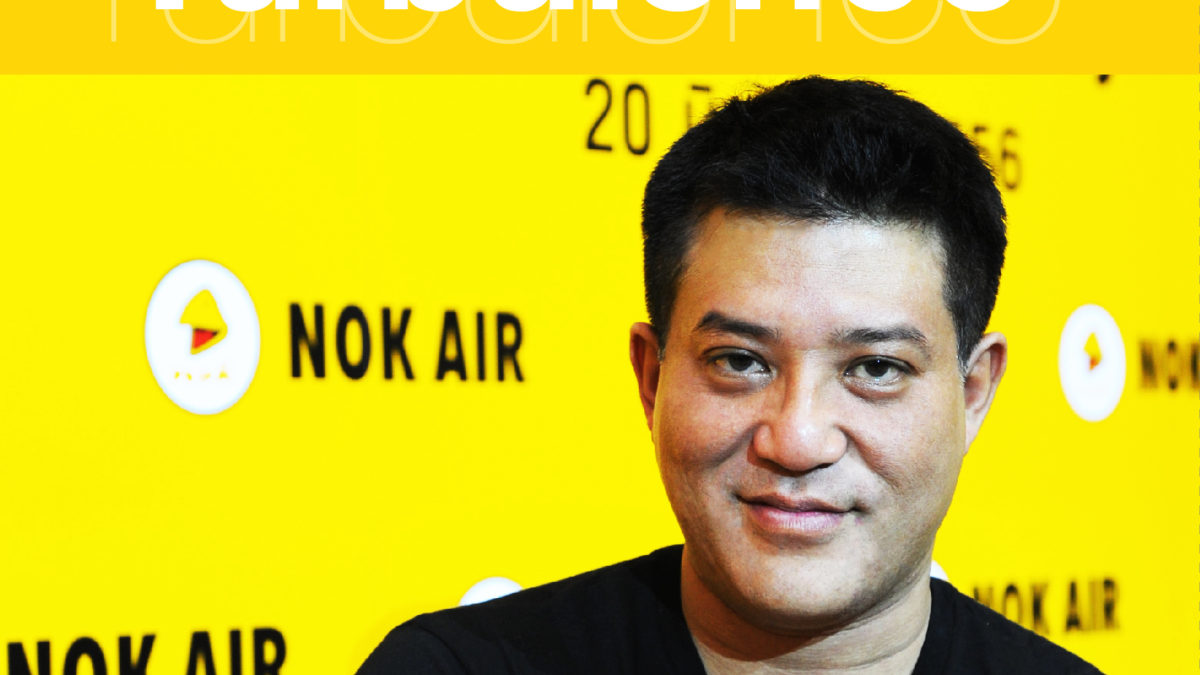 Patee Sarasin, the former CEO of Thai low-cost carrier Nok Air, has revealed in his new autobiography that Nok planned to replace some Boeing 737s on domestic routes with turboprops.
"The cost of operating turboprops is so much cheaper than jet aircraft and we could win over passengers by offering more flights per day, freeing up the 737s to launch international services," Sarasin reveals in his autobiography Smiling Through Turbulence.
He says: "We felt we could convince people to fly on the De Havilland Canada Dash 8-400, because we had a strong brand."
"Some people think jet aircraft are better than turboprops, but we found that when people flew on the Dash 8-400 their perception of turboprops changed and people were generally very happy with it," he adds.
Nok Air, which has seven Dash 8-400s in its fleet, was the first airline in the world to receive the 86-seat version of the aircraft. Patee says this was the new, larger variant and different from the standard 78-seat version. Having more seats in the aircraft was important because it reduced the cost per available seat kilometres (ASKs), he says.
The airline received its first Dash 8-400 in August 2014. Patee says they ordered the Dash 8-400 to fill the void left from closure in early 2014 of Nok Mini, Nok Air's network, distribution and marketing tie-up with small Thai domestic carrier SGA Airlines, which operated Saab 340s.
Patee recounts, in his book, how the owner of SGA Airlines, Jain Charnnarong, approached Nok Air in 2009 offering to act as a feeder airline.
Patee says in Thailand there was no feeder airlines, but because he had lived in the US, when he was studying at university there, he was familiar with the concept of smaller regional airlines providing air services that feed into the larger networks of bigger US carriers.
He says: "SGA Airlines was a very small outfit, with very low brand recognition, so there was no way Jain could replicate the sales distribution network we had. He also lacked the marketing dollars to create a strong recognisable brand, something that is so important in creating a strong business."
SGA had its main base at Bangkok's Don Mueang International Airport as well as Chiang Mai airport and was operating 31-seat Saab 340s.
It had been flying to smaller destinations such as Pai and Loei in northern Thailand. The runways at Pai and Loei were too short for 737s, making turboprops such as the Saab 340 the only viable solution.
Patee says Nok Air saw the tie-up with SGA Airlines as useful as it would allow Nok Air to expand its network and become the largest domestic carrier.
He says Nok Air had a much stronger brand and sales distribution network than SGA Airlines, so it was decided that SGA would rebrand itself as Nok Mini and sell its air tickets through Nok Air's website and other sales channels.
The closure of Nok Mini and other regional carriers such as Chiang Mai-based Kam Air and Wisdom Airways means Nok Air and Bangkok Airways are now the only airlines in Thailand operating a substantial fleet of commercial turboprops.
Patee Sarasin's autobiography Smiling Through Turbulence can be ordered in both print and ebook format from Amazon.com, Barnes & Noble and other leading book retailers.
Edward Eng
Edward is based in Singapore. He writes stories on regional aviation across the Asia-Pacific region and has a background on covering socio-political issues. Edward holds a BA (Hons) in Philosophy, Politics and Economics from the University of Warwick in the UK.
Related posts
SUBSCRIBE TO OUR NEWSLETTER