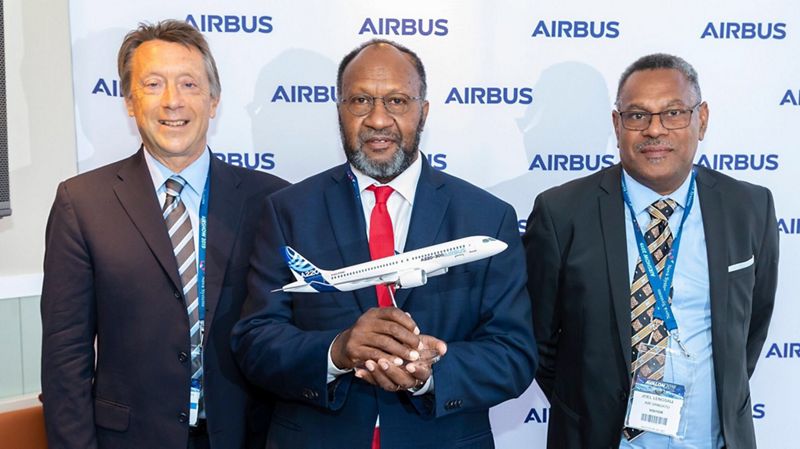 Vanuatu's government plans to have an inquiry into national carrier Air Vanuatu's procurement of four Airbus A220s, a move that comes six months after a change in government.
The country's minister for finance and economic management, Johnny Koanaporasu, told the country's Daily Post  newspaper's Business Review  that "the government wants to establish a Commission of Inquiry to understand why the previous board of Air Vanuatu took such a decision – to commit the government of Vanuatu – to four A220 aircraft without consideration to economic factors, financial [factors] and technical factors such as its engines and certificates." There was a change in the board in May of this year.
He also said the government wants to reduce the number of A220s it will buy to two and is looking to operate these aircraft domestically.
"The demand for services domestically is high," he told the newspaper, adding that "there are not enough aircraft to fly to our islands."
The airline's domestic fleet comprises of: one ATR 72-600, three de Havilland Canada Series 300s and one Britten-Norman BN-2 Islander. It did have one other ATR, but the aircraft was heavily damaged. Its Twin Otters, meanwhile, are more than 40 years old.
The turboprop aircraft serve 27 domestic destinations and nearby South Pacific countries, such as New Caledonia, from its Port Vila hub.
"The previous government committed us to a huge problem," says Koanaporasu.
The firm order for two A220-100s and two A220-300s was announced in late February 2019 when the then-prime minister Charlot Salwai Tabimasmas attended the Avalon Airshow in Melbourne, Australia.
Vanuatu had a change of government in April this year following the country's democratic elections. Bob Loughman replaced Tabimasmas as prime minister. Loughman is from a different political party, although Tabimasmas' Reunification Movement for Change political party is part of the current ruling coalition government.
The new prime minister, Loughman, and minister for finance and economic management, Koanaporasu, are both from Vanuatu's Tanna island are members of the political party Vanua'aku.
When the firm order for four aircraft was first announced, the airline's then-CEO, Derek Nice, was quoted in an Airbus statement as saying: "These aircraft will be deployed to operate on our current domestic and international routes, including our newly announced non-stop Melbourne-Vanuatu service, and will bolster plans to expand our network in the South Pacific." The aircraft were also to replace its Boeing 737s.
The airline disclosed publicly that delivery of the first aircraft would be in June 2020 followed by two more in 2021 and the final aircraft in 2022. Deliveries have since been delayed.
Vanuatu has been impacted by COVID-19 which has put a stop to its scheduled international services, with domestic air services now the main focus.
Koanaporasu was unavailable for comment when contacted by Smart Aviation APAC.
Featured picture shows those present at the signing ceremony for Air Vanuatu's A220 jetliners were (left to right): Christopher Buckley, Airbus executive vice president Europe, Africa and Pacific; Charlot Salwai Tabimasmas, the then-prime minister of the Republic of Vanuatu; and Joel Lengsau, the then-chairman of the board of directors, Air Vanuatu (Operations) Ltd.
Edward Eng
Edward is based in Singapore. He writes stories on regional aviation across the Asia-Pacific region and has a background on covering socio-political issues. Edward holds a BA (Hons) in Philosophy, Politics and Economics from the University of Warwick in the UK.
Related posts
SUBSCRIBE TO OUR NEWSLETTER