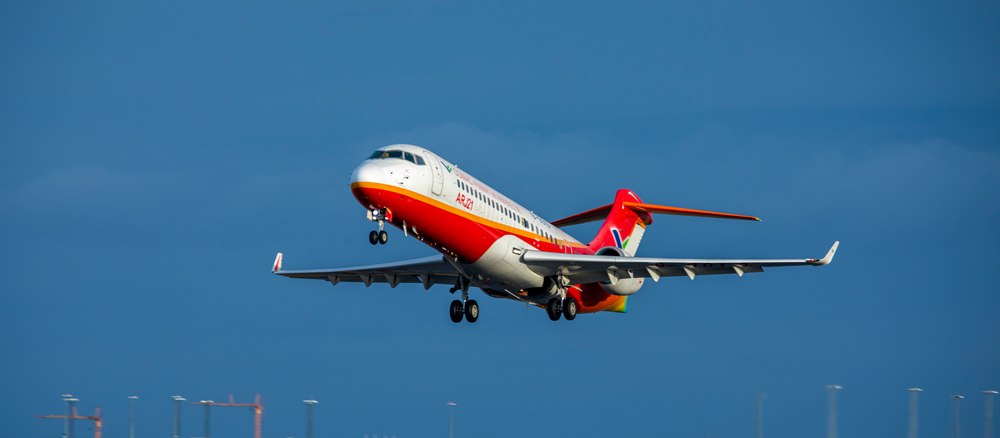 Chinese carrier China Express Air has agreed in-principle to sign a firm order for 50 Commercial Aircraft Corporation of China (Comac) ARJ21-700ER aircraft, with the first two to be delivered this year.
The delivery schedule for the 50 aircraft calls for: two to be delivered this year, six next year, eight in 2022, nine in 2023, 10 in 2024 and 15 in 2025, the Chongqing-based carrier says in a statement to the Shenzhen stock exchange, where it is publicly listed.
China Express says it intends to sign the contract for the 50 ARJ21-700ERs once two-thirds of its shareholders approve the deal at an upcoming annual general meeting.
Once it signs the contract, it will then need to be approved by the Chinese authorities, it adds.
Aircraft orders in mainland China generally need to be approved by the state, but this is expected to be a fait accompli considering Comac is a state-owned enterprise.
This deal for 50 aircraft comes after China Express and Comac signed a non-binding agreement in June where the carrier outlined its intention to buy 100 aircraft from Comac, some of which would be ARJ21s and the others C919s.
China Express in its statement today says it still intends to buy a total of 100 aircraft. It says the remaining 50, it has yet to firm up, could all be C919s or a mix of C919s and ARJ21s.
The airline says Comac has already delivered 34 ARJ21-700s to various operators. The C919, which is a 160-seat aircraft, is still in development and undergoing flight testing.
China Express says the list price for each ARJ21-700ER is US$38 million, but it has negotiated a discount. The carrier refrains from mentioning the final price it will be paying for the aircraft. China Express says it will have to make pre-delivery payments the for aircraft and make final payment before the aircraft is delivered, but that Comac has agreed to provide some financing.
The ARJ21-700ER is a 90-seat regional jet aircraft powered by GE CF34 engines, the same engine type that powers its current fleet of Bombardier CRJ900 aircraft.
China Express says it currently has a fleet of 38 CRJ900s and 13 Airbus A320-family aircraft. Comac could end up being its largest aircraft supplier in 2025, it adds.
The airline says it is ordering the 50 ARJ21s because it wants to increase its fleet, improve operational strength and focus its business on being a regional carrier.
Edward Eng
Edward is based in Singapore. He writes stories on regional aviation across the Asia-Pacific region and has a background on covering socio-political issues. Edward holds a BA (Hons) in Philosophy, Politics and Economics from the University of Warwick in the UK.
Related posts
SUBSCRIBE TO OUR NEWSLETTER