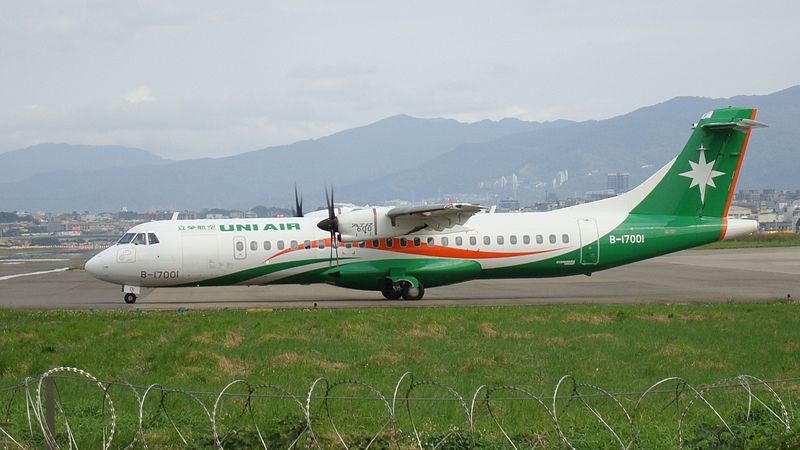 Hong Kong ATC Warns Off Flight to Taiwanese Islands
Edward Eng, 16 Oct 2020
2 min

read
Hong Kong air traffic control warned off a chartered Uni Air ATR 72-600 flying to the Taiwanese Pratas Islands in the South China Sea, as the aircraft approached Hong Kong managed airspace.
The Taiwanese Civil Aeronautics Administration (CAA) says in a statement that the Taiwan- registered turboprop was flying supplies for the military from Kaohsiung to the Pratas Islands. At about 100km from the Hong Kong flight information region (FIR), Hong Kong air traffic controllers warned the captain that "dangerous activities" were being carried out in the FIR, and told them to comply with a minimum safe altitude of 26,000ft, the CAA adds.
The CAA says the captain then decided to turn back for safety reasons. The ATR 72-600 has a maximum operating altitude of 25,000ft.
The Uni Air ATR 72-600 flight to the islands is chartered weekly by the Taiwanese government, the CAA says. The CAA adds that it typically informs its Hong Kong counterpart when aircraft coming from its FIR are about 40km away and about to enter the Hong Kong FIR.
The Pratas Islands are 420km southwest of Kaohsiung and 310km southeast of Hong Kong and are within the Hong Kong FIR. They are the nearest Taiwan-controlled territory to Hong Kong and are also claimed by the Chinese government.
The islands are unpopulated except for the 250 Taiwanese Coast Guard officers deployed there, says the CAA. They are also known for the Dongsha Atoll National Park, and are surrounded by rich fishing grounds.
Taiwanese defense minister Yen De-fa says in a statement that neither the CAA nor the defense ministry were informed of any Chinese activities in the area that could potentially affect flights. The defense ministry also found that no military exercises were being carried out in the FIR, he adds.
The Hong Kong Civil Aviation Department (CAD) told Taiwan's Central News Agency that it "acted in accordance with established mechanisms and procedures" during the incident. It says it told the Taiwanese about the minimum safe altitude, following which the Taiwanese told them that they had cancelled the request to enter the Hong Kong FIR.
But the CAD did not say why it told the Taiwanese aircraft that there were "dangerous activities" being carried out, or why the minimum safe altitude was 26,000ft.
Photo: UNI Air
Edward Eng
Edward is based in Singapore. He writes stories on regional aviation across the Asia-Pacific region and has a background on covering socio-political issues. Edward holds a BA (Hons) in Philosophy, Politics and Economics from the University of Warwick in the UK.
Related posts
SUBSCRIBE TO OUR NEWSLETTER