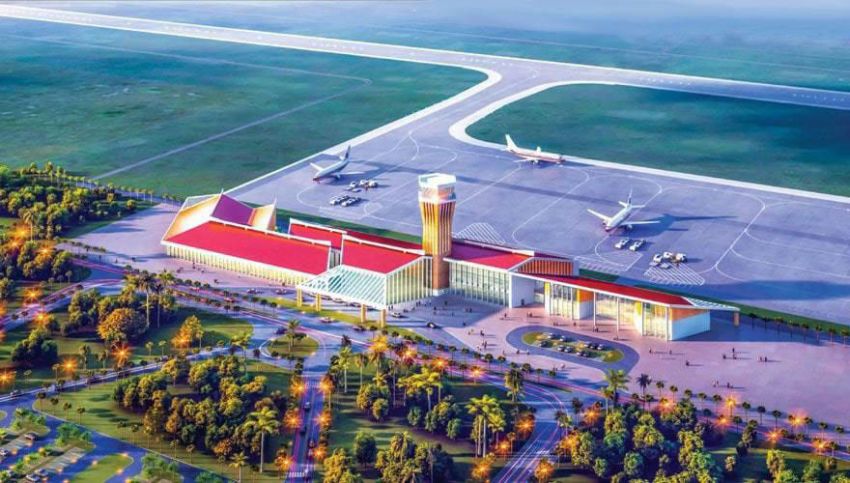 Dara Sakor International Airport, one of three new upcoming international airports in Cambodia under construction, is set to do flight testing in this year's second-half.
Cambodia's State Secretariat of Civil Aviation (SSCA) spokesperson, Sin Chansereyvutha, tells The Khmer Times that Dara Sakor International Airport will be conducting flight testing in July.
He says prior to flight testing, the authorities will need to complete the technical assessment of the airport's key equipment such as lighting, radios, landing guides, communications systems, as well as fire trucks and other capabilities to ensure it meets quality standards in accordance with flight safety requirements.
Chansereyvutha says the technical assessment began last week and is scheduled to span over seven days, which will be completed this week.
Though flight testing can start after this process, he explains the airport project may require additional time for procedures, as well as to obtain the certification and licensing for the operations.
The report highlights that the airport will cover 4.5 hectares, and is developed by Chinese firm Tianjin Union Development Group. It will be able to handle long-haul aircraft including Boeing 777s and Airbus A340s.
Dara Sakor International Airport is in Botum Sakor district of Koh Kong province, in southwestern Cambodia. It is home to the country's largest national park, the Botum Sakor National Park.
The report adds that Dara Sakor International Airport is one of three international airports that are under construction. The others are Techo International Airport in Kandal province and New Siem Reap-Angkor International Airport in Siem Reap province.
There are currently three international airports in Cambodia – namely Phnom Penh International Airport, Siem Reap International Airport and Sihanoukville International Airport-  which are operated by Cambodia Airports, part of Vinci Group.
Picture Source: SSCA
Related Stories:
Cambodia Airports' Move Towards Net Zero Carbon Emissions Goal (18 November 2021)
Ong Jeng Yang
Based in Singapore, Ong Jeng Yang has more than four years of experience working in the media industry.
Related posts
SUBSCRIBE TO OUR NEWSLETTER