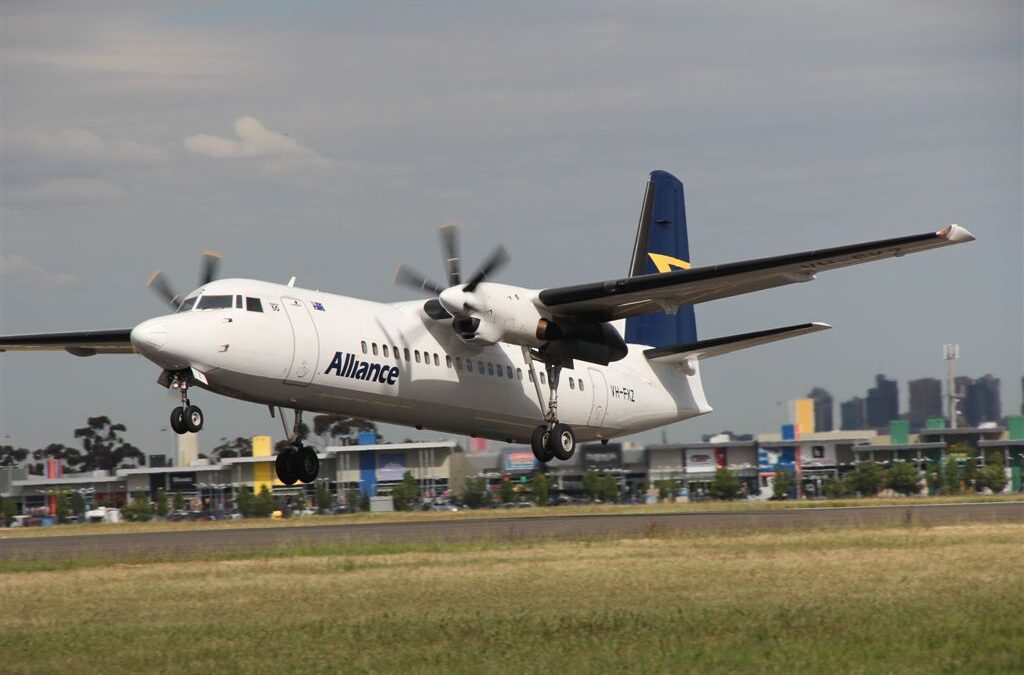 Virgin Australia and Alliance Airlines are asking the Australian Competition and Consumer Commission (ACCC) for authorisation to cooperate on regional and short-haul international routes.
In their ACCC application, the airlines are asking for permission to "[share] information, including in relation to costs, willingness to operate, capacity, utilisation, anticipated demand and pricing" on the relevant routes. 
Virgin Australia and Alliance Airlines say they want to coordinate capacity, schedule, aircraft type, as well as the commercial arrangements for operation of the said routes. This could involve "putting in place temporary commercial arrangements [for the relevant routes] considering demand and risk profile in the exceptional current market conditions," they add.   
The airlines also want to be able to enter "risk and revenue sharing mechanisms and agreements as to price," they say. 
Virgin Australia and Alliance Airlines' decision to team up on some regional domestic routes comes after Virgin Australia announced it was shuttering its ATR operation and withdrawing from some regional domestic routes to focus its efforts on serving domestic trunk routes using an all-Boeing 737 fleet. 
Virgin Australia and Alliance Airlines noted in their application that they already receive Regional Airline Network Support (RANS), Domestic Aviation Network Support (DANS), and Australian Airline Financial Relief Package (AAFRP) funding. Alliance Airlines says it also receives Regional Airlines Funding Assistance Program (RAFAP) funding. 
But they say the RANS and DANS funding might cease before demand returns to pre-COVID-19 levels, and that the programmes do not currently fund the relevant routes in their application.

Authorisation would enable the two applicants to "efficiently provide airline services to regional communities and businesses as demand fluctuates, and minimise costs and risk exposure in supplying those services."
The application says it will "assist in ensuring the long-term survival of an efficient and vigorous competitor for Qantas Airways, and enable [the two airlines] to develop new, innovative ways to respond to a non-linear recovery path, post COVID-19."
It will also "maximise aircraft utilisation, access a broader range of aircraft and fleet types, and appropriately manage capacity on regional routes to meet the nature and volume of demand."
The application covers 40 regional routes and two short-haul international routes, and competitors on the routes include Qantas, Jetstar, Regional Express, Solomon Airlines, Air Niugini, Airnorth and Link Airways. Virgin Australia illustrated the collapse in demand on many of these routes because of the pandemic:
| | | |
| --- | --- | --- |
| Route | August 2019 load factor | Aug 2020 load factor |
| Adelaide – Alice Springs | 76.9% | 22.1% |
| Brisbane – Mount Isa  | 82.1%  | 19.2%  |
| Coffs Harbour – Sydney  | 71.8%  | 18.7%  |
| Brisbane – Newcastle  | 67.6%  | 24.8%  |
| Perth – Port Hedland  | 70.3%  | 37.0%  |
| Newman – Perth  | 57.6%  | 27.6% |
It seeks authorisation for at least two years until 30 October 2022. The airlines are also asking for interim authorisation, which would allow them to forward plan for state border re-openings, as well as the upcoming Virgin Australia re-launch. 
Virgin Australia says it will re-launch with an all-Boeing 737 fleet, once the sale to its new US owner Bain Capital is completed around November. 
Alliance Airlines had previously operated several regular passenger services for Virgin Australia until the latter went into voluntary administration. Alliance Airlines' all-regional fleet includes 14 Embraer E-190s, 24 Fokker 100s, 13 Fokker 70LRs, five Fokker 50s, and some additional aircraft in storage for parts.
The ACCC has invited the public and other stakeholders to comment on Alliance Airlines and Virgin Australia's application.
Photo: Alliance Airlines
Edward Eng
Edward is based in Singapore. He writes stories on regional aviation across the Asia-Pacific region and has a background on covering socio-political issues. Edward holds a BA (Hons) in Philosophy, Politics and Economics from the University of Warwick in the UK.
Related posts
SUBSCRIBE TO OUR NEWSLETTER