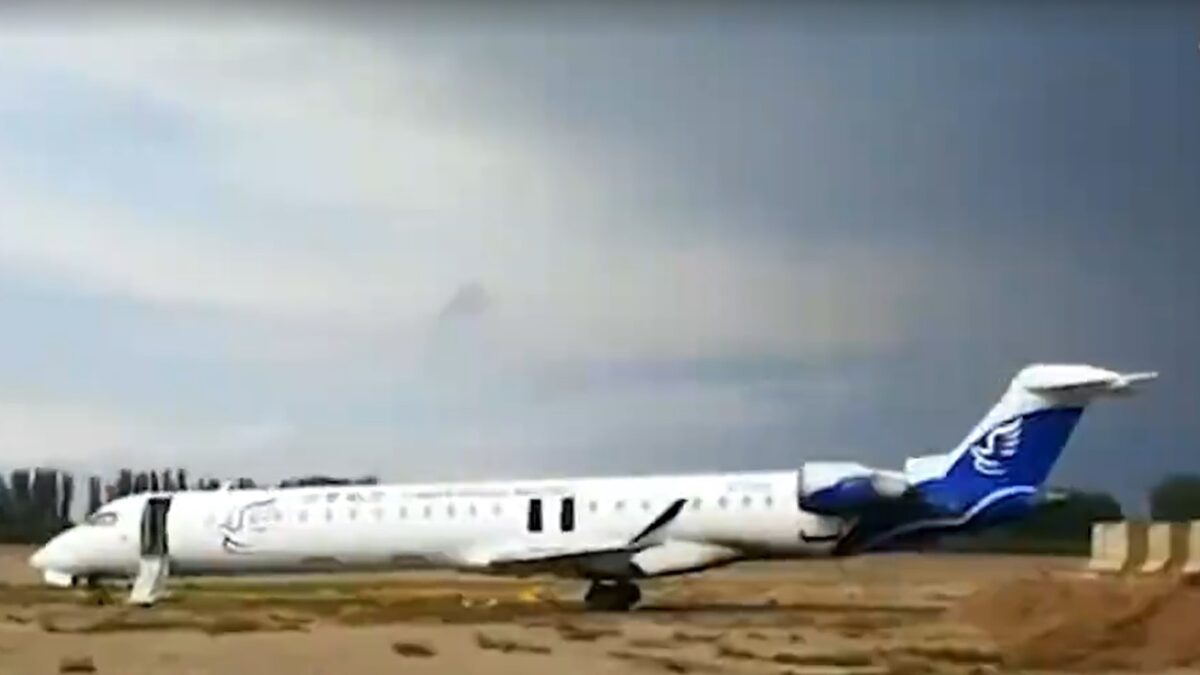 A Bombardier CRJ-900 operated by Chinese regional airline China Express slid off the runway at Aksu Airport in northwest China's Xinjiang province yesterday evening and four passengers suffered slight injuries while evacuating.
The airport's official Wechat account shows the China Express CRJ-900, with registration B-3250, slid off the runway yesterday at around 18:14hr local time after completing a flight from Xinjiang's Korla Airport. 
Local news reports say, after the aircraft landed, the airport issued a notice advising that the runway was wet due to moderate rainfall. 
Seventy-three people on board the aircraft, including nine aircrew and 64 passengers, were then ordered to evacuate but four suffered slight injuries during the evacuation process. 
Aksu Airport's runway was then temporarily closed, with flights arriving from Chongqing and Chengdu being diverted to other airports.
At 20.50hr, the aircraft was moved and the airport resumed operations at around 21.30hr local time, reports say.
China online news site CQCB.com has photos from the incident showing people evacuating from the emergency doors above the aircraft's wing. It also shows the aircraft off the runway and parked on sandy and stony ground. According to Planespotters.net the aircraft age is around four years.
Aksu Airport is located at the northern edge of Tarim Basin, at the southern foot of the Tianshan Mountains and 12.5km (7.8 miles) from Aksu city. The expansion of the airport was completed in October 2010 and it can accommodate aircraft as large as Boeing 737s and Airbus A320s.
China Express's fleet includes: Airbus A320s, A320neos, Bombardier CRJ900s and Comac ARJ21s.
Video screengrab shows the incident at Aksu airport. Source: new.sina.com
China Express Buying 50 ARJ21s, Major Boost To Chinese Aircraft Industry (16 October 2020)
Ong Jeng Yang
Based in Singapore, Ong Jeng Yang has more than four years of experience working in the media industry.
Related posts
SUBSCRIBE TO OUR NEWSLETTER