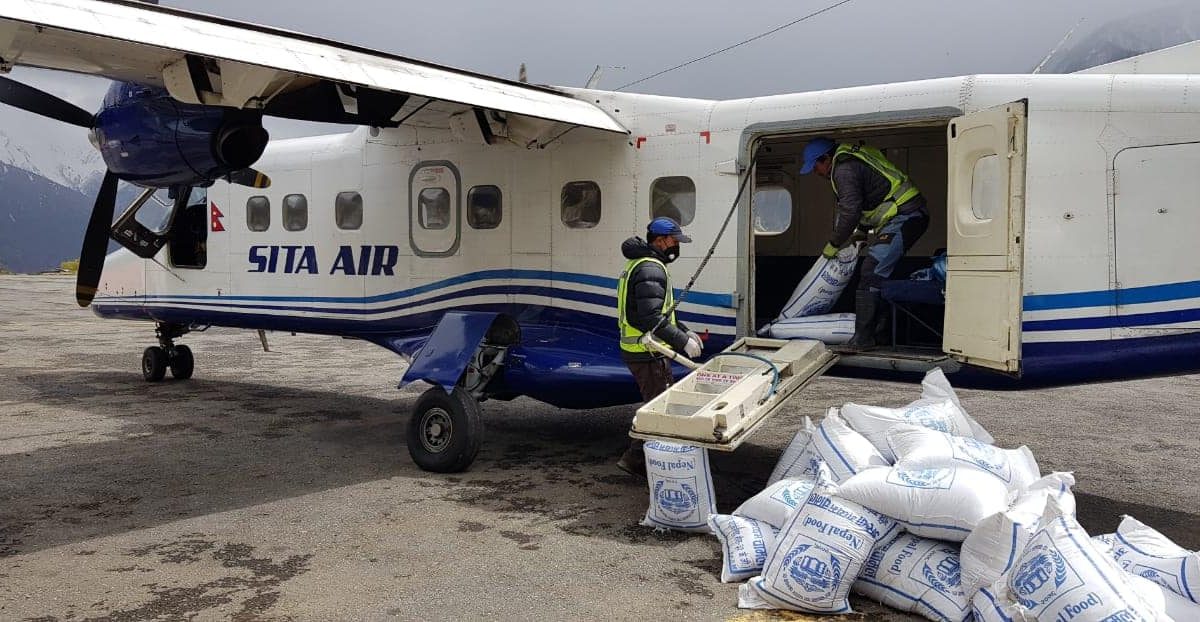 Airlines Supporting COVID-19 Relief Efforts in the Himalayas
Edward Eng, 22 Apr 2020
3 min

read
Nepalese operators are using their short take-off and landing (STOL) aircraft to support non-government organizations, embassies and government ministries in relief efforts, even as all domestic commercial travel has been banned.
Managing director of Sita Air, Rajendra Singh, says, "We in Nepal are in our fourth week of lockdown now with the [looming] possibility of an extension, but STOL operators like us are still busy in the mountains with relief efforts."
"The Ministry of Health has tasked us with flying medics to rural and mountain regions. These regions have limited healthcare facilities and are short of the manpower needed for widespread [COVID-19] testing. The immediate need is testing, not just of likely infections, but also for random sampling to help the health authorities better understand the geographic spread of the virus," he says.
The swab samples are flown to rapid testing facilities in Nepal's capital Kathmandu, he says, adding that Sita Air's STOL aircraft are being used because many rural regions have infrastructure that can only support STOL aircraft.
The lockdown, to prevent the spread of the virus, has also meant that Sita Air is busy with rescue flights, Singh says. Recently, the airline had to bring back its crews stranded in outfield bases such as Nepalgunj, a city in western Nepal, he adds. The crews were involved in normal flight operations, which are no longer in service because of the ban on commercial domestic travel, he says.
Singh says the domestic travel ban and the global pandemic situation has prompted the Ministry of Tourism and foreign embassies to repatriate tourists via Kathmandu. Many mountaineers and sightseers were already in the Himalayan region for the early spring season, and it was necessary to bring them back quickly to Kathmandu, Singh adds.
Sita Air has flown six tourist rescue flights to Lukla Airport, the gateway to the Everest region, he says. The airline operates two Dornier 228-202s and one Dornier 228-212.
STOL operator Tara Air is also involved in evacuating tourists from Lukla and other mountain airports to Kathmandu on behalf of the Ministry of Tourism and several embassies, says Sandeep Sharma, a spokesperson for the airline. The airline is still active with its services to regions with limited road access, such as Simikot in northwestern Nepal, Sharma says. These services carry essential food supplies such as salt and rice for organizations such as the World Food Programme and the Nepal Food Corporation, a government agency, he adds. They are being prioritized to ensure food stocks remain sufficient throughout the crisis, because rural areas, particularly those in western Nepal, have a much higher poverty rate than central and urban Nepal, he says.
Tara Air's fleet includes two Dornier 228-212s, two Viking Air Series 400 Twin Otters, and two De Havilland Canada Series 300 Twin Otters.
Yeti Airlines, which operates ATR 72-500s and BAe Jetstream 41s, is supporting the COVID-19 relief effort by flying Ministry of Health staff involved in virus testing to regional centers such as Dhangadhi, the gateway city to far west Nepal, Sharma says.
As of 22 April 2020, Nepal has 42 cases of coronavirus and zero deaths.
Picture credit: Sita Air
Edward Eng
Edward is based in Singapore. He writes stories on regional aviation across the Asia-Pacific region and has a background on covering socio-political issues. Edward holds a BA (Hons) in Philosophy, Politics and Economics from the University of Warwick in the UK.
Related posts
SUBSCRIBE TO OUR NEWSLETTER