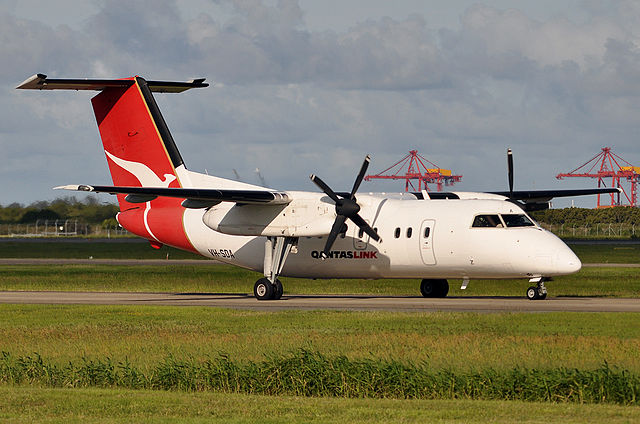 Qantas Airways' regional arm QantasLink has decided to compete against Regional Express (Rex) on two domestic routes in New South Wales (NSW), a move that comes after Rex announced it will move into the market of Qantas Airways mainline by competing on domestic trunk routes.
Regional Express operates a fleet of 60 34-seat Saab 340s on small domestic regional routes from its hubs in Sydney, Melbourne, Adelaide, Brisbane, Perth, Cairns and Townsville. But it has announced plans to launch services March next year using 180-seat jet aircraft on trunk routes connecting Australia's three largest cities – Sydney, Brisbane and Melbourne.
Rex has yet to disclose which type of jet aircraft it will use, but has said it will source the aircraft from leasing companies via sale lease-back agreements. The airline is aiming to fill the void partially left by Virgin Australia, which is now exiting administration under new owners – US private investment firm Bain Capital.
In a separate development, Rex has announced that it has signed a memorandum of understanding with ATR with a view to acquiring ATR 42 and ATR 72 aircraft to eventually replace its fleet of Saab 340s. Airbus, which makes Airbus A320s, owns 50% of ATR.
Qantas Airways and Virgin Australia both operate Boeing 737s.
In terms of turboprop aircraft, according to CAPA data, Qantas Airways' regional subsidiary QantasLink operates a fleet of three De Havilland Aircraft of Canada Q200s, 16 De Havilland Aircraft of Canada Q300s and 31 De Haviland Aircraft of Canada Q400s, now called Dash 8- 400s.
QantasLink says it started a daily service yesterday from Sydney to Ballina-Byron Bay using 80-seat Dash 8-400s, the first time the airline has operated scheduled services on this route in 15 years. A thrice-weekly Sydney-Orange service will launch on 20 July using 30-seat Q200 aircraft, it says.
"After years of locals calling for the flying kangaroo to fly to Orange, the iconic red tail will touch down there for the first time in a few weeks. We are bringing much needed competition to the route, which has been a monopoly for many years," QantasLink CEO John Gissing says in a statement.
"These flights to Orange will make it easier for Sydney residents to discover one of NSW's most beautiful regions and its world-class restaurants and wineries," he says.
Orange is a regional town in NSW, nearly four hours' drive from Sydney.
Byron Bay, meanwhile, is a popular tourist beach side town in northern NSW about eight
hours' drive from Sydney.
The airline says: "Both routes were originally scheduled to start earlier this year, but were delayed due to the coronavirus and travel restrictions."
"These additional flights are coming at the right time for families who've spent much of the recent months confined to their homes and are looking forward to getting out and exploring their own state," it adds.
Qantas Airways has stopped flying internationally, with the exception of flights to New Zealand, and is counting on a revival in domestic tourism to boost its fortunes.
Editor's comments:
QantasLink's decision to move into Rex's market may simply be coincidental. But that said, Qantas Airways does have a track-record of competing aggressively against airlines that it deems to be a threat, something Virgin Australia discovered.
The extent to which Qantas' regional airline can impact Rex is limited, however, because its turboprop aircraft are mostly 80-seat Dash 8-400s, too high a capacity for most of the routes Rex operates on with its 34-seat aircraft. QantasLink only has three 30-seat aircraft, one of which is needed to serve Lord Howe island which has a very short runway.
QantasLink can try to operate its Dash 8-400s on smaller regional routes and try to fill the aircraft by offering cheap fares, but that won't necessarily make money for the airline. Also, any domestic regional routes are also business traveler routes, a market segment where people value flight frequency and convenience, something that Rex is better able to provide because it operates a smaller capacity aircraft.
Rex has yet to disclose which type of jet aircraft it will operate on Australian trunk routes, starting in March, but Airbus would have to be the front-runner. It would make sense for Rex to operate a different aircraft type to Qantas Airways and Virgin Australia, because then it would be harder for these two carriers to recruit Rex's pilots, as the pilots would have to undergo type-rating training.
In terms of Boeing, the 737 Max is currently grounded globally and it is unclear when civil aviation regulators such as Australia's Civil Aviation Safety Authority (CASA) will validate the US FAA's certification of the aircraft.
Photo: QantasLink
Leithen Francis
Leithen is based in Singapore and has over 17 years' experience working for news organisations. He is the former deputy Asia editor of Flightglobal and the former Asia editor of Aviation Week. Leithen has a BA in journalism from RMIT University in Melbourne, Australia.
Related posts
SUBSCRIBE TO OUR NEWSLETTER