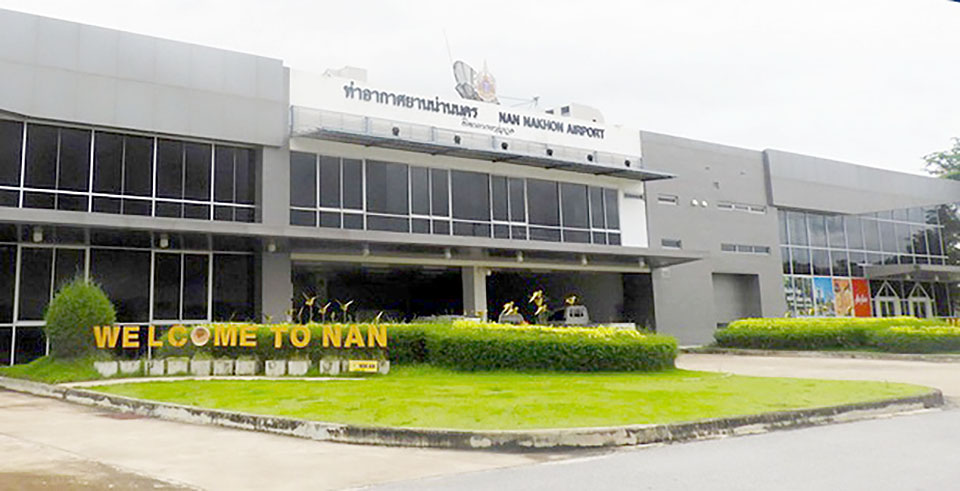 Thailand's Department of Airports (DoA) is seeking 40 million Thai baht (US$1.2 million) to conduct studies on the expansion of Nan Nakhon Airport.
DoA says the budget of 40 million Thai baht is to pay for an environment impact assessment (EIA) study on Nan Nakhon Airport's proposed runway expansion and construction of a new terminal, media outlet Bangkok Post reports.
DoA's deputy director-general Jaroon Meesomboon says the runway needs to be lengthened to 2,500m (8,202ft) from 2,000m so as to accommodate larger aircraft.
The longer runway will allow the airport to receive flights from China, the report adds.
After the EIA is completed, land needs to be acquired for the longer runway, says the report without citing sources. 
Construction of the runway is likely to commence in 2027, it says, adding that the project is estimated to take two to three years to complete. 
Meesomboon says the cost of the runway extension and new terminal can only be determined after the EIA is completed. 
Nan Nakhon Airport serves Nan province in northern Thailand near the Laos border. It is famous for its Buddhist temples, Wat Phumin and Wat Phrathat Khao Noi, as well as its natural scenery. 
Nan reportedly had one million visitors a year before the pandemic hit in 2020, though the airport is only equipped with one departure gate.
Tourism Authority of Thailand (TAT) tells local media it expects the province to have 700,000 visitors this year.
Bangkok Post says there are more tourists visiting Nan, now that travel restrictions have eased with the airport handling 1,000 passengers daily.
Thai AirAsia, Nok Air, Thai Smile and Thai Lion Air serve Nan Nakhon Airport. Thai VietJet is applying to serve the airport from Bangkok's Suvarnabhumi Airport, the report adds.
Thai Lion Air says in a statement earlier this week it has launched a non-stop eight times weekly service connecting Bangkok's Don Mueang International Airport to Nan.
Picture Source: pattayamail.com
Related Stories:
Nok Air Shuts Operations To Thailand's Betong International Airport A Day After Inaugural Flight (18 March 2022)
Bangkok Airways, which is restructuring its fleet in response to lower passenger volumes caused by the pandemic, has moved forward with its plan to provide third-party heavy maintenance services, part of the group's strategy to diversify its business. (11 March 2022)
Ong Jeng Yang
Based in Singapore, Ong Jeng Yang has more than four years of experience working in the media industry.
Related posts
SUBSCRIBE TO OUR NEWSLETTER