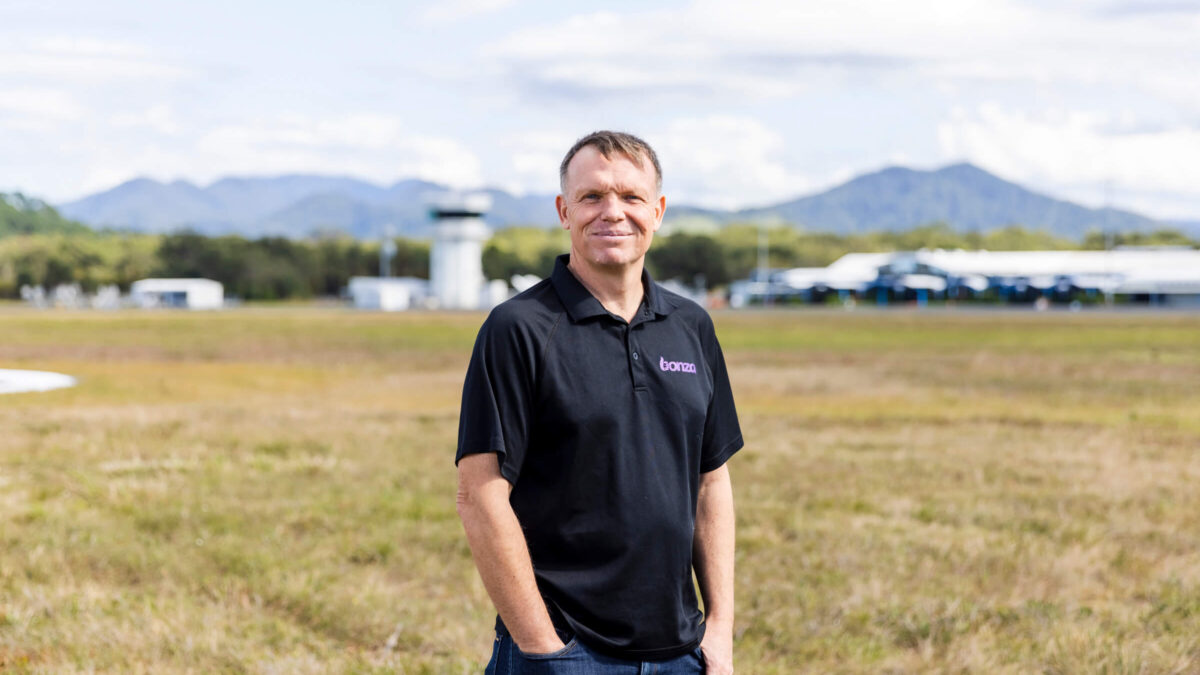 Australian domestic start-up Bonza Airlines aims to receive its first aircraft, a Boeing 737 Max 8, in July and hopes to start operations at the earliest in September.
Tim Jordan, Bonza CEO, tells Smart Aviation Asia Pacific aircraft-maker Boeing is now getting Bonza's first three 186-seat single-class cabin Boeing 737 Max 8s ready for delivery.
The three aircraft have been parked for an extended period and are actually 'white tails' that Bonza's owner – US company 777 Partners – secured during the pandemic, he says.
The US FAA grounded the Boeing 737 Max aircraft program from March 2019 to November 2020 and some airlines cancelled their orders resulting in 'white tails', aircraft that were already built but were unable to be delivered to a customer.
Jordan says he expects the initial two aircraft in July and the third in August. Bonza plans to operate up to eight Boeing 737 Max 8 aircraft in the first year of operations, he adds.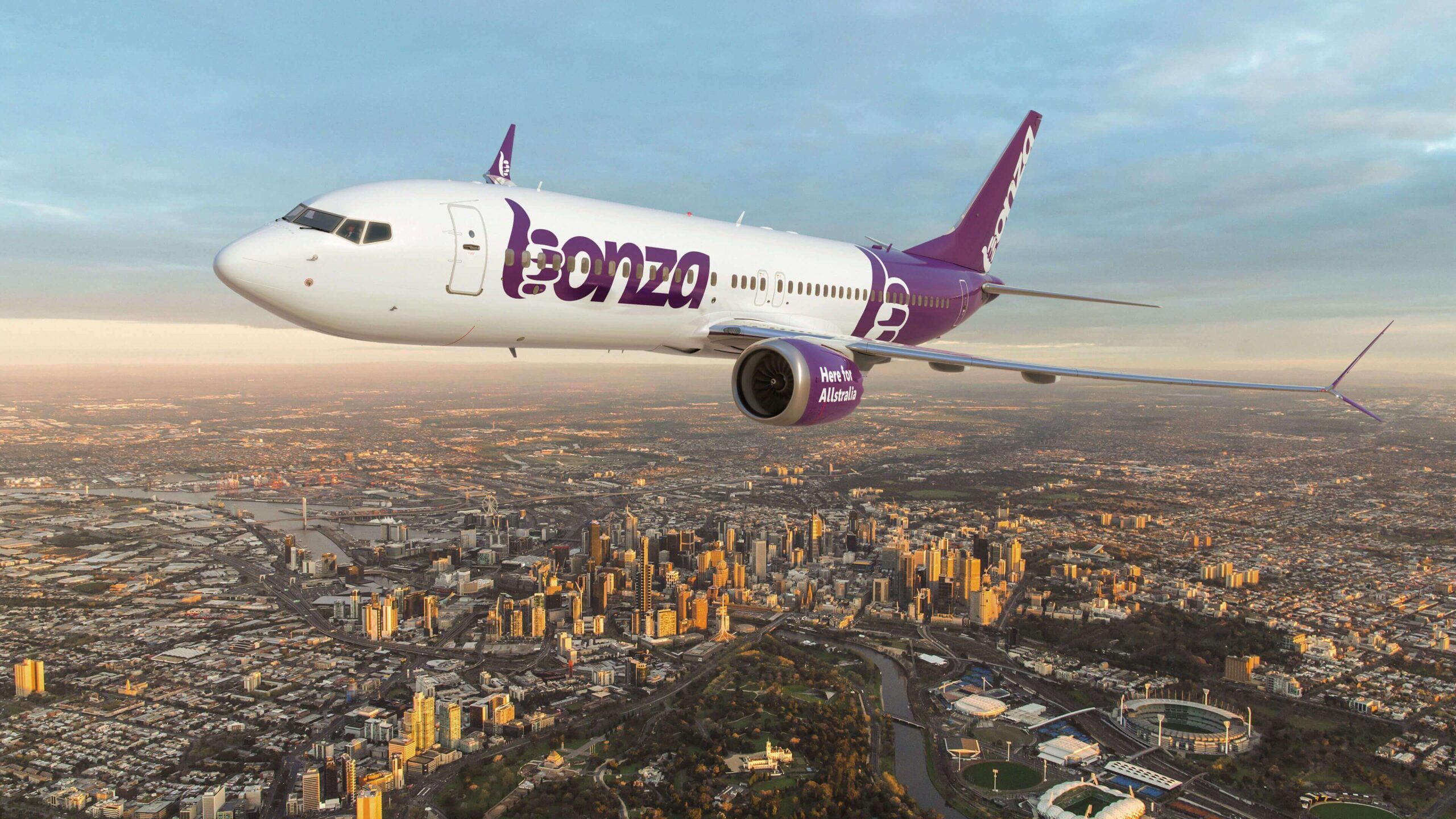 Bonza Airlines Boeing 737 Max 8 (Bonza)
He says Bonza is working to get its air operator certificate and hopes to start as early as September.
Adam Weiss, vice president of 777 Partners, has told Australian media that Bonza may need propellor-driven aircraft, smaller than the 737, to land at regional airports that are unable to handle jets.
But Jordan declines to be drawn on whether they will also get regional turboprops. He tells Smart Aviation Asia Pacific Bonza's focus in the short-medium term is on the Boeing 737 Max 8.
Bonza is financially backed by 777 Partners, a Miami-based investment firm which also owns Canadian low-cost carrier Flair Airlines. Weiss has said Bonza will avoid going head-to-head against Qantas Airways.
Jordan said it is about creating new market growth opportunities and developing new routes for leisure travel. Bonza will have a network covering 27 routes to 17 destinations after one year, he says.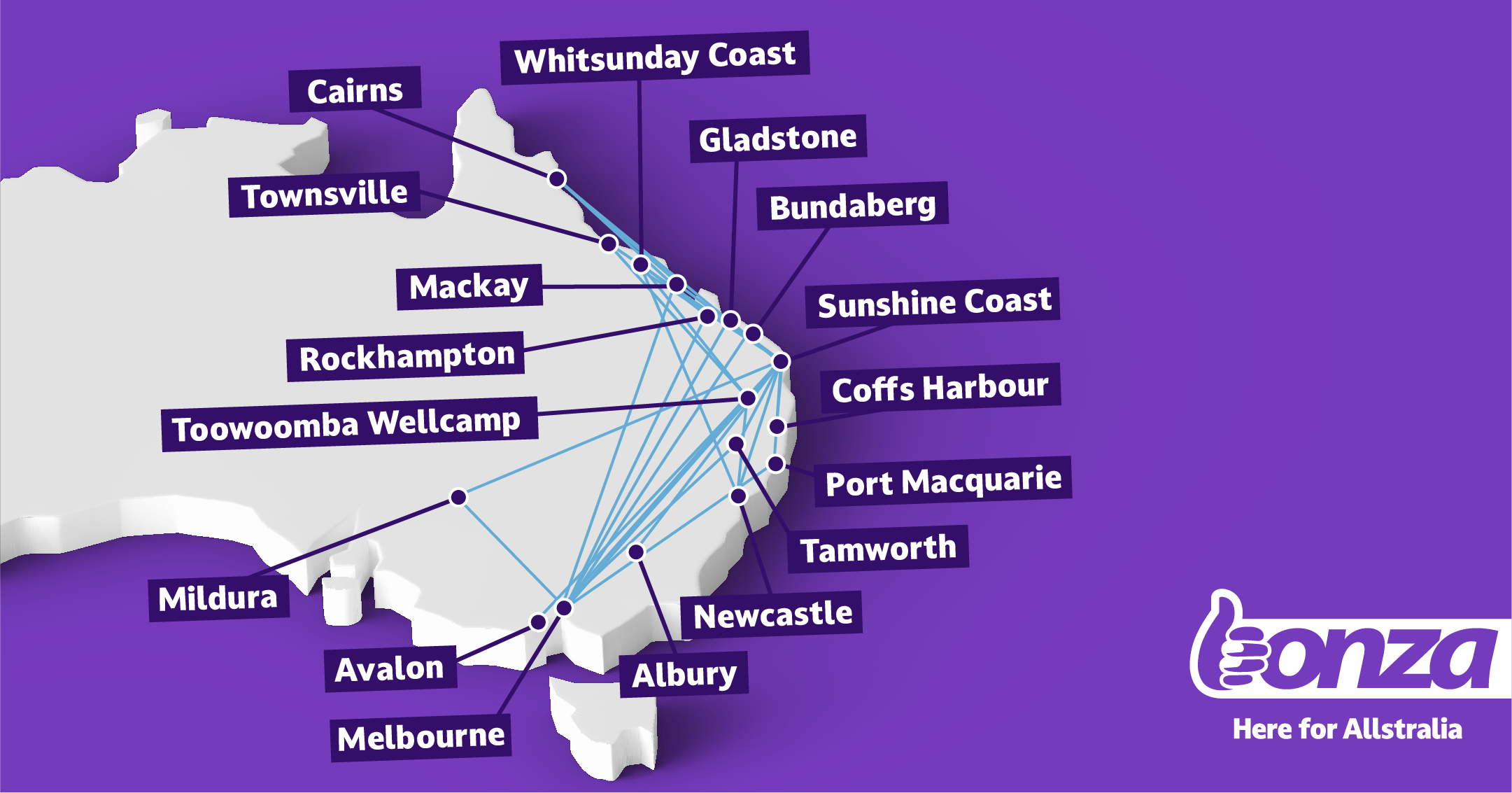 Bonza Airlines Route Network (Bonza)
Bonza will be the only independent low-cost operator in the country and its focus is on markets that are unserved or underserved, he says. No airlines are currently serving 85% of Bonza's 27 planned routes, he adds.
"It shouldn't cost you A$200 (US$140) to get on an aircraft as it currently does for many people across large regional centres. We believe that it should be costing people, on a leisure basis, more like A$50 to get on an aircraft, and that's really fundamental to our offering as an ultra-low-cost carrier," he says.
Jordan says he is optimistic about the opportunities for his new low-cost carrier, arguing its domestic market proposition is quite different to what previous low-cost carriers – namely Tiger Airways Australia and Virgin Blue – were offering. Tiger had 90-95% of its network on Australia's 20 largest markets, whereas will have no flights on these trunk routes, he adds.
Even though Bonza will be targeting new or underserved routes, Jordan says its low-fares will allow it to tap a larger demographic market as compared to, for example, Virgin Blue, which is now Virgin Australia.
He says there is potential for Bonza to grow Australia's low-cost carrier market.
He says in the period 2009-2019 the number of routes served by low-cost carriers remained stagnant at 58. During that same period in the US market; the combined network of Spirit Airlines, Frontier Airlines and Allegiant Air 256%, he says.
Jordan says Australia has been trailing the world, "and we need to catch up and stimulate new markets and recover from what has been a revolting period for our wonderful industry."
Tim Jordan has more than 25 years of air transport experience at FlyArystan, Go Air, Cebu Pacific, Virgin Blue and United Airlines.
Featured photo show Bonza Airlines CEO, Tim Jordan (Bonza)
Related Stories:
Australian Regional Market Faces Slow Restart (14 March 2022)
Lingering Concerns For Australia's Regional Airlines (21 September 2021)
Davy Lim
Davy is based in Singapore. He is passionate about aviation and has flight experience in various single engine piston aircraft, gliders and seaplanes from his time in the United States. Davy holds a BA in Economics from the State University of New York in Buffalo.
Related posts
SUBSCRIBE TO OUR NEWSLETTER