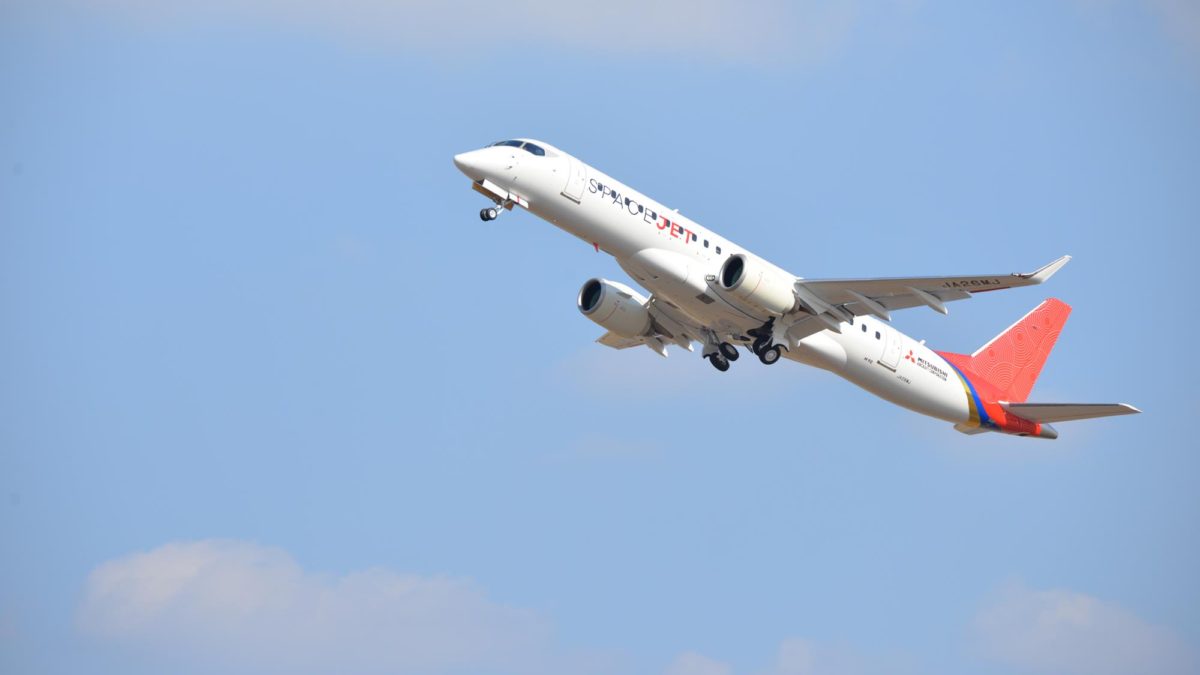 Mitsubishi Aircraft is hoping it can do a ferry flight soon to the US for Flight Test Vehicle 10, of the SpaceJet M90, which is the first M90 aircraft produced in certifiable baseline configuration.
The aircraft-maker's spokeswoman, Hitomi Sato, says the challenge is in evaluating the best timings and route for the ferry flight to Moses Lake in the US state of Washington. The aircraft is produced in Nagoya, Japan but its flight test and certification program is in the US.
The new regional jet does flight tests at Washington state's Moses Lake Test Centre where Seattle-based engineering consultancy AeroTEC is helping Mitsubishi Aircraft to have the aircraft certified.
Washington is one of the US state's most heavily impacted by coronavirus with around 8,000 confirmed cases and more than 330 deaths. For the M90 to be flown from Japan to the northwest US, it would need to pass through several countries, at a time when many nations are imposing bans or very tight restrictions on flights.
Japan too has been heavily impacted by the coronavirus outbreak. It has nearly 4,000 confirmed cases and nearly 100 deaths.
Despite this, Flight Test Vehicle 10 of the M90 successfully completed its first flight (18 March) in Nagoya, Japan where the aircraft is assembled.
"The first flight and final flight tests in Nagoya were performed despite the impact of the COVID-19 pandemic on Japan," says Sato. The SpaceJet programme has mainly been affected in terms of corporate travel and the need to ensure workplace safety, she adds.
Flight Test Vehicle 10 is significant because it is the first M90 produced in what Mitsubishi Aircraft hopes will be the final, certifiable configuration.
Deliveries of the M90 are expected to commence between April 2021 and March 2022, according to Mitsubishi Aircraft's earlier announcement in February. But the program has experienced numerous delays over the years, as Mitsubishi has made several design changes. The program was officially launched in 2008 and aimed to have entry into service in 2013.
There are two models of the SpaceJet: the 76-seat M100 and the larger M90, which has up to 88 seats in a single-class, 31" pitch configuration. The M100's range is around 3,540km, while the M90's is 3,770km. This puts the SpaceJet programme in direct competition with Embraer's E175-E2, which also has Pratt & Whitney PW1000G geared turbofan engines.
The older Bombardier CRJ regional jet programme also produces aircraft in the same class, although the programme is undergoing acquisition by Mitsubishi Heavy Industries, the parent company of Mitsubishi Aircraft. Bombardier announced that production of CRJ aircraft will end
around middle of this year.
Picture credit: Mitsubishi Aircraft
Edward Eng
Edward is based in Singapore. He writes stories on regional aviation across the Asia-Pacific region and has a background on covering socio-political issues. Edward holds a BA (Hons) in Philosophy, Politics and Economics from the University of Warwick in the UK.
Related posts
SUBSCRIBE TO OUR NEWSLETTER