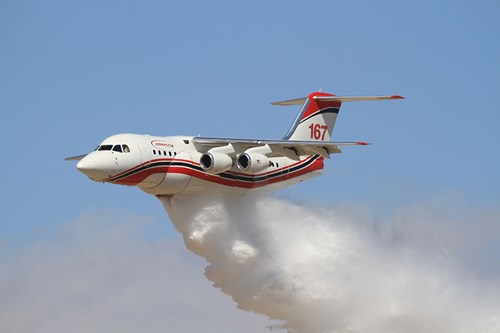 The Royal Commission into National Natural Disaster Arrangements has called for a national aerial fire-fighting fleet because the longer fire seasons in Australia and North America means sharing aircraft is no longer feasible. 
"Longer and more severe fire seasons in the northern and southern hemispheres, and indeed within Australia, will make it increasingly difficult to access aviation services when we need them, particularly at short notice," the Commission says in its report. 
The Commission, launched in response to the 2019-2020 season forest fires, says the high demand for aircraft seen during the last fire season is likely to recur in future. 
This puts a strain on air tanker contracting models, in which private operators – during the Australian off-season – ferry aircraft to the northern hemisphere to fight fires there, it adds. 
Having a standing national fleet that includes large air tankers (LATs) and large Type-1 helicopters means Australian states are less likely to have aircraft unavailable due to it being overseas, it adds. 
One operator of aerial firefighting aircraft Smart Aviation APAC has spoken to says the Australian fire season spans now about 130-160 days. This makes sending aircraft to Europe and North America between seasons extremely challenging given other requirements such as specialized crew training and time off for maintenance, it adds. 
But the aerial firefighting operator says keeping a LAT for Australia-only contracts is not financially lucrative for any one operator, because contracts tend to be short and are often awarded on short notice.
The Commission bases its recommendation for large aircraft on its findings that large air tankers and Type-1 helicopters are often critical in protecting critical assets and infrastructure. During the 2019-2020 season, LATs protected significant assets in the Australian Capital Territory, building fire containment lines to protect communications towers and habitats for endangered animals in Namadgi National Park, it found.
It says LATs have critical advantages over smaller aircraft such as the ability to build "long, good quality containment lines of suppressant as critical to stopping and containing the spread of bush [forest] and grass fires." 
LATs can also operate in poorer conditions, and also have the endurance and speed for inter-state aerial firefighting, as compared to heavy helicopters, it adds.
But the Commission also found that LATs are also more expensive and require more infrastructure than smaller aircraft. They have slower turnarounds, potentially less fire attack accuracy and are more complicated to coordinate because they sometimes need small lead aircraft to perform duties such as fire-spotting, it found. 
For the 2020-2021 season, the National Aerial Firefighting Centre has listed five locally-registered LATs: one Boeing 737-300 and one Lockheed C130Q operated by Coulson Aviation; two BAe 146s and one De Havilland Canada Dash 8-400 operated by Field Air. 
The National Aerial Firefighting Centre (NAFC) contracts one third of aerial firefighting assets on behalf of state emergency services, which fund the NAFC contracts. The aircraft contracted by the NAFC are different from state-contracted or -owned aircraft as they are shared between the states based on firefighting needs under a cooperative national arrangement. 
The other two-thirds of aerial firefighting assets are either owned or directly contracted by individual states and territories.
The Commission also says the country should develop nationally-coordinated aerial firefighting capabilities such as light detection and ranging (LIDAR), line-scanning, and the relevant transport and logistics facilities. 
Photo: Conair
Edward Eng
Edward is based in Singapore. He writes stories on regional aviation across the Asia-Pacific region and has a background on covering socio-political issues. Edward holds a BA (Hons) in Philosophy, Politics and Economics from the University of Warwick in the UK.
Related posts
SUBSCRIBE TO OUR NEWSLETTER