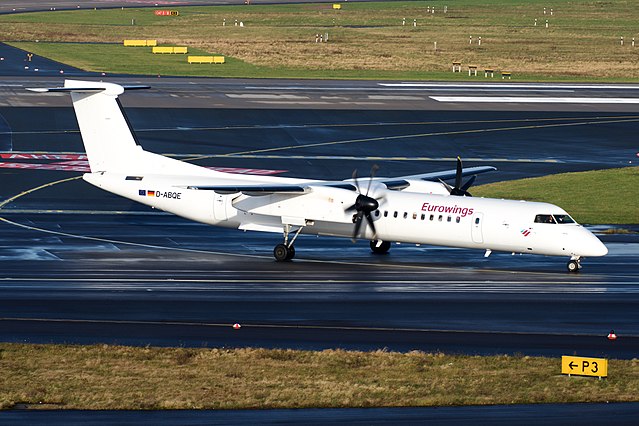 There has been a sudden flurry of airlines, with regional aircraft in their fleets, going into voluntary administration and the data reveals that this first wave is impacting some aircraft-makers and lessors more than others.
The collapse of UK carrier Flybe, which is the world's largest operator of De Havilland Canada Dash 8-400 aircraft, coupled with the announcement this week by another large Dash 8-400 operator, means De Havilland Aircraft of Canada has been impacted the most.
Since COVID-19, airlines that have gone into voluntary administration or the equivalent thereof include:
ATR
CRJ
De Havilland
Embraer
Fokker
Saab
Viking Air
Beechcraft
Virgin Australia
8
14
Flybe
54
LGW Luftfahrgesellschaft Walter
15
Air Mauritius
3
Pen Air
5
Ravn Alaska
10
Ravn Connect
5
Braathens Regional (Sweden)
8
13

SA

Express
10
9
Total:

19

10

88

NA

14

18

NA

5
Source: CAPA
German regional carrier LGW Luftfahrtgesellschaft Walter, which has a fleet of 15 Dash 8-400 aircraft, announced this week it is going into voluntary administration immediately following the loss of its wet-lease contract, with Lufthansa's Eurowings, which utilized its Dash 8 fleet.
South African state-owned regional airline SA Express, meanwhile, has suspended its operations and been ordered by government to undergo a restructuring. It has nine Dash 8-400s in its fleet, although these assets are owned by the airline, according to CAPA data.
But LGW's entire fleet of 15 Dash 8-400s are on lease from Nordic Aviation Capital (NAC) which was also the biggest lessor to Flybe, accounting for 18 of Flybe's 54 aircraft.
NAC has also been impacted by Air Mauritius' move into voluntary administration. Two of the airline's three ATR 72-500s are on lease from NAC.
Avation
Chorus
HEH Management
Elix Aviation Capital
Nordic Aviation Capital (NAC)
Rockton
Virgin Australia
13
3
Flybe
5
11
18
LGW Luftfahrtgesellschaft
Walter
15
Air Mauritius
2
Braathens Regional (Sweden)
2
4
Total:

15

8

11

NA

35

4
Source: CAPA, Avation PLC public statements
The hardship felt by the regional aircraft leasing community has also impacted those with ATR aircraft.
Singapore-based lessor Avation says it has 11 ATR 72-600s on operating lease and two Fokker 100s on finance lease to Virgin Australia, which has gone into voluntary administration.
Avation also appears to have been impacted by Swedish regional airline Braathens Regional going into voluntary administration. The lessor says one of its ATR customers, "entered court-approved reorganisation on 6 April 2020 with a tentative plan to re-enter service in August 2020."
"The customer has two ATR 72-600 aircraft. The rents are current and the leases remain on foot. The Avation aircraft will be stored appropriately and all records are up to date."
"Avation will assess the likelihood of the airline returning to service before taking further action such as transitioning the aircraft," it adds.
The aircraft lessor fails to mention the airline by name, but 6 April is the same day Braathens Regional went into a restructuring under court protection.
Braathens is also a large operator of Saab aircraft with 12 Saab 2000s and one Saab 340B. Four of its 12 Saab 2000s are on lease from Swedish lessor Rockton, which says on its website it has Saab 2000s available for sale.
US carrier Ravn Group, which is based in Alaska, went into chapter 11 bankruptcy this month. Ravn's Pen Air had a fleet of four Saab 2000s and one Saab 340.
The group's Ravn Alaska had ten De Havilland Canada Dash 8-100s, one of which was on lease to Canadian lessor AvMax Group. And Ravn Connect operated five Beechcraft 1900s as well as many smaller aircraft.
Having a fleet of 16 Saab 2000s suddenly parked may not sound like a lot. But considering Slovenian carrier Adria Airways went bust last September – before the coronavirus crisis happened – and it had five Saab 2000s, the new development is significant for owners of Saab 2000 aircraft. There were only 63 Saab 2000s ever built.
This article is part of an ongoing series on COVID-19's impact on regional aviation. We will continue to follow the situation and keep a tally on the numbers. If you have any updates with regards to airlines and lessors, you can contact us at info (at) smartaviation-apac.com
Picture credit: LGW Luftfahrtgesellschaft Walter (operating on behalf of Eurowings)
Leithen Francis
Leithen is based in Singapore and has over 17 years' experience working for news organisations. He is the former deputy Asia editor of Flightglobal and the former Asia editor of Aviation Week. Leithen has a BA in journalism from RMIT University in Melbourne, Australia.
Related posts
SUBSCRIBE TO OUR NEWSLETTER