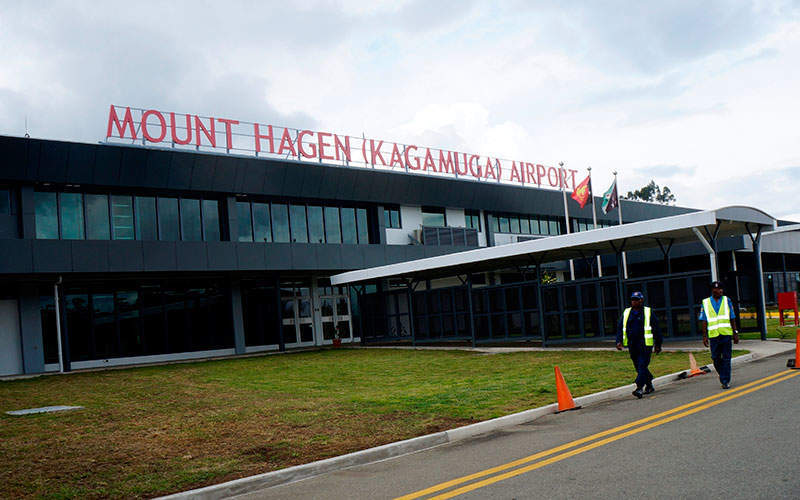 Mount Hagen's Kagamuga airport is now the first of 11 airports in Papua New Guinea to operate new airfield ground lighting, an initiative that aims to increase safety, efficiency, and accessibility.
The lighting system was installed in February 2021 under phase-one of the National Airports Corporation's (NAC) Civil Aviation Development Investment Program (CADIP).
The program involves upgrading of infrastructure such as airfield lighting, runways, aprons, taxiways and terminal buildings.
NAC says the upgrades means the airstrips will be better equipped to remain open to aircraft in all-weather conditions.
The airfield LED ground lighting system includes runway edge lights, turning pad lights, threshold lights, taxiway lights, holding point lights and mandatory airfield guidance (MAG) lights, says NAC. Ground lights provide better demarcations and navigation in poor visibility and night conditions to allow for safer operations.
Power supply and controls for the airfield ground lighting – such as constant current regulators (CCR) and uninterruptible power supply (UPS) – have also been installed, it says.
The new airfield ground lighting system is compliant with International Civil Aviation Organization (ICAO) standards, says NAC.
To aid in safer approaches, a precision approach path indicator (PAPI) light system has also been installed. PAPI lights provides a visual reference for pilots on their final approach to make changes to their glide slope if they are too high or low.
The benefits of the new system include energy efficiency and long-term cost savings from lower electricity consumption, lower maintenance costs and less need to replace lights, says Rex Kiponge, NAC managing director. The system enables greater visibility of the ground which enhances safety and operations at night and in bad weather and poor visibility conditions, he adds.
NAC says an LED light's lifespan is 15 years compared to halogen lights which need to be replaced every six months and are still used at local airports such as Port Moresby International Airport and Rabaul's Tokua Airport.
He says LED PAPI lights have a 18 year lifespan compared to a halogen light's one year.
NAC says it will install LED PAPI at these airports:  Kavieng, Momote, Madang, Nadzab, Wewak, Vanimo, Hoskins, Tokua and Jacksons.
Picture Source: Airport-technology.com
Related Stories:
Pacific Island Tourism Unlikely To Return To Pre-COVID Levels In Next Two Years (23 August 2021)
Davy Lim
Davy is based in Singapore. He is passionate about aviation and has flight experience in various single engine piston aircraft, gliders and seaplanes from his time in the United States. Davy holds a BA in Economics from the State University of New York in Buffalo.
Related posts
SUBSCRIBE TO OUR NEWSLETTER